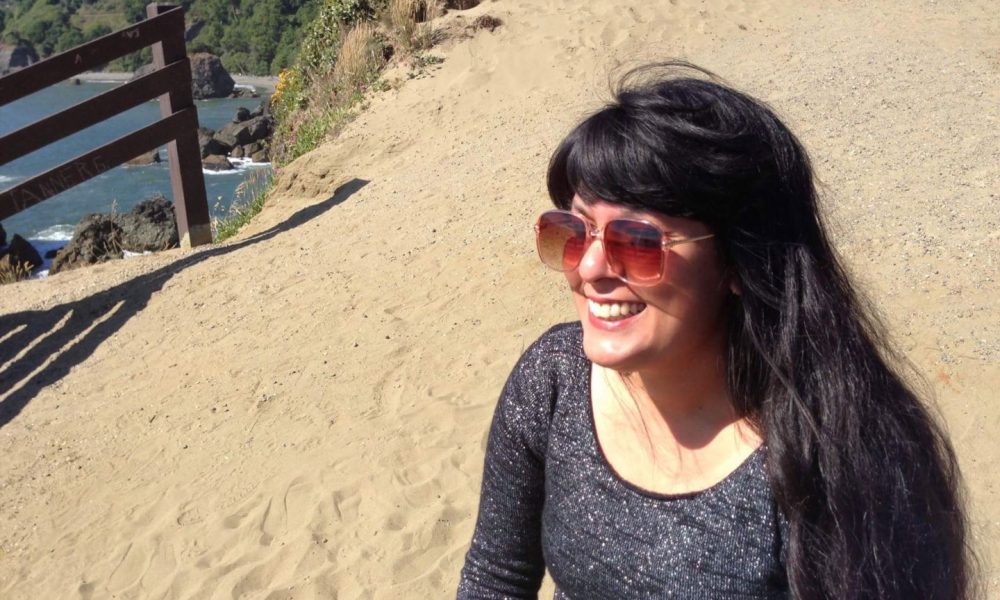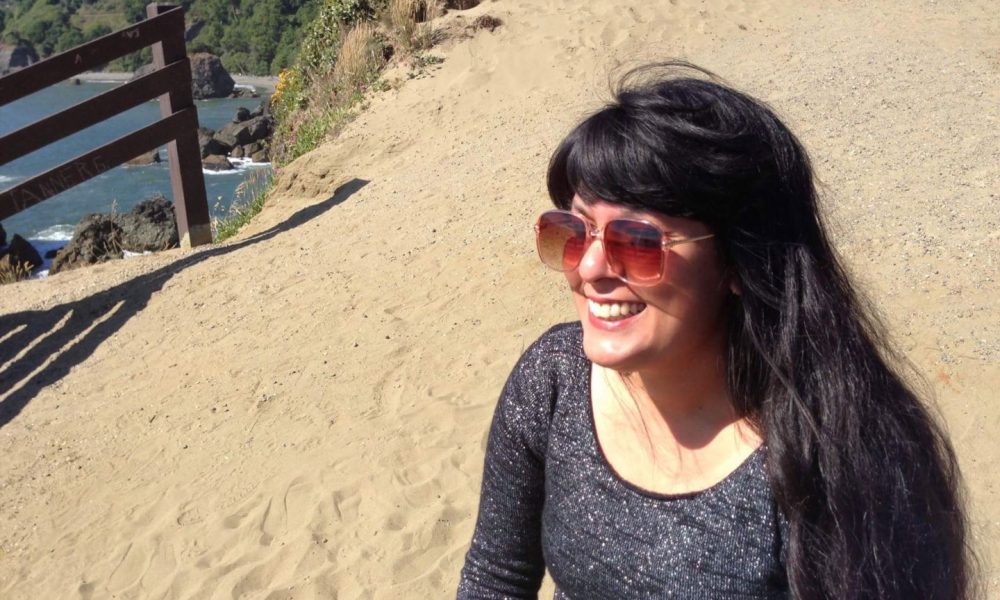 Today we'd like to introduce you to Gloria Gem Sanchez.
Gloria Gem, we'd love to hear your story and how you got to where you are today both personally and as an artist.
I have always had a need to be creative and make things with my hands. I feel very grateful to grow up in a family that has always supported this and with parents that appreciated art. My dad was a creative- a photographer and writer. My mom used to be an engineer and a computer programmer, but with a keen appreciation for music and art. Some of my oldest memories creating were at the kitchen table on weekends with my mom and my dad playing his old records. I would cut out imagery from advertisements and make simple collages while she searched for deals and coupons. In high school, I feel thankful to my Clay Sculpture and Photography teachers that were supportive so as to let us work during our lunch and after school hours. This allowed a lot of us to flourish and delve into a solid work ethic with our art production. Besides fine art, graffiti was a past time for a lot of my homies. It was both thrilling, enabled my love for painting with bold colors, and in a sense, instilled the idea of artist as a part of my own identity.
After high school, I continued taking more art classes at Los Angeles Harbor College, mainly focusing on abstract painting. At this time, I met my art mentors, Mario Ybarra Jr. and Karla Diaz, who have been so supportive and inspirational in my decisions to pursue life as an artist and cultural producer. In our working class communities of the Harbor Area, they were the first professional artists and community advocates who opened up my eyes to the possibilities of art, who encouraged art as a way to help the community, and art to speak about our own truths, experience, as well as to address politics and social conditions. They provided opportunities for our local youth artists to engage in an inter-generational learning space through Slanguage Teen Art Council and various workshops, as well as art residencies for local art and feminist groups I organized with. I was also given the opportunity to work as a Slanguage art apprentice from 2013-2015. From Harbor College, I transferred to Cal State Long Beach to achieve a Bachelor of Fine Arts in Drawing and Paintings, as well as a BA in Art Education in 2014. Since graduation, I have continued on as a practicing artist at my studio in San Pedro, and I work with an amazing art group named FA4 Collective, which includes many BFA alumni from CSULB and beyond.
We'd love to hear more about your art. What do you do you do and why and what do you hope others will take away from your work?
I am a multidisciplinary artist that mainly produces mixed media paintings, sculptures, and tapestries. Drawing and Painting are my roots, and I love working with non- traditional compositions, different elements of color, warm-cool contrast, pattern, texture, space, and experimentation with found materials. My recent series are about resilience through cultural and spiritual preservation, and art therapy as a tool for transcending trauma. In some works, I'm using hair as a metaphor for our spiritual essence and a connection to ancestral memory. I am interested in the concept that our hair is sacred and should be respected as any other part of our body. This notion is directly related with my own experiences with people overstepping their privilege, personal boundaries, and being in situations as an exotic, brown, indigenous passing woman targeted with sexualization. In response to this, I am inspired to create deeply personal. Unconventional altars with a vibrant palette inspired by textiles and other aspects of my cultures. My works serves as visual symbols of transcending traumas from my past.
I also gain as lot of influence from bird nests as a carefully constructed space of safety and protection. The resilience, destruction, and rebirth found in nature as a metaphor for the human experience is something I think about and translate into my works. I also physically go to trek various Los Angeles Hiking trails and outdoor spaces for self- reflection and exercise. I feel you can learn a lot about yourself & can find your own space of healing and meditation when visiting a natural environment, such as a hike near an ocean, in the forest, canyons, mountains, or deserts.

I gather a lot of my content from memory and my own processes of decolonization by actively finding a connection to my ancestors and cultures. I am Xicanx and Pinay, and I always strive to embrace and link those parts of my identity. I feel art has provided the journey to do so. In particular, weaving has been instrumental in the therapeutic aspects to dealing with inter-generational trauma. It serves as a bridge to connect my cultural identities through a practice that has been functional, expressive, and culturally preserving, and one that is important to both cultures from indigenous to post-colonial time periods.
Have things improved for artists? What should cities do to empower artists?
I think social media tools have worked really well in the artists' favor as far as bridging different communities locally and internationally. I think it is always going to be a struggle to be an artist and to have the financial means to pay for what you love to do, especially for things like supplies and a space for production. It is a struggle I find myself and many of my colleagues in. We all work 2 or more jobs and find a way to make work with our free time, while also trying to balance our personal lives. I think art, artists, and art educators in the institutions are still undervalued financially and socially. I strongly believe in the power of art as therapy and as a tool to empower people young and old, and I believe it enriches peoples' lives through personal and public, private or collaborative art projects. I would also strongly defend the concept and campaign of progressive LA organizations for prison reform like Justice LA that are against Los Angeles City investing 3.5 million dollars into more jails, while that money can be used to help people rehabilitate. Some can be allocated for art therapy for ex-prisoners and youth programming alike. I think for art to thrive, you need to find ways for it to reach and connect to the needs of each community demographic, to make it accessible; and to do this, we need more city and state funding towards enriching public programming.
Do you have any events or exhibitions coming up? Where would one go to see more of your work? How can people support you and your artwork?
I am currently exhibiting four art works at LAWS (Los Angeles Water School) at 316 South Anderson Street, Los Angeles, 90033. I am in a show called LANGUAGE, which is a benefit art show to raise funds for the Lakota/Anishinabe AIM activist and political prisoner on Death Row. It will be up until April 1 by appointment only through: marleneltafoya@gmail.com. It was curated by my homegirl Marlene Tafoya, Panda, Oscar Tuazon, Bobby Jesus, Erma Scranton, and Adam Marnie. On June 16, I'll be showing a work in a show I am collaborating on with my Amiga Gloria Plaza at the studio space of her and JC De Luna/Barrio Dandy at 2509 East 4th Street, Los Angeles, CA. This show will be curated in the theme of inter-generational and historical trauma, as well as a vehicle to give a platform to Woman artists of color.
Undocumented, and LGBTQ artists. Also, on July 4th, our group, FA4 Collective, will have our third exhibition at Angel City Brewery that highlights the topic of migration, immigration, and deconstructing borders by sharing our various journeys as immigrants or growing up in migrant families. From July 22-September 16, I'll be showing work in the LA Municipal Art Gallery juried exhibition, which I'm also very excited about!
People can support my work by visiting shows, sharing my work, contacting me thru email (gloria.em.sanchez@gmail.com) or my Instagram (@glorie_elisa_mague) if they are interested in purchasing a work or a commission agreement.
Contact Info:
Address: Studio in San Pedro1300 South Beacon Street
San Pedro, CA 90731
Phone: 3108971782
Email: gloria.em.sanchez@gmail.com
Instagram: @glorie_elisa_mague
Facebook: https://www.facebook.com/GLORIAEMS8
Image Credit:
one photo taken by Cynthia Lujan and two photos taken by Marlene Tafoya
Getting in touch: VoyageLA is built on recommendations from the community; it's how we uncover hidden gems, so if you know someone who deserves recognition please let us know here.