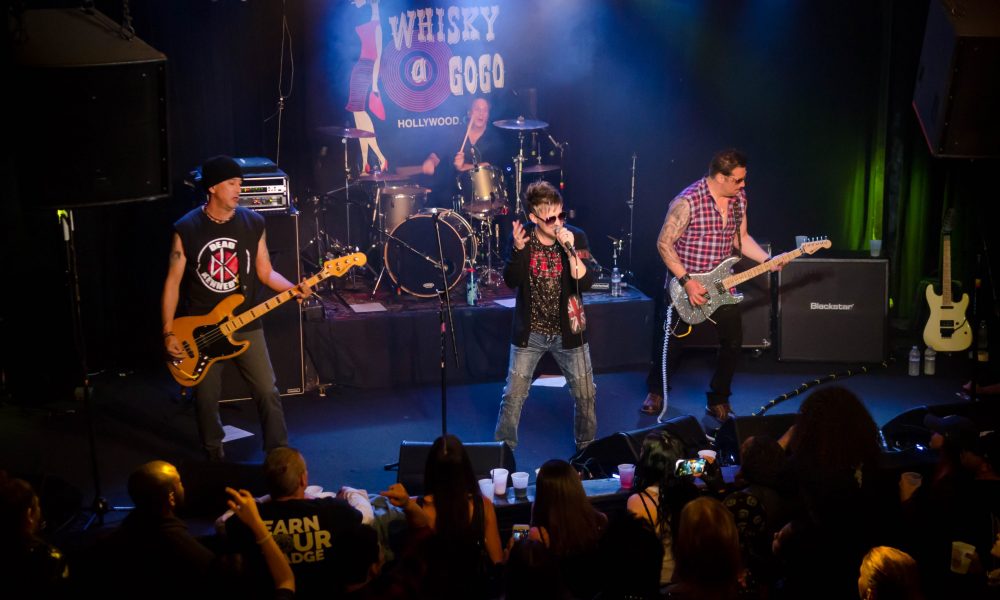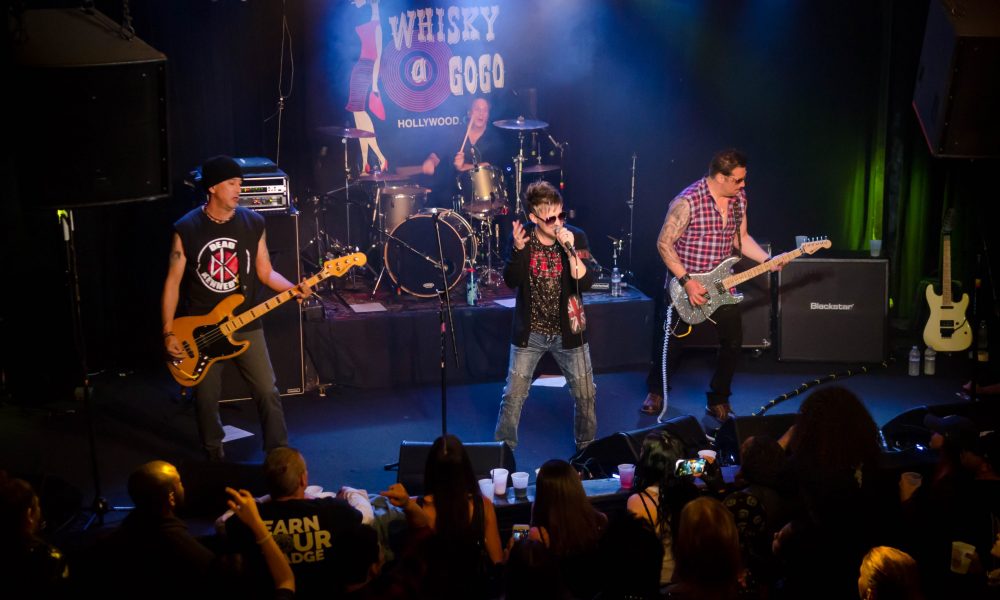 Today we'd like to introduce you to Generation Mangled – Donovan Germain, Nima Farahani, Joey Norris and Lance Crane.
Growing up in LA and forming the popular local rock band 'Dancer' as teenagers in the 80's & 90's, Nima Farahani and Joey Norris had several now-famous bands open for them back then, such as Alice In Chains and Buck Cherry. Having truly lived the 80's/90's LA rock scene, why not get back together decades later for another go?
After reconnecting a few years ago, Nima and Joey decided in 2017 to start a new band – Generation Mangled. The origin of the name came from the idea of forming a band again one generation later. What had changed? How was the world different? As fathers now, how did they view the next generation their kids will grow up in? They both agreed it was definitely a darker, more complicated place than the fun-loving 80's they grew up in.
With Nima on guitar and Joey playing bass, they still needed a drummer and vocalist. Nima had played gigs with drummer and producer Lance Crane over the years, so he was a sure fit. After an unsuccessful attempt with a female vocalist, they turned to the audition process to find their frontman. Little did they know that an acapella singer from Minnesota would turn out to be the right fit.
Donovan Germain had recently moved to LA after touring and performing in professional acapella groups around the U.S. and on cruise ships. After performing acapella cover songs for seven years where the goal was NOT to stand out, Donovan was ready for original music and a chance to find his own style and voice. Having grown up listening to classic rock bands such as Aerosmith, Boston, and Metallica, he was eager to take on the new challenge of harder, heavier music.
Can you give our readers some background on your music?
Generation Mangled is an American modern rock band from Los Angeles, California, formed in early 2018 by lead guitarist Nima Farahani, bass player Joey Norris and drummer Lance Crane. Shortly after formation, lead singer Donovan Germain was added to complete the lineup.
In their early 20s, guitarist Nima Farahani and bass player Joey Norris formed a band named Dancer that took Hollywood by storm. Dancer sold out every venue in Hollywood during the sunset strip heyday. On multiple occasions, the Los Angeles Fire Marshal shut down Dancer's shows because of the significant number of concert-goers in attendance – above and beyond the venue's legal occupancy capacity.
The band quickly captured the interest of those in the industry and obtained management by retaining Tom Farrell (Editor-in-chief of Rolling Stone and Music Connection Magazines). Under his supervision, the band skyrocketed even higher and gathered a remarkable following around the Los Angeles area, breaking attendance records at many venues in town and headlining over some of today's well-known acts, such as Alice In Chains and Buckcherry. However, during talks and days before inking a deal with one of the two major labels negotiating, personal differences caused the demise of the group bringing it all to an end. Easy come, easy go.
Years later, guitarist Nima Farahani and drummer Lance Crane met while playing in a band called Hateful Bliss, which project was formed and fronted by J. Cash Chase, a preeminent Los Angeles night-life social butterfly with all the connections in town. Hateful Bliss had a melodic pop rock sound and performed on many large-scale stages, commissioned by the "who's who," including Hugh M. Hefner and company.
Aside from their accomplishments as Generation Mangled, these artists have had considerable success in their own prior musical endeavors.
Donavan Germain is a highly skilled a cappella singer, with an extensive amount of touring and performing experience, which certainly gives him an edge over others that are simply a "face" and lack the skillset needed to legitimately deliver the goods without the assistance of ghost singers and auto tune. Given that his true roots are in rock, Donovan has been recognized for his soulful and powerful delivery, both on stage and on recordings, time and time again.
Bassist Joey Norris has a huge sound, which has landed him in national acts, such as Ugly Kid Joe, as well as a long list of other influential rock bands. While negotiations ultimately fell through, he was previously considered for positions in Ozzy Osbourne and Alice In Chains.
Guitarist Nima Farahani has been a staple in the Los Angeles music scene for years. He has toured extensively and recorded albums with some of the biggest names in the business. He was signed to Geffen Records with a heavy project that he formed named Atomic Darlin'. Thereafter, he was signed to A&M Records with a southern rock band named The Love Revival. Later, he became involved in session work and worked with several noteworthy producers. A song on which Nima played reached number 14 on the Billboard Hot 100, spending 28 weeks in the top 100, and peaked atop the Adult Top 40 chart for three weeks. It finished as the United States' 51st highest-selling song that year.
Generation Mangled has performed with, and continues to perform with, the biggest names in rock. In the last year alone, the band has performed to sold out crowds on bills with Mötley Crüe's Vince Neil, Great White, Quiet Riot, Cinderella, Jake E. Lee's Red Dragon Cartel, John Corabi, Trapt, L.A. Guns, Puddle of Mudd and Dokken, to just name a few.
While Generation Mangled remains dedicated to producing a highly sophisticated caliber of songs demanded by today's music audience and industry professionals alike, it does so while staying true to its own form of art. The songs are delivered with a thunderous sound that showcases the musical abilities of the individual artists in the group. The sound is never repetitious and exhibits a wide range of styles while the lyrical content always tells a compelling story to elicit a wide array of emotions from the listener.
In the live performances, the band's undeniable passion clearly comes across. Generation Mangled never relies on gimmicks or antics that take away from the true soul of the song and focuses on delivering an over-the-top entertaining and inspired performance, which has captivated audiences each and every time.
What do you think it takes to be successful as an artist?
Success is being proud of the art that you have created, regardless of how many people see or hear it. The more that an artist can turn that need for approval inward, seeking their own approval instead of the approval of others, the more satisfied they will be.
Do you have any events or exhibitions coming up? Where would one go to see more of your work? How can people support you and your artwork?
We have our self-titled debut album 'Generation Mangled' that can be purchased:
iTunes: https://music.apple.com/us/album/generation-mangled/1381108121
Google Play: https://play.google.com/music/preview/Agsvkmf22utpnqn72d46eolqyzu?play=1
Amazon Music: https://music.amazon.com/albums/B07DWJD5GC?
Spotify: https://open.spotify.com/album/1Zsw9ABAH31Z8KEdQTUAB0?si=HiPF9xzNQn6aQysGTf69CA
A physical CD can be purchased on Amazon:
https://www.amazon.com/dp/B07D44VHB5/ref=cm_sw_r_cp_api_i_r1VsEbBVDDDQY
We perform around the LA area at venues such as Whisky a Go Go and The Canyon Clubs. Follow & like us on Facebook at Generation Mangled and Instagram @generationmangled to see our show schedule.
Contact Info:
Image Credit:
Generation Mangled, Adam Trent
Suggest a story: VoyageLA is built on recommendations from the community; it's how we uncover hidden gems, so if you or someone you know deserves recognition please let us know here.