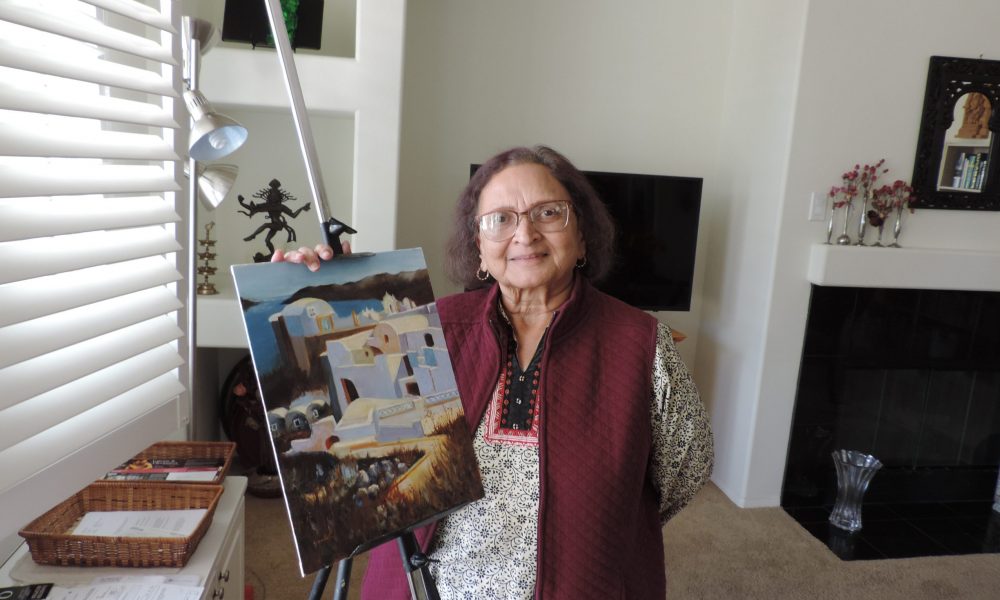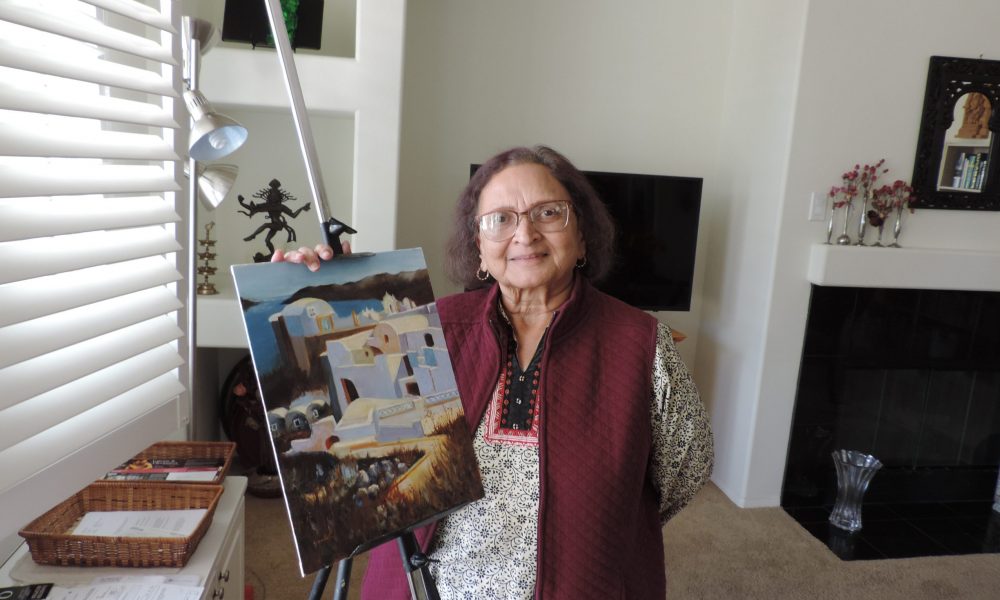 Today we'd like to introduce you to Geeta Pattanaik.
Geeta, we'd love to hear your story and how you got to where you are today both personally and as an artist.
My art journey started very early when I was interested in drawing and painting, and took some correspondence courses in Watercolor and Oil painting and in Commercial art. But I never took academic courses in art as an adult. I went into studying English literature and then Librarianship, getting an Honors Degree and two Masters degrees in English literature, and then studying to become a Librarian. But the interest never went away, and I took early retirement to go into it with renewed vigor. For the first time I was in class with an art teacher, David Musser, I realized what I had missed. Since 2007, my main focus has been painting plein air (painting the scene outside), doing studio paintings, learning from books, magazines, Watching videos and DVDs, attending workshops and demonstrations, learning from online courses and from many of my artist friends. To firm up the experience, I joined many local and national art organizations.
Looking back, from childhood nature fascinated me and I observed it very carefully, sometimes painting and sometimes expressing my feelings in a poem. Because both the word and the image were of equal importance, I was never sure whether to lay emphasis on one or the other. A career in writing might have been a possibility, but I think the image finally won.
When I got my first camera when I was young, and then when I got my first Polaroid camera in the late 60's, I kept recording scenes. It was an urge in me to keep the image in my mind and heart. But I now find, many of them must have been fulfilling the same urge to see and internalize something of our world.
We'd love to hear more about your art. What do you do and why and what do you hope others will take away from your work?
I don't characterize myself by the medium with which I paint. I choose to call myself an artist, as I paint in watercolor and in oils, but also enjoy doing pen and ink sketches, sometimes by themselves and sometimes with a watercolor wash. I love painting outdoors on location with the Plein Air Artists of Riverside, by myself when I travel and also work a lot in my studio. I realize how much making art means to me now when I devote myself to it. But looking back when I was studying and had a career in a different field, I sometimes did not touch a brush for years. I do not hesitate to say that had I not worked in librarianship, where I felt I helped many people, I would not have been able to carve out this time for myself, to do as I choose. Having met so many people in Britain and the U.S. where I have been a librarian, I think, my empathy with people and the lives they led added a new dimension to my life. I never worked in India where I was born, but, would have liked the same experience there too.
I developed an intense need to observe things and people around me, traveling to many countries or doing the same when I became an avid gardener, I feel without knowing, I was just building the groundwork for what any artist does, observe and imagine.
I teach watercolor painting now and have advice for my students. If you or someone you know wants to explore art, please do not let that feeling go. Encourage it in yourself, nurture it in others, and make sure it never dies. That feeling goes so deep, that I don't feel I have art as a hobby now, it is more like hunger. One cannot ignore it. When I see something, I record it mentally, in a sketch, in a photo or a little painting. I let it ferment for a while within me, when I know it will emerge fully formed as a painting, like a butterfly from a cocoon.
As I came into working as a professional artist late in life, I don't want to label myself as a watercolor artist, oil painter, sketch artist or anything else. I thrive doing them all, including collage, and want to see where the journey takes me, as long as I have a feeling to express or an idea to share.
My need to paint is not just to reproduce, but to share the intense beauty around us, and express it by communicating what I felt when I saw it, by way of a painting. It might be the glow within a flower, a lone worker in a historic spot, or the way everyday objects come together to take on new meaning. When someone tells me that they felt this or saw that in my painting, it is usually what I know was the most important thing I saw in the composition and managed to transfer to someone else through my art. That gives me deep satisfaction.
How can artists connect with other artists?
Artists need to look around them by visiting galleries, museums and shops and talking to people. When I was about to retire, I did not know one soul who liked to touch brush to paper. I happened to talk to another friend, colleague, and librarian, who is an avid photographer if she knew of any local groups for artists, and she mentioned our local museum, the Riverside Art Museum, which has several groups for artists, photographers, printmakers and more. I joined the museum and the Plein Air Artists of Riverside, through them. Since then I know most of the artists who work in this area and have been involved in many more galleries, displaying my work throughout the year. I also have joined more national bodies, but that is more for getting my art out rather than for making contact with artists.
Please do Google searches for artists in a certain medium, or in a certain geographical area. Also, social media yields rich results.
But one thing one has to be wary about is that giving release to your creative impulse is your reason for looking for other creative souls. Making art should not get pushed to the back because of social interactions, receptions, gallery sittings and a lot more. Sometimes I have withdrawn from one or two groups because I felt the balance I set for myself of 80-20% (80 being creating and 20 being marketing and social interaction) was getting skewed.
Do you have any events or exhibitions coming up? Where would one go to see more of your work? How can people support you and your artwork?
I am a Signature member of the National Watercolor Society, and an associate member of the American Watercolor Society, Watercolor West, the California Art Club, Riverside Art Museum and the Arts Colony of Corona. I display my work in many juried shows and member shows. Usually, I list them on my website at geetapattanaik.com. My awards and resume are also available to view there along with a selection of my painting. I teach watercolor painting at The Arts Colony of Corona and the Riverside Arts Museum, for six weeks, at least twice a year.
I use different media, and use different styles for different occasions to achieve the effect I want. Plein air painting conditions are very different to studio painting, because of time, activities around oneself, changing light and the portability of art materials to different locations. If someone likes my art, they can contact me through my website. A few lines of appreciation from someone I don't know makes it happier to paint the next one. To purchase a painting also one can contact me through my website at geetapattanaik@mac.com.
As any artist knows, materials are very expensive and if you put a dollar amount on your artwork, you have to have a business license and the other measures to display and market your art. Displaying one's art is the next phase after creating it. Not all art is to everyone's choice and everyone reading this, might like a different style than mine. My wish is that each person supports artists who create work that they like, remembering the generations of great artists, who were in hunger and without support, during their lifetime, and only later each of their paintings might have sold for tens of millions of dollars. Would it not have been nice if they had got a fraction of that appreciation during their own lifetime? Every time I purchase something at a museum store, or an arts and craft fair, where I bought something hand made, if there is a contact e-mail or address, I write an e-mail and invariably receive the kind of response I have when someone writes to tell me that they liked the light or the composition of one of my paintings that they saw.
Contact Info:
Image Credit:
Prasanta K. Pattanaik (Only for the photo of me)
Getting in touch: VoyageLA is built on recommendations from the community; it's how we uncover hidden gems, so if you know someone who deserves recognition please let us know here.