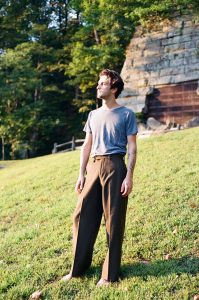 Today we'd like to introduce you to Eric Lewandowski.
Hi Eric, thanks for sharing your story with us. To start, maybe you can tell our readers some of your backstory.
Well, I was born in Sylvania, Ohio and lived there for most of my life. My brothers were super into video games and when Guitar Hero and Rock Band first came out, they immediately bought them and I was hooked. As much as I wanted to learn guitar and sing, playing drums just happened very organically and I couldn't get enough. The Christmas of 2008, I asked for a drum set and my mom and brother came through for me.

I would play by myself or along to my favorite songs for hours on end until eventually I met one of my best friends who happened to play guitar. That led to us forming a two man band, we would play small bars and basically anywhere that would let us perform that wasn't our basement. We went on to win my friend's school Battle of the Bands, where we met two other guys who then joined us forming the band Blue Walls. Playing in a band, writing, recording and performing on stage was a thrill that I never wanted to end.
Ultimately though, after a few years we all went our separate ways and headed off to college. I decided that if music was really a goal and not just a dream of mine, I wanted to leave myself no other option. I got accepted into the Hocking College Music Management & Production program where I met some of the most important and influential people in my life. My two years at college gave me an entirely new view on music and the whole industry itself. Since graduation, I've been working odd jobs here and there, doing what I can for myself and making music every chance I get. With the time I've had off especially since covid hit, I've been able to focus on myself and my music. I'm getting ready to release my first EP along with some other content that I'm really excited about. It's been a wild ride so far but I wouldn't take any of it back.
Can you talk to us a bit about the challenges and lessons you've learned along the way. Looking back would you say it's been easy or smooth in retrospect?
I've definitely had my rough patches here and there. My parents divorced when I was in the 5th grade and everything after that was pretty confusing. I used to skateboard a lot when I was a kid, which helped me get through some of the toughest time in my life. Once music came into my life though, that took the place of skateboarding for the most part and I began putting my energy in that. Making music (especially for me as a solo musician since I make everything myself from scratch) can be tough. I don't have too many people I can bounce ideas off of and I'm a very self-conscious person so I'm always second-guessing myself, wondering if something sounds good enough or if it's what I had imagined in my head. It can definitely get discouraging at times, but when I make something, I really love there's no feeling quite like it.
With that said, I think the biggest thing for me was trying to find 'my sound'. When I started as a solo artist making my own music there were so many bands and musicians that inspired me, it was extremely difficult deciding what sounds I wanted to use and how I could do something that wasn't just copying the songs and bands that I loved. It was a lot of trial and error. I've written upwards of 50 songs before finding the sound that I'm happy with. It wasn't until I finished my debut single "Behind My Eyes" that I really felt like I had tapped into something. Obviously, you'll be able to pick up on influences when you listen to anyone's music, but you don't want them to mistake it for someone else's because it sounds so similar. It took me a while to figure that out for myself.
Thanks for sharing that. So, maybe next you can tell us a bit more about your work?
I'm a solo musician. Drums were the first instrument I learned, and my oldest brother had an acoustic guitar that had been collecting dust for quite some time, so over the years I picked up a decent understand of how to play guitar. From there, I taught myself bass, piano and took singing lessons in college. I'd say if there was anything I specialize in though, it's drums. I've been playing them for 13 years and it's second nature to me, give me any song or melody and I'll find something that fits. All in all though I just love doing everything myself. It can be tedious most of the time but those moments when I know what I'm doing feels right make it all worth it. I think most people know me for the fact that I make everything myself. I know it's not uncommon anymore for people to make everything in their bedroom, but I use what I've got at hand while also attempting to make wide immersive sound. I'm really proud of the fact that my music doesn't sound like it was made with one microphone and a fairly simple set up.
At the same time, I don't want to hide the fact that I have a pretty straight forward approach to writing and recording. I think a lot of people over complicate the recording process. That's also a part of what I think sets me apart from others. I prefer a very hands on approach when it comes to recording and mixing techniques. I just mess around with sounds and instruments until I find something I like. A lot of my favorite moments in music whether it's my own or someone else's tends to be things that are unexpected. Since it's only me coming up with all the ideas, the more spontaneous and quick I can work the better. I want my music to feel intimate and organic. It's me playing drums, guitar, bass, keys, synths, etc. singing to you about my troubles and thoughts.
Do you any memories from childhood that you can share with us?
I wouldn't technically consider this a 'childhood memory' but one of my favorites is playing the battle of the bands for my friend's high school. At that time, my friend and I went by "Yahtzee Box" because when we first hung out to play music, I didn't have my drums with me, but we had a box for the game Yahtzee and a pair of drumsticks so we just figured Yahtzee Box was fitting. Anyway, after we finished playing our set at the battle of the bands, the crowd began cheering "YAHTZEE BOX! YAHTZEE BOX!" screaming for us to play an encore which leads us to win. Hearing people enjoy what my friend and I did for fun in his basement so much so that they later began to crowd surf us is a memory that I'll hold dear to my heart for as long as I live.
Contact Info:
Instagram: Cawfeemusic
Youtube: Cawfee
Other: spotify:artist:77dFql0BDBg1OolWdCQ6iM (Spotify)

Image Credits
Brandon Streeter (Photographs where I'm wearing blue shirt and green pants)
Suggest a Story:
 VoyageLA is built on recommendations from the community; it's how we uncover hidden gems, so if you or someone you know deserves recognition please let us know 
here.