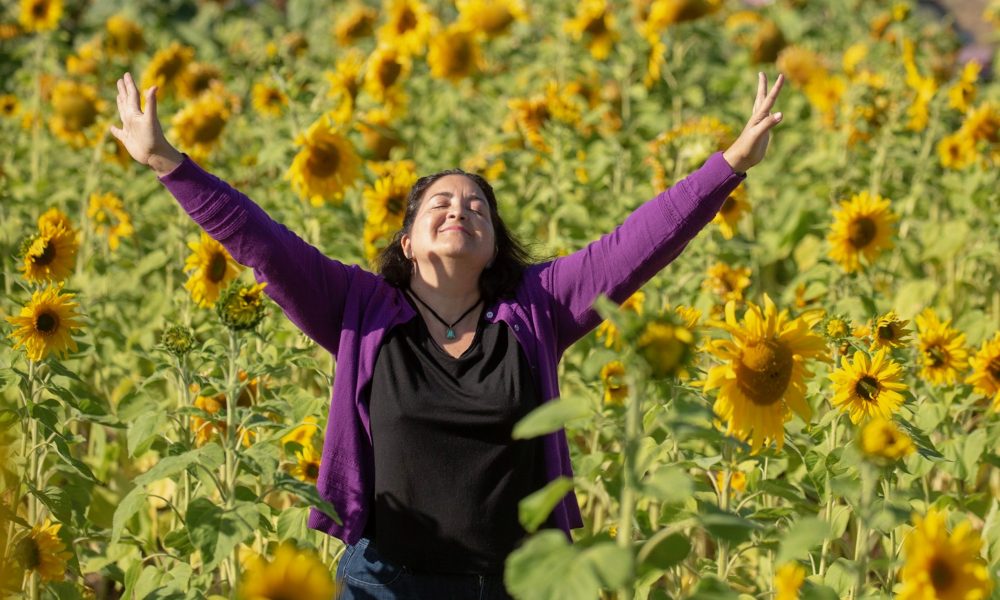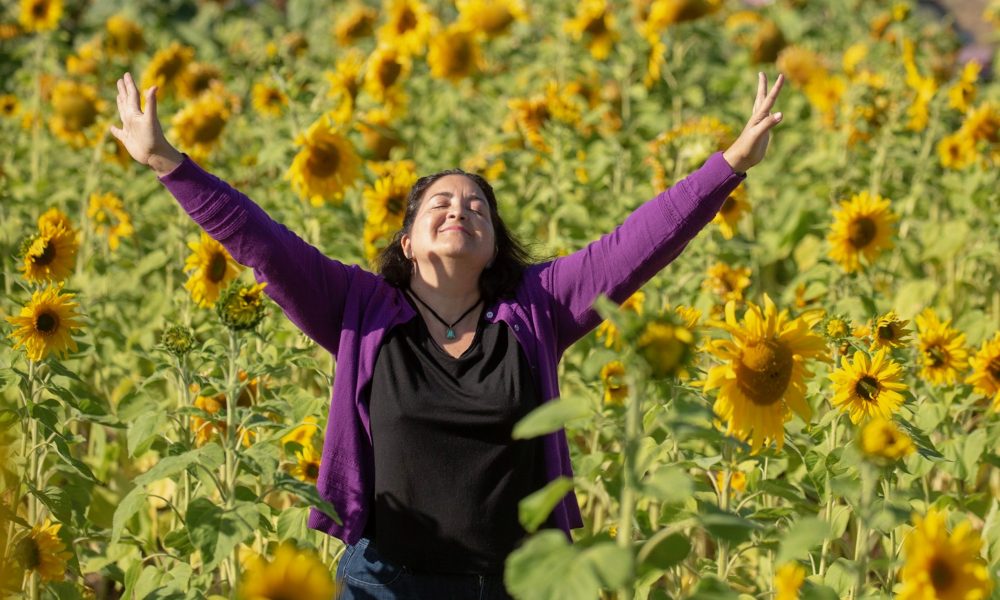 Today we'd like to introduce you to Elizabeth Aquino.
Elizabeth, we'd love to hear your story and how you got to where you are today both personally and as an artist.
I've been a writer since I learned how to read at four or five years old. I have been a voracious reader and prolific writer and love what the poet Mary Oliver said — "I read the way a person might swim, to save his or her life. I wrote that way, too." I wrote mainly fiction and short stories and terribly self-conscious journal entries for twenty-five years, but I stopped writing abruptly when my first baby was born in 1995. I was nearly 31 years old when she was diagnosed at two months with a rare form of epilepsy. The next decade or so was one of near-constant crisis, broken only by long stretches of trying to maintain some "normalcy" in my family's life. I would have two more children, both sons, and life was hectic, to say the least, as I juggled their needs. I began writing again in 2005 in a continuing education course at UCLA, taught by Barbara Abercrombie. It was called "Writing the Healing Story," and through Barbara's deft mentorship, I began writing my daughter's story and my own.
Sophie is now 23 years old and has severe developmental disabilities as well as uncontrolled seizures. She has been the inspiration for much of my life's work in disability and healthcare advocacy but also in shaping my life as an artist. I write about my experiences raising her, about disability, about identity and what it means to be human. I write of the struggle that many caregivers face — doing the most important job they'll probably ever be called to do, one that calls for immense self-sacrifice and an equally strong impulse to maintain a strong sense of self. I began a blog over ten years ago that is a place where parenting, politics, poetry, and disability intersect, and I nurtured and was nurtured there by an incredibly beautiful community of fellow caregivers, writers, and artists. I eventually applied for and won a prestigious spot at Hedgebrook, a writing residency and community for women on Whidbey Island, Washington. I spent three glorious weeks there, in solitude and the company of five other incredible women artists, beginning the process of shaping a bunch of fragments and essays into a rough draft. Three years later, I'm finishing that rough draft and working with an editor. I am 55 years old and hope to finally publish a real book, a dream that I've had since I picked up books and devoured them so many years ago.
We'd love to hear more about your art. What do you do and why and what do you hope others will take away from your work?
I'm not sure what you would call my writing — it's sort of a hybrid of memoir, prose poetry and creative non-fiction. I guess you could say that my prose is quite spare and stripped of sentimentality although it can be lyrical as well. The manuscript that I'm currently writing is made up of many fragments, the writing of which comes the most naturally to me and that I hope conveys the fragmented nature of identity in caregiving. I don't have any "message" to give to readers, but I hope that those who read my writing, especially that on disability, discover that there is as much dignity and integrity in a disabled person as there is in one who is able. This seems obvious, but it's not. I also write in what I imagine is a brutally honest way about the medical world as we experience it in the United States and how difficult it is to navigate all the systems of care. I believe passionately in the ability of story to change the world, and that those changes can be infinitesimal and as big as the universe. I think it's important to be honest about one's experience, particularly as a caregiver and mother. I'm also interested in laying bar those feelings that have been historically denied women: anger and irritation, the often gnarly complexities of motherhood, etc. I always seek to strip away platitudes and sentimentality in my writing as well.
During the last six months, I've been co-hosting a podcast called Who Lives Like This?! with a friend and fellow caregiver, Jason Lehmbeck. I helped to develop the podcast, a bi-weekly forum where we interview caregivers of children and young adults with special healthcare needs. The conversations are incredibly stimulating and inspiring, and I try to expand upon them on our website where I post regularly. Writing for me is a lifeline — the way I navigate the world.
The sterotype of a starving artist scares away many potentially talented artists from pursuing art – any advice or thoughts about how to deal with the financial concerns an aspiring artist might be concerned about?
Oh, dear Lord. I would never give an artist advice about anything financial! I am THE WORST when it comes to money-savviness. I have sold pieces for $500 but more often for nothing. I am a freelance writer who is always hustling for work, but I don't rely on the writing to support myself. I also have a small business leading a literary and food salon, and baking and decorating elaborate cakes (trained in a previous life as a pastry chef). I do have great hopes that the podcast I've been working on over the last year will turn into something of financial benefit and hope that people reading here will subscribe and even become patrons!
Do you have any events or exhibitions coming up? Where would one go to see more of your work? How can people support you and your artwork?
People can read my writing on my blog, a moon worn as if it had been a shell. The address is www.elizabethaquino.blogspot.com. I have published quite a few essays and pieces online in ANTHOLOGIES, literary journals, magazines, and newspapers. These links can be accessed on my website. I had an ebook published several years ago by SheBooks, which is available for purchase/download on Amazon. It's a mini-memoir titled "Hope for a Sea Change." Most recently, I have three prose poems published at the Michigan Quarterly Review in a special Caregivers issue. People can support my work by opening their minds and hearts to understanding disability and the important role that caregivers provide in the world. They can also subscribe to the Who Lives Like This?! podcast and help us build the community that we're creating there!
Contact Info:
Image Credit:
Carl Jackson took two of the photos — the one of me at a reading (I'm holding a paper) and the one of me and my co-host in front of a microphone on our podcast.
Getting in touch: VoyageLA is built on recommendations from the community; it's how we uncover hidden gems, so if you know someone who deserves recognition please let us know here.