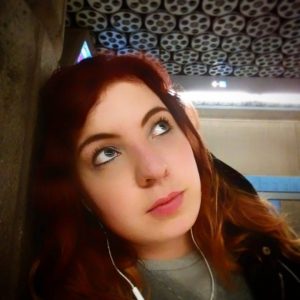 Today we'd like to introduce you to Deidra Kathleen.
Hi Deidra, it's an honor to have you on the platform. Thanks for taking the time to share your story with us – to start maybe you can share some of your backstory with our readers?
Growing up, I had this thing where activities didn't hold my interest for too long. I'd get really into things but then my interest would burn out right quick. It frustrated my parents, to put it lightly. Until, on a whim, one day my Mom asked me if I wanted to audition for a show at the Toledo Repertoire Theatre. To her surprise, I agreed. Bless her. She took me to a local music store so we could get sheet music. So my first audition, I walked into the Toledo Rep with fuzzy black pajama bottoms with silver diamonds on them that reflected any light that hit them like a disco ball. The song of choice? "Shape of My Heart" by the Backstreet Boys. My nervousness ranking? Out of this world. From there on, I faced my shyness and social anxiety by being a part of shows. Bless my Mom for somehow mind-reading and somehow knowing that I longed to perform. The shows I didn't get cast in, I worked on as crew. During the time we had cable growing up, I remember watching Disney shows and Star Trek: The Next Generation. I remember dreaming to be in the shows and movies I watched. I remember that the feeling of being a part of something bigger than me felt right. I'm not going to pretend it was smooth-sailing from there on out because it truly wasn't. I've had some unkind things said to me along the way thus far that is for sure, as most do – namely appearance-oriented.
I have PCOS (Polycystic Ovarian Syndrome) and Hashimoto's disease. They cause a few different issues, but more noticeably make losing weight more difficult yet putting it on as easy as pie – pun intended. But in all seriousness, this is something I've had to accept over the years and adjust my diet accordingly to be healthier. Also over the years, I was blessed to have people who believed and still do believe in me along the way – people such as my family, friends, Joné Jaquay (formerly Smith) – who gave me my first big role in a Shakespearean show, Jeremy Meier – who gave me my first female leading role, and Madge Levinson – who, when every other casting director at a certain multi-audition told me I was too young for all of the shows they were casting (despite being 19), took a chance on a young girl she barely knew and hired me for her traveling theatre troupe, The Young Rep Playgoers. These people were tremendously heart-filling because every performer will have naysayers along the way but the ones who believe in you are worth so much more.
To be fully transparent, I was previously hired by another local theatre troupe – who then ended up not scheduling most of the people they "hired." Long story short, my other part-time job ended up being at a local Arby's, working with my cousin, may she rest in peace. And at some point, I ended up being an underpaid extra with my friend, Jamal Knight in a local car company's commercial, may he also rest in peace. It's not all sunshine and daisies, but I love this industry and I'm forever grateful to those who've believed in me along the way. I started at Owens – a local community college – a couple of days after graduating high school and a little over a couple of years later, I received my A.A. in Theatre Performance. I then auditioned for the American Academy of Dramatic Arts – New York City campus and Point Park University in Pittsburgh. I did not get into either school. I did apply and get accepted to the Art Institute of Pittsburgh for Entertainment Design (monster-making and more), but it wasn't what I truly wanted. I wanted a more drastic change of scenery and I wanted to be acting.
It was heartbreaking and I honestly should have applied to more schools, but my family had our own struggles going on – so I don't hold onto that. Then, on a whim, I decided to apply to The Art Institute of California – Hollywood for their film department – thinking I could take acting classes on the side. And I got in. A couple of months or so after graduating from Owens, my sister, Deanna and I were driving to my new home in Los Angeles, singing Backstreet Boys, Three Days Grace, and various other artists along the way! My family has always been so supportive of my goals, to which I am out of this world grateful.
Whilst in film school, I was taking classes that were four hours long each – and at one point, I was leaving class fifteen minutes early to go to hour-long play rehearsals in Hollywood via the metro – which I'd then leave fifteen minutes early to get to my next class on time. And at one point in film school, I was missing acting so much that I auditioned again for the American Academy of Dramatic Arts – this time for their Hollywood campus, which is not too far from Kat Von D's tattoo studio, fun fact. I was accepted with honors the day after my audition via a phone call from my admissions advisor. So many happy tears were shed. Unfortunately, despite two scholarships, I could not afford to attend. So, I cried, mourned my scholastic loss, and recomposed myself – sorting out my next step.
Around the same time, I got hired to work at a hip-hop clothing store owned by some well-known choreographers who were incredibly kind and supportive of all of the staff's dreams – unfortunately, management was not. So, in order to be able to film for my first short film ever out west – I was forced to choose between my day job and it. Again I cried, but then sucked it up and made a choice – to be in my first short film in California. As time went on, I was in a ton of shorts for my fellow film school students – and assisting in many different casting and production positions. When I wasn't in school or helping out my fellow cinephiles, I was taking classes at Second City – Hollywood and Stuart Rogers' Studios. I graduated with my B.S. in Digital Filmmaking & Video Production in 2015, having directed two of my own short films whilst in school: Dinner & a Movie and L'Antoinette. I graduated Second City – Hollywood's Conservatory in 2017. I also had a few different professional internships over the years at places like IronClaw, Good Clean Fun, and Center Theatre Group. Since graduating, I was featured background in a documentary about some of the original women in film, portraying one incredible talent, Dolores Ferraro. I've worked as a production assistant, producer, audition reader, and grip on many short films and one feature. I was in a live stream game show hosted by everyone's favorite lost boy and one of my childhood crushes, Dante Basco (Rufio in Hook).
On the same set, I was lucky to make a few new friends – Ify Nwadiwe, Cindy Chu, and Marcos Gonzalez. I've been background for shows like Lucifer, Young Sheldon, Mom, Get Shorty, A.P. Bio, Grown-ish, and more. I've been cast in shorts by student filmmakers from such schools as New York Film Academy – LA campus, the University of Southern California, California State University – Northridge, and more. I've been in plays as well – including getting to be in the premiere West coast performance of A Klingon Christmas Carol alongside one of its writers, Christopher Kidder-Mostrom, who taught us Klingon (tlhIngan) phonetics. During my time out here, I've met people from back home who are also out here dream-chasing, such as comedian – Sarah Fatemi, actor – Joe Capucini, and dancer – Seth Hillard. I know that there are other actors I used to perform with in Ohio that I have yet to run into and/or work with that are also out here. There are also people making progress behind-the-scenes like Leah Veltri who is making her way up at the CW, my sister's best friend, Ryan Biel works at CBS, and Sydney Lawson finished a master class at the American Society of Cinematographers… It just honestly makes me so happy and grateful to see us 419s dream-chasing together. I'm sorry if I forgot anyone. Know I didn't do it purposely. I also keep track of those originally from back home who are already successful – like Alyson Stoner, Katie Holmes, Eric Kripke, and more. It's incredibly inspiring to see.
And this past year or two, things came full circle for me when I got to meet my favorite Backstreet Boy, childhood crush, and all-around idol, A.J. McLean. I was chosen to be one of twelve or so extras on set for his most recent solo video, Boy & a Man. I had only just moved back to California from going back home for a year. It was unbelievable. It was something I thought was so far-fetched that it wasn't even on my bucket list of goals – which formerly included working with people like Sir Patrick Stewart, Anjelica Huston, Colin Firth, and Debbie Reynolds – may she rest in peace. These past couple of years, prior to the pandemic, I was in two short films, Next Size Up and Avengers in the Office. I also started writing for Geekscape. I do weekly table reads with friends twice a week and do improv at least once a week. I also perform standup. This year my goals are to become union-eligible, put up a show of sketches I've written or film them, and perform onstage again. My advice to any dreamers back in the 419 and elsewhere – don't let anyone who gave up on their dreams talk you out of yours.
Alright, so let's dig a little deeper into the story – has it been an easy path overall and if not, what were the challenges you've had to overcome?
I've definitely hit some bumps along the way, including randomly starting to have seizures this past year. So, aside from making sure you keep your health in check, I'd say that trusting your gut is incredibly important. If a project makes you second guess it at all, "Run like the wind, Bullseye" and get out of there ASAP. From performing in an internet reality TV show I more than regret…To an audition where the play's director was a bit too complimentary to say the least…Listen to your intuition…And most of all, trust it above all else…And be careful who you let into your inner circle – they will be the hands to your king, so-to-speak.
Can you tell our readers more about what you do and what you think sets you apart from others?
I'm most proud of any time I got to work on something I can look back on and know it inspired someone else. I'm proud of anytime I get to just go crazy and all-out perform. It is truly out-of-this-world worthwhile to me…Anytime I got to work with a friend or friends – or make some new ones whilst creating something remarkable. It is sincerely such an honor. What sets me apart? I told myself a long time ago that I wouldn't let the world make me bitter. That I'd not give up hope. There are enough bullies in this world – enough people who think saying or writing something cruel gives some sort of soul-sucking dementor-like refreshment. Be your own patronus. Fight the darkness. Darkness can be beautiful, but in this context, I mean don't give up on life. Don't give up on your dreams. You can do this. One of my favorite quotes, aside from "Just do it" is: "When you dim yourself so that someone else can shine, the whole world gets darker." It's from a film called: Playing Mona Lisa. And – one last quote – just because I love it…Lady Gaga says, "Some women choose to follow men, and some women choose to follow their dreams. If you're wondering which way to go, remember that your career will never wake up and tell you that it doesn't love you anymore." I mean, I resent the idea that you should have to choose, but I think she makes a good point.
What does success mean to you?
Success is a rather self-defining word to me…I mean, I rather think everyone has their own definition of it – their own goals to meet. Success to me would be getting to make an impact for the betterment of our world via individual lives. There is this thought sometimes that the betterment of someone else's life will take from our own – whether that be healthcare for all or just seeing someone get an opportunity we so badly wanted. But, straight up, we are all in this together. A friend's success is your success.
Contact Info:

Image Credits:
Carly Baldwin, Tian Xie,
Suggest a Story:
 VoyageLA is built on recommendations from the community; it's how we uncover hidden gems, so if you or someone you know deserves recognition please let us know 
here.