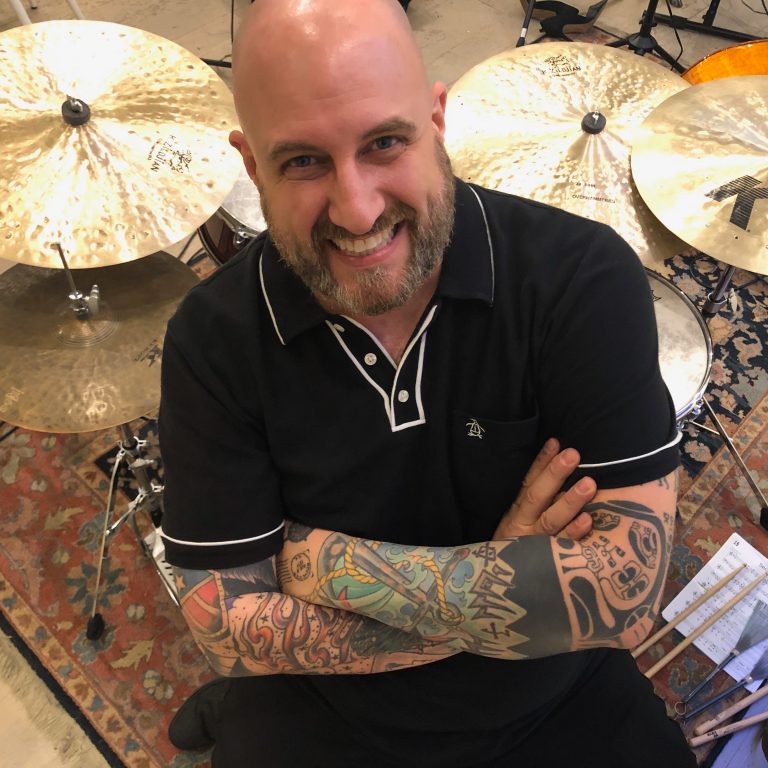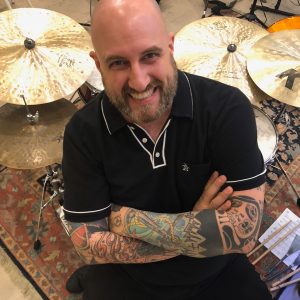 Today we'd like to introduce you to Charles Ruggiero.
Hi Charles, thanks for joining us today. We'd love for you to start by introducing yourself.
I'm a professional musician – a drummer. I'm also a producer, graphic designer and creative consultant. I grew up in Rochester, NY in the 1970's and 1980's. My father was a drummer so it was always in my world. I got serious about music when I was 12. That was when it kind of took over my life. I LOVED to play the drums – still do. The sound, the feel, the power… all of it. I couldn't get enough. I'd come home after school and play drums (not practice, but simply play to records) for 6 hours straight. I started out by just playing rock & roll records – Led Zeppelin, Van Halen, Jimi Hendrix, The Who, and bands like them were what I was into. That music was SO much fun to play, but wasn't particularly challenging for me. When my brother gave me a cassette tape with a jazz mix and I couldn't play along with it – I had "found my Everest."
I In 1990 I moved to NYC to attend Manhattan School of Music. I was so lucky to be in NYC in the early 90's, the jazz scene at that time was incredible. I don't think we knew it then but it was a special time to be there. By 1993 I was regularly touring and playing jazz professionally with some high profile artists, and had even started recording some records too.
In the year 2000 I met a photographer through a great producer/recording engineer friend of mine who said she had some "silly songs" that needed drums – and the band SLUNT was born. I hated the name but I fell in love with playing rock & roll again. That band took over my life for the next eight years. We toured the United States and Europe several times. We playing with the biggest names in music. In 2007 SLUNT disbanded, and I was asked by a band to move to Los Angeles and join up. Circus Diablo was a sort of "Superband" made up of musicians who got famous in other bands. My move to LA proved a bigger positive for me than actually joining the band. After one video and one tour and I decided that I needed to make a change, not just musically but personally.
In September of that year, I quit drinking and doing drugs. It was the best decision of my life. After a little period of getting myself straightened out, I ran into an old jazz musician friend from NYC, Larry Goldings. He immediately asked me to do a show with him. I had played a lot in LA, but really only rock and roll gigs, so that first west coast gig with Larry ended up introducing me to the jazz scene here. From there, I started working quite a lot in and around town with some of LA's finest musicians. I started doing more recording sessions here too. I also began making records as a bandleader. Drummers are usually sidemen, although they make great bandleaders, think Art Blakey, Mel Lewis, and Max Roach. Throughout my career, I had led many bands and made many records but I never was able to do both at the same time. Since 2013 I've released six albums as a leader or co-leader and I couldn't be more proud of that. I moved back to LA in 2016 and almost immediately met my wife Faith. She's the greatest thing that ever happened to me. We live in Valley Village with our plants and I continue to make music live and in the studio.
Would you say it's been a smooth road, and if not what are some of the biggest challenges you've faced along the way?
It hasn't been easy for me, but like the old saying goes – smooth seas never made a good sailor. I'm grateful for my struggles, they've forged me into who I am now, and for the most part I'm proud of who I am today. I could share about the trauma of my upbringing (which could fill a book) but the great thing about the past is that – it's in the past. My only real "regret" is that it took me longer than I'd have liked for me to UN-do the faulty information I was given (or came up with on my own) but even that is fairytale thinking. It takes what it takes, and I'm still learning.
Can you tell our readers more about what you do and what you think sets you apart from others?
The things that makes me proud about myself as an artist are my versatility and my honesty. I love to see the expression on people's faces when they know me as a rocker and see me play jazz… or vice versa. I take pride in that, not that I can play lots of styles but that I can play them authentically so that you'd think that's all I do. That not to say I'm always perfect, I'm far from it but that brings in the honesty piece. For the most part, with me as an artist you're gonna get the truth. You may not like it but it's the real me – and in the end that's all I ever wanted to get across. Like most people, I want(ed) to be seen. I never saw the point of putting the fake you out there. That sort of defeats the purpose, no?
Do you have any advice for those just starting out?
The biggest piece of advice I always give to aspiring artists (or anyone for that matter) is this: you don't always have believe what you think. Like I said, Although I had a bit of a rough go in early life the real harm that was done was in me holding fast to what I thought. Always leave room to be wrong. Being wrong is wonderful. I'd say that virtually ALL the pain in my life came from my attitude, opinion or belief systems… and I could've avoided most of may bad choices had I been willing to look at things from a different perspective that what I BELIEVED TO BE RIGHT!!
Contact Info:

Image Credits:
Dale May, Jenny Bates
Suggest a Story:
 VoyageLA is built on recommendations from the community; it's how we uncover hidden gems, so if you or someone you know deserves recognition please let us know 
here.