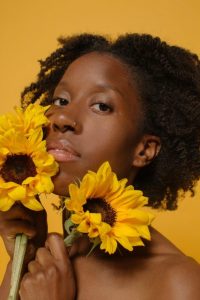 Today we'd like to introduce you to Charisse Duncan.
Hi Charisse, we'd love for you to start by introducing yourself.
Hello! I was born and raised in Hagerstown, Maryland. It's a small, rural city located about 73 miles from Washington, DC. I'm thankful for my upbringing there, but I was always eager to live elsewhere. My parents helped me develop my passion for art when I was a child. They exposed me and my older brother to various types of music, art, and cultures. My parents allowed me and my brother to express ourselves freely and encouraged us to pursue our interests. I was involved in dance and cheerleading throughout my childhood and adolescence. I enjoyed reading, writing, drawing, painting, and listening to music in my spare time after school. I was studious and excelled in my classes. I was determined to do something positive with my life! During my junior year of high school, an art school recruiter who was impressed with my drawings, approached me during my art class. They told me that I should consider attending art school after graduating from high school. I rejected this suggestion because I didn't think that art was a good career choice at that time. Initially, I wanted to be a psychologist, but I thought that a career in media might be a better option for me. I was a member of the morning announcements team when I was in middle school. I enjoyed operating the cameras and reading the announcements. Television production was intriguing to me. I attended High Point University in High Point, North Carolina and graduated in 2010 with a B.A. in Communication-Media. I eventually worked at WHAG-TV, currently known as WDVM-TV, which is the local news station in Hagerstown, Maryland. I spent 3 years working as a production assistant, graphics operator, and director. My passion for art grew immensely during my time at WHAG-TV. I began drawing and painting more intentionally after work. I realized that I was no longer interested in advancing my career in television. In October of 2016, I decided to leave my career in TV behind in order to pursue an art career in Los Angeles! Since moving to LA, I've participated in several art shows and had opportunities to sell my work. I've been able to work at my own pace and create art that resonates with me!
We all face challenges, but looking back would you describe it as a relatively smooth road?
This journey has been non-linear, but still worth it. I moved to Los Angeles with my best friend from college without a job, an apartment, a car, or any connections to other artists or galleries. I sold most of my possessions prior to moving and only brought what I needed in two suitcases. I moved over 2,000 miles away from my parents, who are my biggest supporters. My maternal grandmother, who I was very close to, passed away in 2015. Her death was difficult for me to process. She helped to raise me and always supported my dreams. I was still healing from her death when I moved to Los Angeles in 2016. My favorite aunt, who was also a gifted visual artist, passed away unexpectedly in 2017. The last time that I saw her alive was the day before I had moved to Los Angeles. She was extremely proud of me and had encouraged me to move when I was having doubts. My maternal grandfather and one of my favorite cousins passed away within a day of each other in 2018. They were also supportive of my journey and had sent me money and resources when I needed it. Trying to cope with the deaths of my loved ones was the most difficult part of my journey. These family members were an integral part of my life. I also missed my parents and their physical support. I had spiraled into a deep depression and struggled with anxiety and low self-esteem. I felt lonely, broken, isolated, hopeless, and frustrated. I wasn't inspired to paint, but I still forced myself to create. I wasn't satisfied with these paintings though. It seemed as if every bit of creativity had been drained from my body. I compared my work to my peers and felt like my work wasn't good enough. I was dealing with financial issues as well. The part-time retail job that I had in the beginning of my journey barely helped me to pay my bills, let alone helped me to pay for art supplies. I questioned whether I should continue this journey. I wondered if my goals were actually attainable. I've always felt like a late bloomer in all areas of my life. My perception of failure in my art career intensified this feeling. I made the decision to take a break from my art career in order to prioritize my relationship with God/Jesus. I also focused on healing my trauma with the help of a therapist. Since making that decision, my relationship with God has been strengthened and I've been able to truly allow His Spirit to lead me on my journey. Therapy has been beneficial. I'm still healing and growing, but I've been learning how to release perfectionistic tendencies and expectations. I'm less critical of my paintings and can actually enjoy what I'm creating. My desire now is to live and create art unapologetically.
Thanks for sharing that. So, maybe next you can tell us a bit more about your work?
I'm a self-taught visual artist. I'm currently working with watercolor paint and oil paint, but I've also used acrylic paint and colored pencils in my work. I enjoy experimenting with different mediums. I want to try digital art and explore animation this year. I'm an avid cartoon fan, so I want to try to make my own cartoons! The theme of my work varies. I paint celebrity portraits, cartoons, and my personal experiences. I've painted a few custom canvas pieces, including a painting that a client had gifted in March of this year to Grammy-award winning music producer, Drumma Boy. In 2019, I participated in several art shows in Los Angeles. I was able to connect with others and sell my art at these shows. My favorite show was dedicated to the life and legacy of Nipsey Hussle. The show was held at South Central Gallery a few months after his death. The gallery is located on Slauson Avenue near Nipsey's The Marathon Clothing store. This show wasn't for profit. It provided a space for Nipsey's fans and community to come together to mourn and remember who he was. This gallery show was an accomplishment for me. I gained recognition for my work and was able to bond with a community of artists. I haven't been able to attend any art shows recently due to the COVID-19 pandemic. I created a merchandise shop online toward the end of 2019, but I didn't have much merchandise available for purchase. Last year, I created and added original paintings, prints, t-shirts, ceramic mugs, stickers, buttons, tote bags, and pins that I would normally sell at art shows to my online shop. I've sold a decent amount of items! I'm so thankful for each person who has supported my small art business. I believe in making genuine connections with others, so I like to send handwritten thank you notes to my customers along with my business card and free stickers as a token of appreciation.
Can you talk to us a bit about the role of luck?
Honestly, I don't believe luck has played a role in my life. I believe that I'm a spirit living a human experience. I had no control over the circumstances that I was born into, but I can choose to make the best of what I've been given. I also don't believe in coincidences. I think that everything that has happened to me and every person that I've met on my journey are for a reason. I've encountered situations in my life and art business that might be perceived as "good luck" or "bad luck," but I view these situations as God's plan and as opportunities to learn, unlearn, and evolve. I've become more disciplined, diligent, and resilient. I've learned to fully embrace my soft, sensitive, and emotional nature. I've been able to extend compassion and forgiveness towards myself and the previous versions of myself. I realize how blessed I am to have family, friends, and supporters who love me and my art. I think that God has put me on earth to love, nurture, and serve others using my gift of creativity. I have an abundance of love inside of me that I'm ready to share with the world!
Contact Info:
Image Credits
Brandon Hicks (for personal photo)
Suggest a Story:
 VoyageLA is built on recommendations from the community; it's how we uncover hidden gems, so if you or someone you know deserves recognition please let us know 
here.