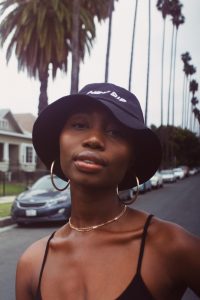 Today we'd like to introduce you to Chanise Fields.
Chanise, we'd love to hear your story and how you got to where you are today both personally and as an artist.
Since a kid, I knew that I would be a star. I never really knew what stardom would come from but I felt strongly that God had a much bigger life for me, and all throughout my life, that feeling never went away. I grew up obsessing over the show ANTM and watching runway models strut down runways wearing expensive brands. God revealed to me at a young age that the fashion/entertainment industry was my calling. Unfortunately, I grew up and my reality looked nothing like the vision so I started to ignore the calling. I'm from Camden, NJ. A small impoverished city full or gun violence and crime. I grew up to know the school, college, and a career.
Anything else was just a "dream" and seemed very farfetched. I was a very depressed kid due to my childhood and personal things I had to experience within my home. High school was a challenge for me because the home was a challenge. I struggled all throughout middle school and high school and later realized that I had ADHD. I wasn't tested until the 10th grade, which as a result, caused me to be the class clown to cover up the fact that I was struggling and behind. After high school, after being accepted (By the grace of God) to a University to study criminal justice/law, I had to settle for community college. I had no funds and no-one financially able to assist with college tuition. Devastated and desperate to change my family history and circumstances. I decided to attend "Camden County College." I was determined to start something new for my family and be the first to attend a University.
I worked so hard at school that I went from being a kid with a 1.5gpa in high school to a college student with a 3.5. My GPA was so good that I ended up being able to transfer to "William Paterson University" with 24 credits. I took 6 classes at WPU and was still able to maintain my 3.5 GPA. However, my financial aid ran out in 2015 and that feeling of disappointment and desperation arisen again. I had to go back to Camden! All I wanted to do was be the first to graduate, I felt like a disappointment. When I got back to Camden, two months later a fire broke up at my home with just me inside.
It was February 2016 and one of the most challenging and uncomfortable years of my life. I had to go back to working at Walmart. (which was my first job out of high school) I ended up sleeping on one of my friend's couch for a whole year. This year as my life was falling apart, at the same time, things were coming together. I started to go to church A LOT. And God began to again reveal to me what my purpose was. As I was working at Walmart customers would walk up to me and ask me was I a model. It happened so often that I started to remember vivid dreams of being in the industry as a kid. One day a coworker who specialized in custom clothes walked up to me and told me that he was looking for a black model and wanted to know if I'd be interested. Curious to know what modeling was about, I agreed. Since that very day, I have been modeling since. I ended up quitting Walmart and used my college education to obtain an overnight Job working with mental health. I would work at night time, and model during the day. I was still finishing up my degree but I would sometimes miss class to attend important Castings. Now today, I write this as the first in my family to obtain a degree and a signed model! And until this day, I give all the glory to God.
We'd love to hear more about your art.
I create art through passion. I never want to just be a "Model." I want people to be inspired by my journey and to know that they can ultimately create their reality if they stick to the calling and do what God wants them to do. It's not about modeling, its about freedom. Freedom comes when you don't settle or try to adopt someone else's vision for your life. I hope that people can see me, and my work and feel unstoppable and most importantly relatable. Every time I step in front of a camera, I pray and I remind myself that this isn't just about me. At 25, I have a small t-shirt business called B.E.&Co which right now involves custom t-shirts for bearded black men. I have completed three chapters of a book I have written called "Take Back Your Life," and have been able to start my journey as an aspiring actress taking acting classes, and a professional model. My art is my inspiration!
Do current events, local or global, affect your work and what you are focused on?
I think as an artist we have a bigger responsibility to speak up and advocate for things we believe in since we have the platform to do it. local and international events make art for me more purposeful. Now like a model, advocate, and young lady, I'm very intentional with what I post and support.
Do you have any events or exhibitions coming up? Where would one go to see more of your work? How can people support you and your artwork?
The best way for people to support my work is on Instagram. My @ name is Chanisepaige!
Contact Info:
Image Credit:
Brandon hicks, Stephanie Parkinson, Jorde, and Brandon Jameson.
Suggest a story:VoyageLA is built on recommendations from the community; it's how we uncover hidden gems, so if you or someone you know deserves recognition please let us know here.