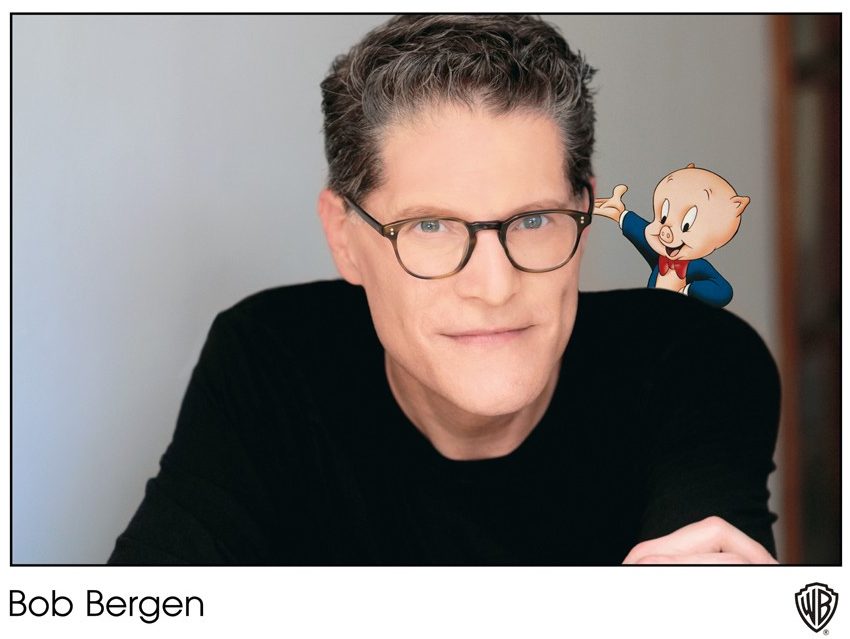 Today we'd like to introduce you to Bob Bergen.
Hi Bob, can you start by introducing yourself? We'd love to learn more about how you got to where you are today?
Well, I'm a voice actor. My goal in life since I was a five years old was to voice Porky Pig. This was not my Jewish Mother's dream for me. Plus, to a parent what does this even mean? For kids, on Monday they want to be an astronaut, on Tuesday a fireman, on Wednesday at cowboy. I wanted to be a cartoon character. And that desire never left me. I grew up in the Midwest, but my dad took a job in Los Angeles when I was 14. Immediately I began researching how to meet my goal. My first thought was to contact the voice of Porky Pig, Mel Blanc, and let him know I am now in LA, can do a mean Porky, and see if anyone had offered him a chance to retire. (14 is a very innocent age) I looked in the phone book for his number but could not find it. My Dad informed me that Los Angeles was a far bigger city than where we were from, with far more phone books.
So, he traveled the city from Pasadena to Malibu and collected a stack of phone books as tall as I was. SO-I started calling every Mel or M Blanc in the books. No luck. I then thought perhaps his number is under his wife's name, Estelle. Success!! (I also taped the conversation, which is 100% illegal, but it's been over 40 years so I think I'm safe) He could not have been nicer. I listened to that tape over and over for days….until the tape broke. I was heartbroken and tossed it in the trash. My Mom retrieved it and put it in her dresser drawer, thinking that someday someone might be able to fix it. About 20 years ago, she found the tape and I was indeed able to get it spliced back together. But a huge portion of the conversation was destroyed. This included Blanc informing me of the name of the studio he was working at that week. He never told me the date or time, just the name.
When I hung up from Blanc, I called that studio pretending to be his assistant: "Hi, I'm calling for Mel Blanc to confirm his appointment for (pulling this out of my ass) Thursday at 9am." "We have him on the books for Wednesday at 11am." "THAT'S right, so sorry, I'm looking at the wrong job in his calendar. Thank you so much, he will see you on Wednesday." I told my Mom I am skipping school on Wednesday and she is going to take me to see Mel Blanc work, and Mom said, "cool!" When we got to the studio, I told the receptionist we were guests of Mel Blanc and she pointed to the room he was in. When we walked into his room, I told his producer we were friends with the receptionist and she said we could watch. And, I got to watch the master at the mic. As we drove home, I told my Mom I didn't think this was my time to voice Porky Pig as Blanc was still doing it. Mom also reminded me that I was still a minor and my voice had yet to change. When we got home, I called Hanna-Barbara and they referred me to Daws Butler, the voice of almost all of their characters, from Yogi Bear to Snagglepuss. Daws had a voiceover class and I studied with him off and on for years. I actually studied with every vo coach in LA for four solid years, as well as a two years Meisner Conservatory and three years studying Improv with The Groundlings, Second City, etc…
When I was 16, I met a lady at a party. She asked me what I wanted to be when I grew up? I told her Porky Pig. She said, "That's odd." I said, "I know!" (remember her, I will be referring to her again) When I was 18, a friend of the family knew Casey Kasem and had him send me an autograph picture for my high school graduation. I sent Casey and thank you note, mentioned what I wanted to do for a living, and he called me. He asked me if I had a demo, which I did not. Casey asked me to put together a homemade demo with as many different voices as I could do and send it to him. Casey liked it and wanted to play it for his agent, Don Pitts. Don at the time was in the hospital in an oxygen tent. I'm not sure why he was there, but Casey went to the hospital and played my tape for him through the plastic. A few weeks later Don called me and said he wanted to represent me. I told him, "Mr., I'm not sure what that means but as long as it's after 3pm that's cool, cuz I got school." (I still had a few weeks left in 12th grade) I hit the jackpot securing Don as he was one of the top vo agents in the industry, representing not just Casey Kasem but also Orson Wells, June Foray, Paul Winchell, and many other vo legends. (My first audition was with Orson Wells which was surreal!)
NOW, that same week I got a call from the bank teller I had met a couple of years earlier. She asked me if I still wanted to do voices for cartoons and if so might have a job for me. I was confused what a bank teller could do for my vo career. She informed me she was now a talent coordinator for Marvel Prods. and had an audition for me if I wanted on a show called Spider-man and His Amazing Friends. I read for the show, got the part, which got me into SAG…which made my new agent very happy. I then worked as a Tour Guide at Universal Studios for several years to pay the bills as my hit or miss vo career took its course. I left Universal in 1987 and have been working as a full-time voice actor ever since. Mel Blanc passed away in 1989. My first Porky and Tweety gig was in 1990 for Tiny Tune Adventures. 2021 marks my 31st year voicing Porky. And although none of us who voice classic characters today have lifelong contracts, I do believe I have voiced him more than anyone else. And, man does not live on pig alone. My day to day in voiceover includes many other cartoons, commercials, narration, promos, toys, games, etc. The only genre of vo I do not do is audiobooks.
Can you talk to us a bit about the challenges and lessons you've learned along the way. Looking back would you say it's been easy or smooth in retrospect?
Well…I'm an actor! Nuff said. There are no guarantees or stability in acting. I have been fortunate in that I have been able to make a nice living at vo since 1987. That said, there have been union strikes, canceled shows, reboots where I have not been asked to be in the boot, etc. I've had to re-audition for Porky Pig (at this writing) 9 times in 30 years. People often ask why I have to keep auditioning. Well, I do not own the character. My name is not Warner, nor do I have any brothers. With each new major project comes new producers who want to see who else is out there. Very often, I just get hired without having to audition. But for some, I go with the flow and audition. Hey, that's show biz! So, the struggles I have had are the same struggles all actors have. That said, relatively speaking I have been very fortunate. The key to success as a voice actor is diversity in vo genres. If it's a slow commercial day, I might have a cartoon to record. If a slow cartoon day, I might have a promo, or game, or narration. Now, each genre of voiceover requires its own training, demo, and marketing. You cannot just will the work. You need a product to sell, and you need to be a savvy salesman. I audition every day, but I also market my career every day.
Appreciate you sharing that. What else should we know about what you do?
I'm best known for voicing Porky Pig. But, my vo career is very diverse. And although voicing the pig was always my dream, he's actually just a fraction of my overall career. I'll post my IMDb elsewhere. Commercials do not have credits, so most have no idea who is voicing them. Same goes for tv promos and toys. VO used to be a very anonymous business. But the internet, along with fan conventions like San Diego Comic-con have made the voice actor known to fans. Most proud of? Hmmm….I mean, to be able to make a living as an actor is a pretty cool accomplishment considering the odds. I will say that as far as Porky is concerned, I am most proud of our current group of shorts on HBOMax called Looney Tunes Cartoons, which are the closest to the classic Looney Tunes in writing, character design, timing, and animation I have ever been a part of. https://www.hbomax.com/series/urn:hbo:series:GXr2qigEnPpGXWQEAAAJu/?utm_id=sa%7C71700000067682609%7C58700005923892427%7Cp54122263663&gclid=Cj0KCQiAhZT9BRDmARIsAN2E-J3WInryyJkGnF38QkXFIXkvK6cFE4FriA6DoB6KOJv6d2-0uBYbTSAaAkCpEALw_wcB&gclsrc=aw.ds
In terms of your work and the industry, what are some of the changes you are expecting to see over the next five to ten years?
Well, Covid has been a game-changer. Many in voiceover have worked from their home studios for years doing commercials, promo, etc., but not so much animation. Those of us who voice cartoons had to adapt and upgrade our home studios and fast. I have had a home studio to audition for years, but rarely did I work from home. Within the first ten days of the pandemic, I had a broadcast quality home studio and was able to continue working on my current series regular shows for WB, Netflix, Disney, etc., as well as animated features, commercials, promos, games. It's actually been busier than before the pandemic because I have no drive time between sessions. I think the future of vo and in particular animation looks bright. When I got into voicing cartoons, there were only three networks airing Saturday morning cartoons. Disney might have released an animated feature every 5-7 years. It was really hard to break in, but I got lucky. Today we have 24/7 networks dedicated to animation. Every major studio has a thriving animation department.
We have prime-time animated television programs on several networks. As for other genres of voiceover, we have hundreds of stations all needing commercials, promos, narration. Audiobooks are huge. We have games that are written as well as live action features. Never has there been more work for the voice actor. But it's harder for the union voice actor. Technology took vo to everyone in the country on a silver modem over the past 20 years. This lead to more and more vo being produced non union. Animation has not been affected as much due to celebrities who work in both tv and feature animation. But the day to day has gone non union in a high percentage. This is a problem for those of us who work union, as our union work brings us health benefits, residuals, and a pension. I'm fortunate in that I have been in the game for a long time, but these benefits are not as abundant in the newer generation. The union really needs to get a handle on this and do all in their power to reclaim the vo industry.
Contact Info:
Suggest a Story:
 VoyageLA is built on recommendations from the community; it's how we uncover hidden gems, so if you or someone you know deserves recognition please let us know 
here.