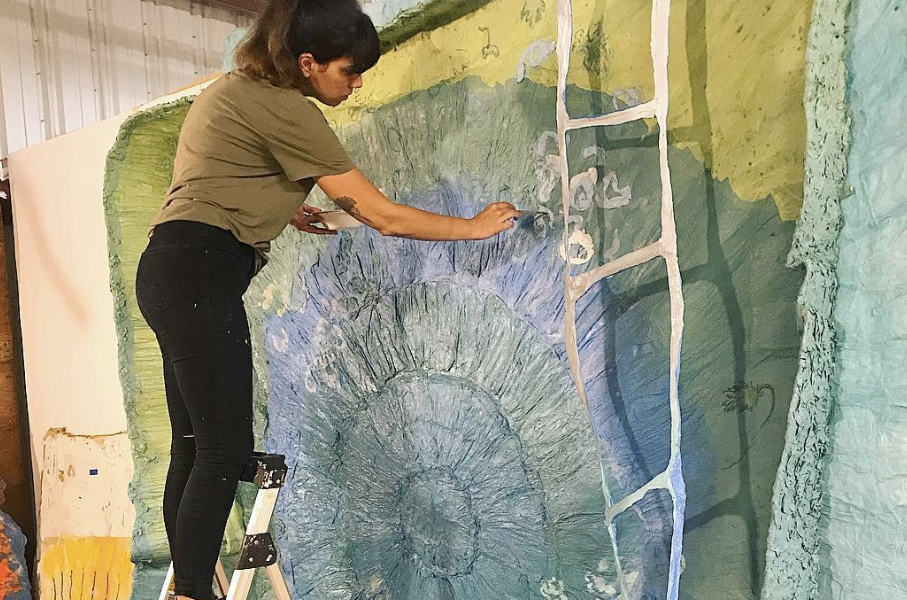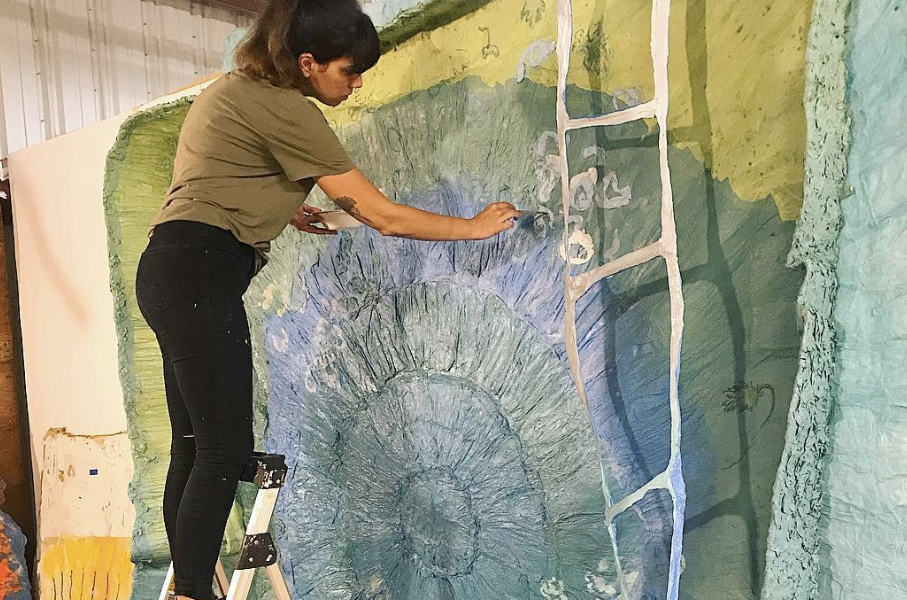 Today we'd like to introduce you to Aubrey Ingmar Manson.
Aubrey, we'd love to hear your story and how you got to where you are today both personally and as an artist.
I think about as soon as I could stand up and move about on my own, I made a haphazard lipstick drawing on my parent's antique upholstered chair, and for as long as my memory serves me I have had a fascination with hands and touch, sensory exploration, and making sure I always had space to play. I've always made space for myself to play….as a child it was done through creating environments with toys, my younger sister and I would perform hours-long epic stories with them that would take over our weekends, or I could basically make myself entertained with a fallen tree branch in the yard. Play is so integral to claiming my space and place as an artist, and it has certainly continued through adulthood and is performed inside my studio.
My practice also stems from a depressed and haunted childhood, which may be too personal of a story for this interview, but it informs the manipulation of materials and discomforting uncanniness that is integral to the forms that come out from me and emotional states that still linger within me. Chicago, IL, where I am from, I also consider to be somewhat of a 'haunted' place, I mean haunted in that is slightly anguished by its weather and history, most of the year you spend hermited indoors, and you might venture out to your neighborhood bar or restaurant to change up environments. I really miss the bars, the food culture, and architecture of Chicago, there was a lot of history there within them all.
My more recent artist story begins with a move to Los Angeles three years ago. Pretty quickly after finishing a Master's Degree from the Art Institute of Chicago, I came here seeking my idealistic thought of this city being the 'Wild West of the Art World'. It's not necessarily in its infancy as an art hub, but it is open to radical ideas and has been growing so ridiculously quick. New York seemed stuffy and traditional, commercially wrapped up in figurative work, and Chicago was too familiar to stay there after school. I took a road trip with my sister by way of historic Route 66, and it really felt like an expedition towards entering a new phase in my life. Quickly after arriving and being metaphorically slapped in the face with reality, I realized what a struggle it is to survive financially and emotionally as an artist in this city, I imagine New York is similar, and this drove my anti-capitalist political stances when seeing such an immense disparity between the rich and poor here. A few months in I became involved in Socialist activism and realized that Los Angeles is a very politically charged place, in a way I had not witnessed before and I wanted to be a part of that. Then Trump was elected and this of course just amplified the political climate nationwide. Whether I wanted it to or not, systemic politics entered the context behind most of my artwork.
We'd love to hear more about your art. What do you do you do and why and what do you hope others will take away from your work?
My practice references the nature of capitalism, the uncanny, desire, and femininity. In our society, there is a hypnotization towards commodities we desire, and I think my work speaks to this fact, as well as breaks away from it. I make most of my artwork from $0.99 store napkins, cardboard, and house-paint, so there is always the question of how long it will last or whether it can be a commodifiable object that can enter an art market. I think then everything is made more so out of necessity, I need to make this object to express this idea and to express freedom that might seem unreachable. Actual freedom might be not concerning oneself with economy. Think about how much effort you put into concerning yourself about money and your survival, or what you might desire that money can bring you or problems it can solve for you. We are much more as human beings than workers, generators, and consumers of goods and services.
Living within a capitalist system there is also a constant search towards seeking comfort, but never actually receiving it. In an effort to make sense of it all, the uncanny is brought into pillowy forms that emulate familiarity in beds, blankets and feminine bodies. You may desire to touch or lay with the artwork, yet upon closer examination, it becomes unsettling and threatens to touch you back as well. Recently, I made this small diorama titled 'Can I Melt Uncertainty into a Flower?'. It is a metaphorical stage where the characters (these abject hand/flower objects) are huddling together on the last polar ice cap where they have staked their claim. I think it was made entirely out of a survival anxiety which seems so omnipresent in my reality. A lot of my work might seem cheerful at first by the looks of them, their bright colors and pillowy appearance, yet something isn't quite right, and there is some repulsion within the subject matter or how the pieces get dirtied and worn down by the accumulating material manipulation.
More recently, I have had access to using a VR headset, and this has vastly opened up my capabilities to building immersive environments. As a medium augmented and virtual reality technology is becoming exponentially more affordable, and there is accessibility for people to view artwork outside of a gallery space (which I consider to not be accommodating to everyone). Most people certainly cannot afford to purchase original works of art, so I am excited to see how virtual and augmented reality will unfold to bridge art accessibility gaps.
How can artists connect with other artists?
Two years ago, I built out a studio building and project space with four other artists, which also houses my art studio today. When I recall back to then, it's kinda hilarious, we had learned to build all of the walls by watching YouTube video tutorials. It was really out of necessity, the only way we could afford studio space was to go big and split out our rent, otherwise, it would have been an impossibility. Prior, my partner at the time, Keith Tolch, and I converted our small one-bedroom apartment living room into our studio. We both work very large and I use polyurethane and house paint, plus he had two felines that, one with a particularly luxurious coat would consistently get this phthalo blue oil-paint on it and track it all over, and it would be time for another haircut for the cat, which provided us both with some scars from cat scratches. So it was time if anything for both the cats' and our health to no longer make artwork in the same space we lived. I was fortunate to have other artists I knew migrate to Los Angeles from Chicago, and our little artist community grew quickly. This definitely offered the chance for us to make work we couldn't before and meet other artists at a much more expedited rate through studio visits, curating shows, and supporting other artist-run spaces. I had done this a bit while I lived in Chicago, but having a space definitely, put fuel to the fire when it came to ingenuity and making something out of nothing.
When I have the energy outside of the studio and work, I look forward to supporting other emerging artists and artist-run spaces in this LA community and regularly attend exhibitions and events. That's so important to help foster your art community, artist-run spaces only work out if there is a larger community behind it. You also find like-minded people to yourself which can only be found by going out and seeking it. I have met some amazing people since being here, hopefully, some lifelong friends as well.
Do you have any events or exhibitions coming up? Where would one go to see more of your work? How can people support you and your artwork?
Coming up, I am in a three-person show at CSULA in Dominguez Hills with Garry Noland and Ann Weber, two amazing artists who I definitely look up to. The opening is on Oct. 24th, and the exhibition is based on interesting material manipulation of the mundane, we all involve cardboard in one way or another and build impressively sized sculptures with it. I am including several painting-like sculptures that will expand from the wall to the floor, so it'll be nice to show some large-scaled work for this!
I also appreciate studio visits! If interested, definitely feel free to email through my website, www.aubreymanson.com, or message me on my instagram @aubrey_ingmar_manson.
Contact Info:
Image Credit:
Main Personal Photo: Eric Minh Swenson (cropped photo)
Getting in touch: VoyageLA is built on recommendations from the community; it's how we uncover hidden gems, so if you know someone who deserves recognition please let us know here.