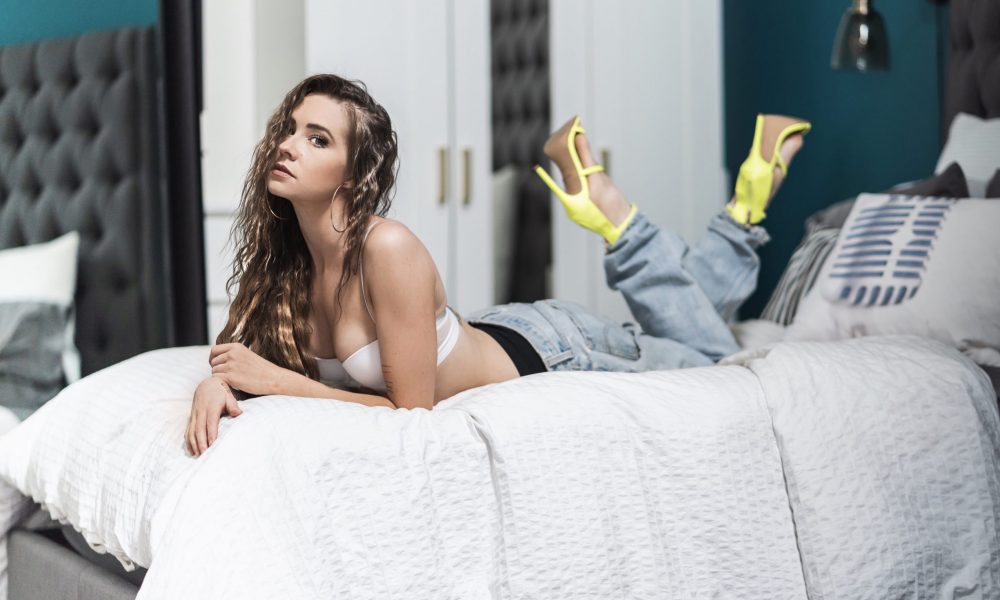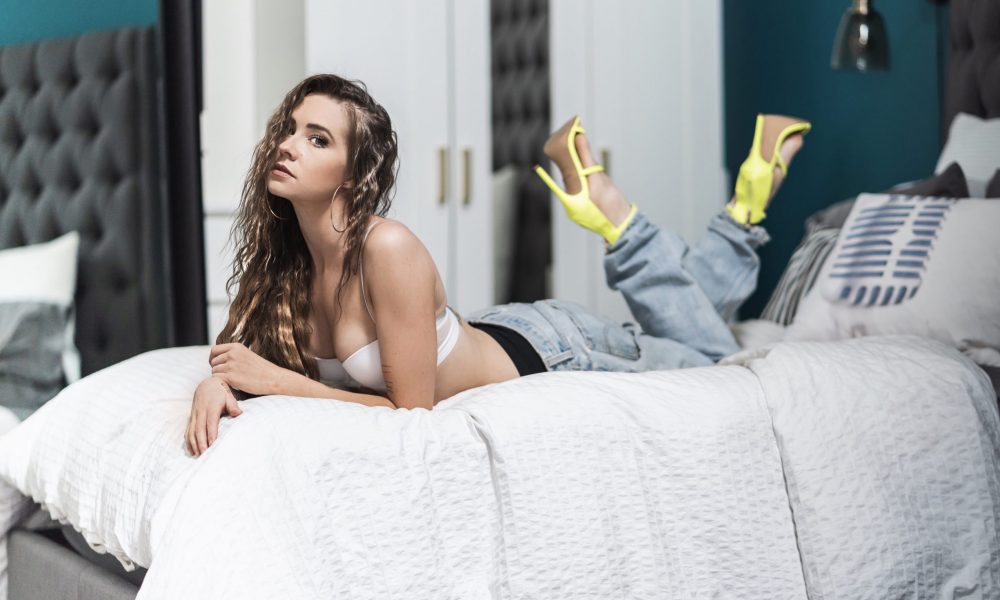 Today we'd like to introduce you to Amy Morgan.
Amy, we'd love to hear your story and how you got to where you are today both personally and as an artist.
I grew up in Simsbury, CT. My mom put me in dance class at the age of two. (thanks, mom!) and I haven't really stopped since. I did ballet, jazz, modern, etc. when I was young, but in middle school, I became a part of an elite Rhythmic Gymnastics team called Rhythmics America. Me and the other girls on the team worked our butts off and went all the way to the Junior Olympics in 2000. The five years that I dedicated my life to the team was honestly one of the toughest times of my life. We had super strict coaches that made us practice like crazy. I had no life. I never even went to one pep rally, football game or school dance because my life was gymnastics. My reason for quitting was because I had become extremely unhappy doing the sport, something that I really loved when I first started. This was one of the first big lessons I learned to accept in life. If something doesn't make you happy anymore, it is ok (and most likely healthy) to move on. My gymnastics training did teach me some very valuable lessons that I am grateful for. The appreciation of hard work, discipline, and loyalty. My training also came in handy when in high school, I decided I wanted to continue on with my dance training and become a professional dancer. I trained with the Ballet Theatre Company in West Hartford, CT, and also attended the Greater Hartford Academy of the Arts during my junior and senior year of high school. I kept up my dedicated habits, this time with an art form that gave me joy. I continued to work hard, and I got into the Fordham/Ailey BFA program at Fordham University at Lincoln Center.
After one year at Alvin Ailey, I became extremely unhappy again. I had reached another point in my life where I was not happy doing what I thought I loved. Deciding to switch majors, I stayed at Fordham University and started taking classes at the infamous Broadway Dance Center, just four blocks away from my school. I started to get this insane high from taking hip hop classes. I wasn't the best at the time, but I decided this was it. The hip hop, the Jazz Funk. the Street Jazz, even the heels classes… this is what excited me. I've always loved music, pop stars, music videos, concerts … I would run home every day after school to watch Carson Daly count down the top ten! And don't even get me started on "Save the Last Dance." I was a college student with not a lot of money to spend on classes, so I started doing the work-study program. I scrubbed toilets, vacuumed and washed mirrors three times a week at 7 AM before the studio opened and eventually moved up to the front desk. I literally trained my ass off. Taking from Rhapsody James, Jermaine Brown, Luam, Shery Murakami, Brian Green, and my hip hop mentor/mom Bev Brown, who believed in me so much and pushed me to become great. During my senior year of college, a new show had come out on MTV called DanceLife. I was obsessed. I was determined to move to LA and become a professional hip hop dancer. I was extremely inspired by one of the characters named Jersey. I wanted to be her! So I moved to LA. I started training and doing the work-study program at Millennium Dance Complex while also bartending like crazy to support myself. Through hard work, connecting with the right and genuine people and also believing in myself, I have built myself into someone I had only dreamed about being. I have my own heels class at Millennium Dance Complex, and I've danced for Beyonce in 2 different awards shows as well as other famous artists. I've judged dance competitions where I've been able to hand out dance scholarships to dancers who dream of being able to dance in LA.
I spent a month teaching in Shanghai, and in South Africa and Mexico, I was able to dance with underprivileged children and give back to their communities. I don't take any of these experiences for granted. Someone I had watched on TV and dreamed about being is now one of my most amazing mentors. I sub her class at Millennium, and once in a while, I babysit her two twin boys. If someone had told me in college that this would happen, I wouldn't even believe it. Lesson number 2: Life always comes full circle. You get what you put out there. And it might take time, but it will happen. The other part of my story that I haven't mentioned yet, which I believe makes me different and is part of why I was meant to be a teacher, is that I'm gay. I officially came out when I was 23 years old, having recently moved to LA. It was terrifying, but I am very grateful to have understanding and supportive parents, family, and friends. Having lived in NYC and now LA did make it a bit easier, but I know this is not the case for a lot of young people, like in the midwest for example, out who are gay or newly out or wanting to come out but are too afraid. I used to not be extremely out because I thought it might hurt my chances in this Industry, but then I realized that God made me this way or a reason, and I shouldn't hide it. Lesson # 3, be your true self, no matter what.
We'd love to hear more about your art. What do you do and why and what do you hope others will take away from your work?
I'm very proud of my heels class. It combines technique with performance. It has a classy and womanly vibe. My contemporary and hip hop background also have an influence on what I create. My combos always come from a feeling, an emotion, or even a real-life event. I don't usually create just to throw out some choreo. I tend to use artists and songs that inspire me. Whether it be wanting to dance about a break up (Beyonce "Sorry") or wanting to appreciate all the happiness you have in life (Whitney Houston "I Wanna Dance With Somebody") or being confident and in control of what you want (Banks "Gimme") I always have a story. I encourage my students to tell their story through their dance, not just be a robot doing choreo. I also tell the females that you absolutely do not need to be overly sexual or hump the floor or wear tiny clothes and all that jazz for the views and the likes or to get the jobs. I also tell all of my students that the meaning 'sexy" is different for everyone and that is absolutely ok. Especially this day in age the Industry has so many different versions of sexy, feminine, masculine, etc. The lines are all blurred, and really cool things are happening. Never count yourself out of an opportunity because you don't think you are too "____" enough. That might not even be what someone is looking for! When I found out that dancers like Jeka Jane and Lady Cultura were dancing with Ariana Grande on her world tour with the boys, as "boys," my entire perception of the industry changed. There are no more "norms" like there may have been back in the day. Now, anything goes. Anything is possible. I realize the fact that I chose to be out and proud is going to open more doors for me, and I am going to be able to connect with and inspire so many more dancers and people. Not the opposite. I hope every student who takes my class leaves knowing that they are beautiful, just how God created them. Be confident, be a good person, and own who you are… gay, straight, bi, trans, queer. You are perfect.
Do current events, local or global, affect your work and what you are focused on?
Art today is affected by so many things; it literally makes my head spin to think about it. Social Media has created an explosion of content. I try to stay true to me. I create what I feel. I try not to let outside trends or hype or things like that distort my art. I'm also a huge fan of music from the '80s and '90s, back when art seemed a little more genuine. I use that music in my classes quite often. To me, it helps keep that part of art and music alive.
Do you have any events or exhibitions coming up? Where would one go to see more of your work? How can people support you and your artwork?
Come take my Open Level Heels class at Millennium Dance Complex every Friday at 3:30 pm and check my Instagram for updates on where else I may be teaching! @amymorgan19
Contact Info:
Address: 5044 Bakman Ave, #3H
North Hollywood, CA 91601
Phone: 818-205-5000
Email: amychristinemorgan@gmail.com
Instagram: @amymorgan19

Image Credit:
@alexlarsonphoto
Getting in touch: VoyageLA is built on recommendations from the community; it's how we uncover hidden gems, so if you know someone who deserves recognition, please let us know here.