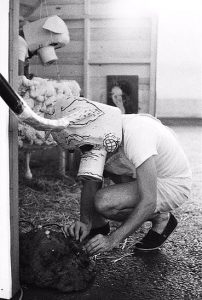 Today we'd like to introduce you to Alexander Collins.
Alexander, we'd love to hear your story and how you got to where you are today both personally and as an artist.
I grew up in a then, newly developing suburban city within the Inland Empire. For most of my youth, the city consisted of rolling hills of dirt, roads ending in undeveloped cul-de-sacs, empty housing slabs, and both active and abandoned construction sights. This was a very aesthetically wonderful environment to grow up in. Vast uninhabited alien spaces for the imagination to project onto and wander and dig holes and collect rocks.
This all changed by the time I finished high school with the hills being flattened, paved and littered with rows of stucco glazed human storage units and parking lot plazas. Although I spent a great deal of time since a young age drawing and gathering a repertoire of music that would bother everyone around me, I knew very little (practically nothing) of ancient or contemporary art and didn't know that an artist was something to even aspire to. Culturally my surroundings were incredibly conservative and having watched the city around me grow in a grotesquely inorganic manner it was more and more obvious how the aesthetics and planning of the city dictated a predictability in how everyone there engaged with the environment as well as their psychic development and limitations within its field. It wasn't until I left and went to an art college (took me a while to find my way to an art school) that I became aware of all the things that were happening and had happened in art and how terribly exciting it all was.
This was also the point I moved to LA where I went to Otis College. It's easy to look back and critique all of the things that are wrong with an art education and the business structure of universities but I was spoiled with so many amazing professors and colleagues that I wouldn't have found anywhere else. These people really opened (and continue to open) my eyes to a way of looking and searching and being that has spiraled into the person I am now, which is someone that tries to incorporate an aesthetic sensitivity to all aspects of my life.
We'd love to hear more about your art. What do you do and why and what do you hope others will take away from your work?
As far as my art production is concerned, I make a wide array of, for lack of a more accurate word, Things. I make sculptures, sounds, paintings, videos, drawings, and performances. As of the last few years, this production has primarily gone towards creating an environment in my home that equally stimulates and accommodates further artistic production for myself and my collaborators. My house is floor to ceiling organized with paintings, sculptures, instruments, wind chimes, lights, frills, and spaces to engage with in different ways. I don't have a particular message that I want to limit people to taking away from my work but there are certain qualities of it that are important for me to find a vitality in making and subsequently experiencing yourself with it.
For me, a good work should link the body and the intellect, which is something as a species I fear we are forgetting our ability and losing our desire to do. There should be an active visceral experience that locks you in and gives the intellect space to access and wander in the timeless present. I also like to sprinkle in a healthy dose of paranoia as it is far from my aim to create bliss. My work is experienced by and in dialogue with a very small and beloved community of primarily friends. We all try to push each other to dig in deeper into our ideas and selves. I believe our internal worlds have a great deal to do with the state of the external world and the importance of visual and auditory stimuli isn't gauged on how many people interact with it. As it is below, so it is above.
How can artists connect with other artists?
There are infinite ways of art production, but for me and many of the artists I know, to really engage in art making And in the self there is a great deal of time required for both making, looking, listening, and reflection. Most of the people I am in connection with are from my time at art school which is definitely not an option for everyone. I, fortunately, enjoy my solitude but I equally enjoy my time working with other artists and pushing myself to accommodate another set of sensibilities that they bring to the collaboration. In LA at least there are a jillion galleries and I would recommend finding at least one or two that you have sympathies for and just hang around and mingle. But mostly I would encourage other artists to be brave and learn to be okay with yourself and by yourself.
Do you have any events or exhibitions coming up? Where would one go to see more of your work? How can people support you and your artwork?
If people are interested they can check out my website, I don't have internet at home so it doesn't get updated as much as I like but it will give a decent idea of what I do: www.ajcollins.net. I have contact information on there as well if anyone is interested in getting involved as a collaborator or learning more about what I do.
Contact Info:
Website: www.ajcollins.net
Email: alexandercollins11@gmail.com
Instagram:alexandercollins11
Image Credit:
Bengt Stiller, Alexander Collins
Getting in touch: VoyageLA is built on recommendations from the community; it's how we uncover hidden gems, so if you know someone who deserves recognition please let us know here.