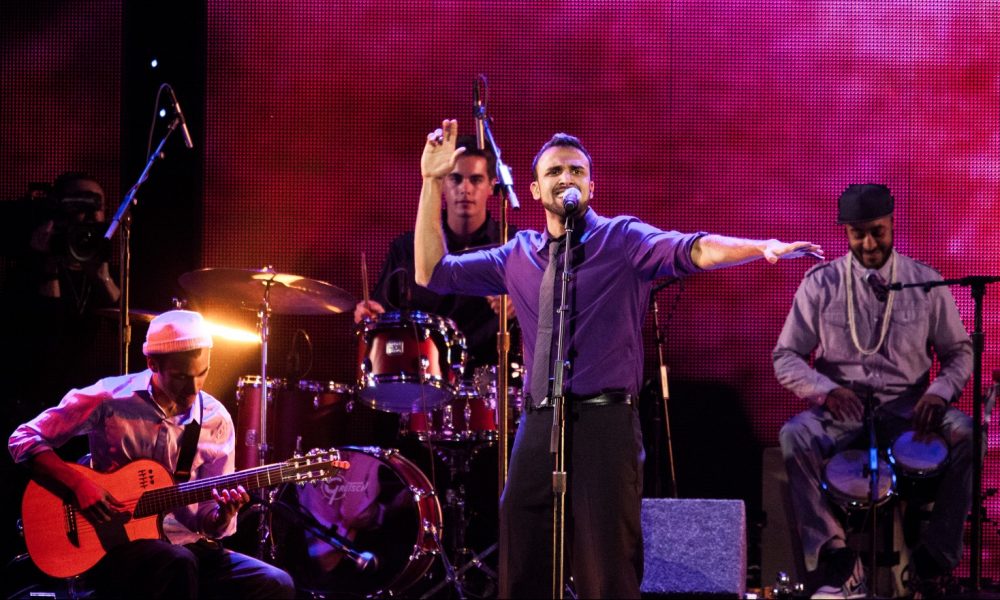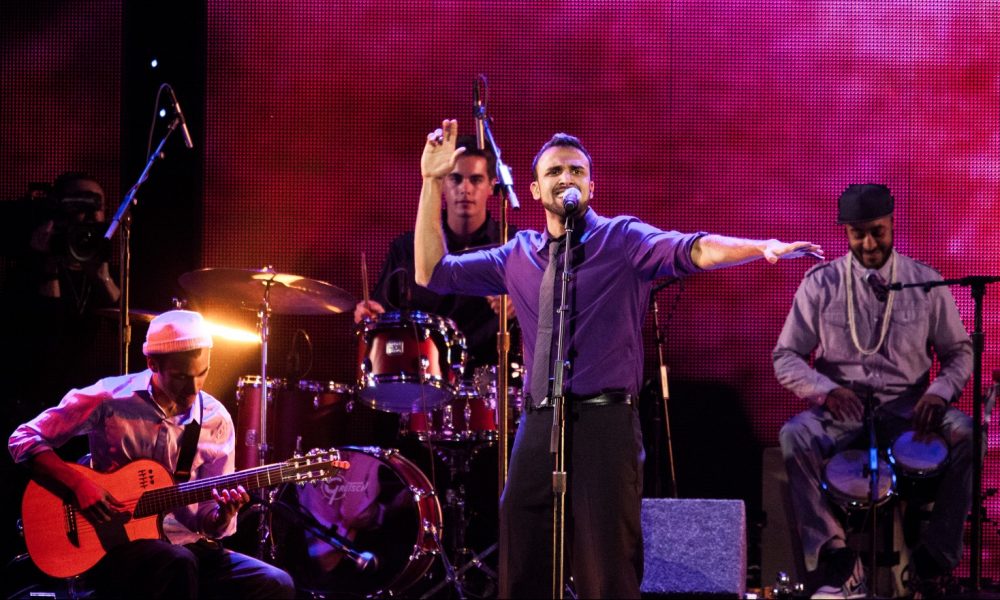 Today we'd like to introduce you to Aditya Prakash.
Aditya, we'd love to hear your story and how you got to where you are today both personally and as an artist.
I feel proud to say I was born and raised in Los Angeles and that my roots are deeply embedded in Carnatic (South Indian classical) culture and music – the sound of my childhood environment. I'd attribute this to my mother, Viji Prakash, a pioneer in the Indian classical arts, who started the first Bharatanatyam dance school in Los Angeles in the 1970's and my sister Mythili Prakash, now a professional dancer, who as a child was obsessed with Indian classical arts. Indian classical music was the first language I knew and the medium through which I negotiated the multitude of sounds in my American environment.
Today I am very proud of my rich heritage, but that was not how it was growing up in LA. I grew up with the fear of being too different. One would not expect that in the cultural melting pot of Los Angeles I was one of only four Indian kids from elementary to high school; I was definitely the only one singing Indian classical music. As a child and adolescent, I wanted to feel included, not different from everyone else, and because of that, I kept my music and Indian cultural identity separate from my American environment. I did not at all connect with mainstream pop culture and felt out of place for not knowing the latest Eminem, or Usher hits but rather knowing and imitating every phrase of Semmangudi Srinivasa Iyer's (a prolific Carnatic singer) 1964 Madras Music Academy concert.
My friends in school had no idea that I was seriously pursuing music- they assumed all my summer and winter vacations in India were spent visiting my family. In truth I was in Chennai, most times alone and away from friends and family, training with esteemed gurus and performing in the professional Carnatic music circuit. I never discussed my Indian music with my American friends. After all, wouldn't it just be a hobby on the side, while I went down the engineering route like my dad and most "good Indian boys."
All things changed when Maestro Ravi Shankar heard about a talented 15-year-old Carnatic vocalist from LA. He invited me to do a 30-minute set at his home in Encinitas. What I did not know was this was my audition to be accepted to tour with him. What started as a 30-minute showcase, became a 2-hour concert as he requested more songs and ragas – making me feel comfortable and at ease singing and improvising, forgetting that I was performing for a legend and the other esteemed invitees. Months passed, and I received a call from Ravi Shankar himself asking me if I would like to join him on an extensive tour of the USA and Canada from 2005-2006. Can you imagine the surprise of my friends who went from vaguely knowing I sing, to find out that I'm performing at Carnegie Hall, Disney Hall, and The Hollywood Bowl? I took several months off my senior year in high school to tour with Ravi Shankar (trying to manage and keep up with my classmates, studying textbooks on my own and getting skype tutoring sessions), even taking my SAT's in a random high school in New York the morning of our Carnegie Hall performance! After the tour, I came back to school with a different outlook and confidence that opened my voice out, quite literally. Without any Western music training or theater experience, I tried out for the lead role in my high school musical – Beauty and the Beast – and before I knew it, I was singing and acting as the Beast, much to everyone's surprise (including mine). I was not shy about my voice and began opening up about Indian music to my friends. I even did a presentation introducing my high school choir and friends to the basics of Indian classical music! I owe the significant change at this age to my experiences with Ravi Shankar. In one inspiring conversation, Ravi Shankar told me I had the talent, vocal ability, and diligence to take up music professionally, and that I should delve straight in and give it my full effort. Hearing these reassuring words from the Master himself, was the fuel that pushed me into becoming a musician.
I later went on to pursue a degree in Ethnomusicology from UCLA. My four years at UCLA, were pivotal in exposing me to jazz, Western music and many other beautiful styles of music unknown to me. It expanded my understanding of culture and music and also helped me visualize the space where Indian music correlates and dialogues with many other traditions, and especially with my American tradition. UCLA is also where I met my closest friends and began Aditya Prakash Ensemble – an endeavor sparked from pure curiosity and excitement in exploring the space where seemingly disparate traditions of music can coexist without diluting the essence in each form.
I have been extremely fortunate to work with some of the very best innovators in the arts such as Ravi Shankar, Anoushka Shankar, Akram Khan, Tigran Hamasyan, Karsh Kale and Mythili Prakash. The interactions with such greats are the impetus to push me deeper into my art.
We'd love to hear more about your art.
I am a vocalist, a composer, an artist who tries to find a form of expression between my rich cultural inheritance – Indian classical music, spirituality, and culture – with my upbringing in a fast-moving, multicultural, modern environment – LA. The two worlds seem a bit separate at times, and it is easy to divide the ancient spiritual mysticism from the scientific, digital, modern world we live in. But the symbiosis of both is what I strive for, and I use music as the means to explore this relationship. My project, Aditya Prakash Ensemble is where I experiment with arranging, composing and performing music that frames my Indian classical voice and aesthetic through spiritual texts in the form of melodies, songs, and improvisations, around jazz instrumentation and Western-inspired arrangement.
I was always connected to Indian classical music from childhood, but the Spiritual poetry from Indian mysticism is what drew me closer to my culture. Many of the songs I sang from a young age spoke of an inward journey to self-discovery, and I was drawn to that element. The peace, comfort, and contentment I sought from life externally were meant to simultaneously be searched for internally. My music strives to find a balance between dynamism and meditativeness. I always try to convey a glimpse of that otherworldly feeling – a space where one can be reminded of the transcendental quality of life.
Have things improved for artists? What should cities do to empower artists?
It is difficult to be an artist today. Music is everywhere, the number of artists is overwhelming, and access to music is easier than ever for consumers. We as artists see less and less money from the music we put out. Independent artists don't make music to make money, it comes from the pure passion and love for the art, so we request whenever people have the ability to pay and support the music of independent artists, to do so – because it will allow us to keep creating.
It is encouraging to have people reach out to us when they enjoy our music. I encourage people to try and find new music, or things they would not usually listen to from the non-mainstream side of things. And if you enjoyed the music, to find a way to reach out to the artist and show your appreciation. It means a lot!
Do you have any events or exhibitions coming up? Where would one go to see more of your work? How can people support you and your artwork?
People can find my work on Spotify, Apple Music, Bandcamp, and other major streaming platforms. You can search "Aditya Prakash Ensemble" to hear my contemporary work fusing Indian classical with jazz, funk, rock and much more. Searching "Aditya Prakash" will lead you to my work as a guest artist with other amazing musicians in a contemporary setting and also some of my classical repertoires.
The best way to support me is to search for my music online, follow me on social media, reach out to me if you enjoyed my music or if you have any constructive feedback. Please share my music with your friends and family if you enjoyed it, recommend my band and invite us to perform for an event, and come out to concerts when we are in your area. My next LA show with Aditya Prakash Ensemble is at Skirball Center on May 7, 2020, as we celebrate our new album release! So I hope to see you there….
My handle on YouTube Instagram/Facebook is @adityaprakashmusic. Email me at musicadityaprakash@gmail.com to get on my newsletter where I post updates and share new music and also my process.
I am releasing a new album, titled Diaspora Kid, with Ropeadope records in the Spring of 2020 and I am very proud of this body of work and am so eager to share it. Please stay tuned to my social media and newsletters as I post regular updates and clips of my new music and performances!
Contact Info:
Image Credit:
Kamala Venkatesh, Sheena Lad, Shrinivas Sainis,
Suggest a story:VoyageLA is built on recommendations from the community; it's how we uncover hidden gems, so if you or someone you know deserves recognition please let us know here.