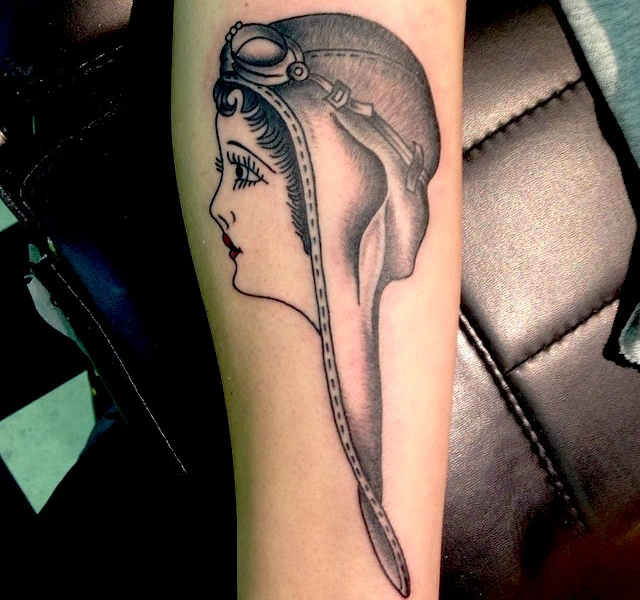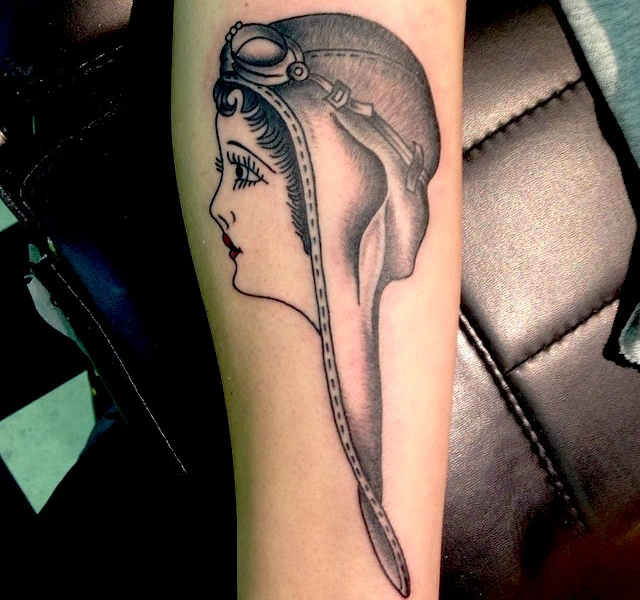 Today we'd like to introduce you to Vincent Dousse.
Vincent, please kick things off for us by telling us about yourself and your journey so far.
I'm a "traditional" tattoo artist from Switzerland and I moved here to Los Angeles 2 years ago… Since I was a young kid, I've always enjoyed drawing, but just for fun. People told me I was good, but honestly, I didn't think so… maybe I had some cool ideas, but I didn't think I was a talent. Once I was a teenager, I fell in love with skateboarding and it became my priority, so I didn't really make time to draw. All I wanted to do was go to skate spots with my friends… at that point I didn't know nothing about tattoos. You have to remember, at this time you didn't see a lot of people with tattoos and they were even more rare where I'm from. At that time the tattooers in my city were doing 80s, 90s, or some tasteless experimental styles from the 2000s, all of which are styles that I am not into. There was no real old school style tattoo shop that can be found in some cities like Amsterdam, Bristol or New York. So, nothing attracted me to the tattoo culture until I met the man who gave me my first tattoo (and a lot of them, subsequently)
I was 20-ish, we were introduced by an older friend (who already had some cool tattoos from him) he was the coolest guy I've seen at this moment. Looked like a 1950s Rocker, and made amazing traditional tattoos. Even today, I've seen a lot of different work, but this guy made them with the real old look! Always using a round shader, when everybody else was obsessed with doing whip shading. The tattoo shop he worked at was in Bern, the capital of Switzerland. This place was full of soul… so I fell in love with that culture and I got a lot of tattoos from this guy in a short amount of time. His Name was Lars Weber, he passed away this year, rest in peace my dear man.
Even Still, I wasn't thinking about becoming a tattooer…. because for me it was something amazing what he was doing, I could never imagine myself being able to do that too. Plus, it was not like today! There was not so many tattooers, and I had too much respect for them and their work to just say "I'm gonna become tattooer that's cool…" you know what I mean? You have to learn about that world and enjoy being tattooed before you can even think about that…. and then maybe… one day, you go the next step… Eventually that step came for me, a tattooer offered to let me tattoo myself in his shop, with his machine, where we spent time talking about tattoos. After that experience, I just kept trying without even thinking about learning for real. Step by step it all happened…maybe one year later, I was offered to go work in the tattoo shop in Bern, alongside my big influence Lars who I've just mentioned before… 32 Tattoo Bern Switzerland. The Shop was named after the Hot Rods of the 1950s made with the Ford 1932.
I worked alongside 3 great traditional artists there, Andreas Schwertfeger, JB Marks and Lars Weber…and I had the chance to learn a lot from them, tattoo techniques, good taste and some rules…. so that was my path…. I was not a graphic designer before, nor did I go to an art school or was I ever a graffiti artist… and I'm happy about it at the end of the day… because the "Crafstman-Artist" apprenticeship way is the only way to become a classic tattoo artist, in my opinion.
So, I worked in that beautiful tattoo shop in Switzerland for almost 10 years…. I could have seen myself for a long time there, my life was very comfortable… and I'm not really the kind of guy who likes to chase after new adventure. Honestly, I was more like an old man already! I had my nice apartment with my records, some nice furniture and deco. Also, my 1950 Ford and 1955 Norton were in the garage, I really enjoyed my "successful" routine. I'm saying successful, in the sense that I could live very well only from tattooing… I was thankful every day for that.
But, why did I end up in in Los Angeles? Well, I was always curious about the US. I am a big lover of the of the late 40s 50s and early 60s Era. Obviously, the US was a huge cultural influence after the winning ww2. Amazing music, amazing cars, amazing movies… even if almost all of that is gone, it was here… which attracted me to this country, hehe…. but I never thought I could make it here, it's another world! I simply didn't have it in my mind to live somewhere else than Switzerland… until the first time I came here to visit my cousin Emilie. She lived here for almost a decade, and during that time I visited on several occasions, it was always exciting for me, a new interesting world. But it was scary to make a big move like that! I barely spoke English, I had almost no plans for work or a place to live, it was scary. Before I decided to move, I was in a relationship, so I kept this idea in the back of my mind for maybe 3 years. When we broke up, I decided to move… it was the perfect time to start a new. Even though I was scared to do it, I was even more scared of waking up one day with regret for never having tried…
So here I am, a little bit more than 2 years after, it's been a tough ride, LA is a tough city! I've had a lot of disappointments, a lot of hard times when I almost thought about going back to Switzerland, but honestly, it's not in me to give up. I'm too proud! Even if was not happy in those hard times, I've met a few amazing people, I've found a very cool tattoo shop, and I have the coolest dog ever (Robbie) and I'm very happy I've made this move here.
I work in "El Clasico Tattoo" in Echo Park, Sal Preciado's Shop, so if you guys feel like having a classic tattoo, I'll be there waiting for you and happy to do it!.
Contact Info:
Address: El Clasico Tattoo 1610 Sunset Blvd Echo Park Los Angeles, CA.
Email: vincentdousse@icloud.com
Instagram: vincentdoussetattooer
Facebook: vincentdoussetattooer

Image Credit:
Vincent Dousse
Getting in touch: VoyageLA is built on recommendations from the community; it's how we uncover hidden gems, so if you know someone who deserves recognition please let us know here.