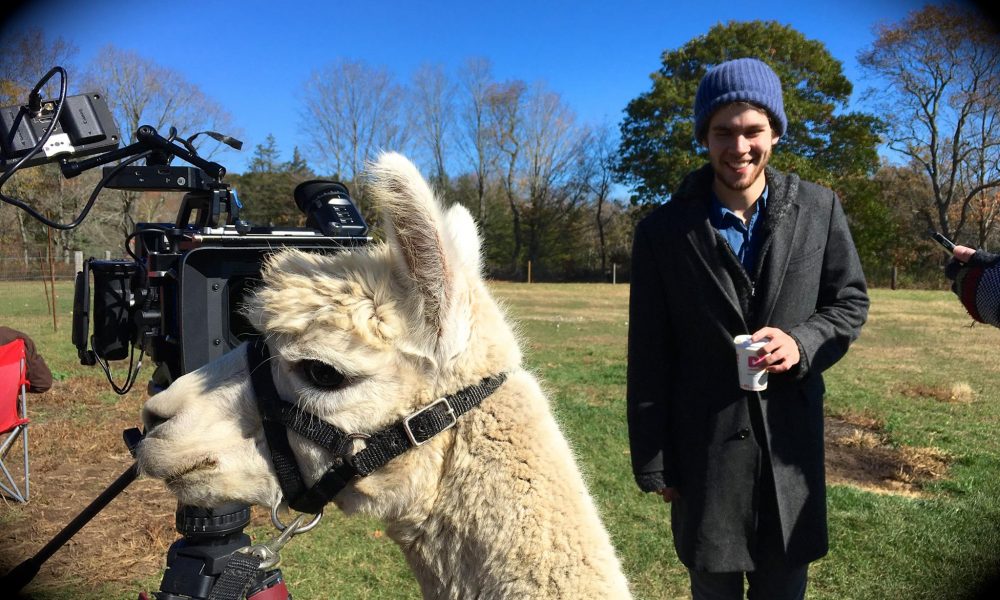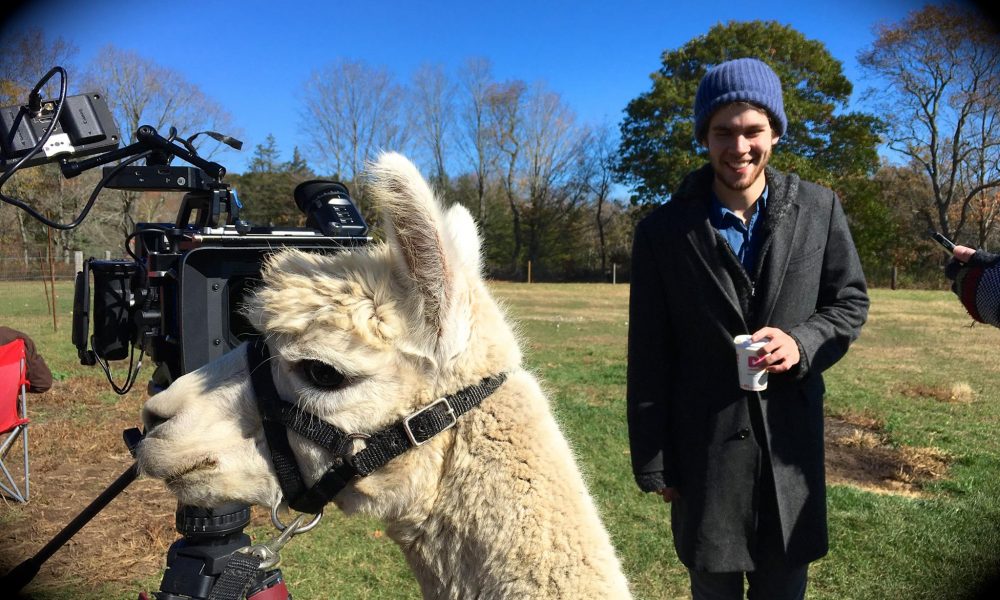 Today we'd like to introduce you to Russell Goldman.
Russell, please kick things off for us by telling us about yourself and your journey so far.
I felt like a creative outlier for a long time. Even people who would self-identify as weirdos have told me they find my taste odd. Most of my life, that made me feel like a mistake. But when I accepted that weirdness, I grew into my voice and started making work I cared about. 
I'm the product of two lawyers. My older brother works in finance and my younger brother is an athlete. So, the artist stuff doesn't make a lot of sense. But I had amazing parents who saw what interested me and didn't try to put me in the same box as my brothers. They allowed my film and TV obsessions to grow wild. 
I made my first movie when I was six. I 'adapted' my comic book character "Blober Boy," a kid superhero who fell in a vat of toxic sludge and emerged with a pink pouch on his butt, out of which he shoots goo. But the real story is that Blober Boy learns his cruel parents don't have a butt pouch of their own, so he must have been adopted. He ventures off to find where his home really is. My creative interests haven't changed much, honestly. I've always loved telling ludicrous stories and somehow finding earnest things to say in them.
High school scared the shit out of me. I needed physical therapy as a kid, so attending a sports-dominated school was difficult. I became a theater kid, but I did that weirdly too. I directed/shot/edited a feature-length documentary about my high school's production of RENT. It's unwatchable, in that it's 143 minutes, and in that I lost the entire film. But I wanted to throw myself into something. Even if no one wanted to make the documentary with me, and even if the show's cast fell asleep at their screening.
I went to Wesleyan University in Connecticut. Suddenly my creative impulses that made me too weird for even high school theater found the right home and right collaborators. Our student theater group had access to a proscenium theater, and almost every weekend, we had to fill it with a new show. So I'd write and direct a play every semester. My favorite was a Frankenstein riff in a fast food restaurant, which had a meat monster whose costume was made of actual prosciutto. My senior thesis Alpacaland was a short film inspired by the oft-forgotten Soviet musical feature films. In the 1930s Stalin commissioned manic, overly-positive propaganda musicals to complete with the American Fox/MGM musicals. We made our own and shot it in an alpaca farm. Connecticut, I learned, has a lot of those.
These projects were where I found my voice. I feel gifted to have found to find so many people at Wesleyan who I still work with today. They thought like I did, but were also more creative, and many times as smart. Being a 'mistake' felt cool.
Can you give our readers some background on your art?
I've written and directed six shorts since moving to LA almost two years ago. I also have a YouTube channel called Russell & Johnny Co., where I produce video sketches with my stupidly funny friend Johnny LaZebnik. I've always liked making comedies, and I love that Johnny shares my drive to make the goofiest, most absurd work possible. My dad often asks if I'm "absolutely sure" I want them online, which I take as a source of pride.
One of my shorts is called Summer of Connor and is now playing festivals around the world. It won at the Hollywood Comedy Shorts Festival here. It's about the surrealism of a bi-sexual awakening. I was called gay a lot in high school. That confused me because part of me thought I *might* be, but I wasn't confident enough to explore it. I'm now openly bi, and I wanted to reflect that journey of self-questioning in all its contradictions. It's really weird to fall for someone you didn't think you could fall for. It's also completely thrilling. Suddenly the world becomes so much bigger than you thought it was.
I like telling stories that feel like runaway trains: dynamic and fast-paced, to the point of becoming terrifying. Anything I make will have that DNA. Yet as I've matured and experimented, I've directed that energy into tackling morally complicated ideas that freak me out and feel riskier to talk about. Systems of power, climate change, dysmorphia. Sexuality was one of them. These feel urgent to me, and I want to lend my work to them. Those projects have started to take the form of sci-fi, horror, chamber drama, genres I'd never thought I had the capacity to write for.
I just wrapped a short film called No Comment, which I partnered with From the Heart Productions to produce and fundraise. It's about an actor's mental breakdown in a press junket when a journalist suggests he's complicit in his co-star's abuse. The idea blossomed when I arrived in LA as the #MeToo movement began. I thought that if men want to tell stories about this problem, they have to tackle the question of how men enable each other's abusive behavior. That idea unsettled me, and I had never told a story like it, but it felt urgent. So I brought the No Comment script to everyone I knew, asking for notes to make the film feel as incisive as possible. I look back on the production process with an odd serenity. It made me realize there's nothing in the world I'd rather be doing than hiring my friends to make the best movies possible.
How do you think about success, as an artist, and what do quality do you feel is most helpful?
My professional path working in film hasn't resembled that of anyone I know who has come out of my school. No one tells you this, but that part is terrifying. Unless you're at an agency or production company with a clear hierarchy, you lose all metrics of what you "should" be doing by a certain age and perpetually feel behind. 
At some point, I realized "should" is bullshit. Nobody cares. It doesn't matter. The only thing that matters as an artist, to paraphrase Tommy Kail, is feeling useful. To have this thing we want to give, and finding a place to put it.
I had a formative experience last year assisting a director whose work I loved. I went with him to New York to help on a TV show. We were talking about me staying on the east coast with him indefinitely. Then, one day, he told me not to take that path. He said I was a weirdo—in the way that he was a weirdo, so he meant it kindly—and I was better off going back west to make as much work with my friends as I could. It was hard to swallow. Everything was already laid out! I wasn't ready for the autonomy he said I needed to take. But I took his word, and my creative life has been undoubtedly better for it.
My favorite work is linked by a sense that its creators got away with making something. I'm obsessed with Phantom of the Paradise, a Brian De Palma musical that bombed when it came out in 1974. No one knew what to make of it. I look at Phantom now, and that's as pure and manic and idiosyncratic a piece of art as I'll ever see. I love movies with oddball sincerity. Pink Flamingos. All That Jazz. The "Don't Hug Me, I'm Scared" videos. This year's Her Smell, or Under the Silver Lake. You look at the careers of those filmmakers and see how long it took for their weirdness to become successful in a conventional sense. Their work leaves the impression I want mine to have—finding empathetic things to say in batshit stories. These filmmakers have lived by the kinds of rules I strive for.
What's the best way for someone to check out your work and provide support?
You can find my latest film work on my Vimeo page, my sketch comedy work on my YouTube channel, and follow me on Twitter and Instagram where I post about screenings, events, and projects I'm involved with. Links are all below.
I feel supported whenever I start working with new collaborators. It's a joy to live in LA–especially on the east side–and see how many genuinely interesting people are making work, or feel hungry to do so. If you have your own script, or idea, email me. I own a camera and enjoy working on way too many things at once. 
Contact Info:

Image Credit:
No Comment (2019) DP: Matt Kleppner
Summer of Connor (2019) DP: Noah Dirks
A Darla Family Christmas (2018) DP: Ali Arminio
Alpacaland (2017) DP: Matt Kleppner
Production stills by Hollywood Comedy Shorts, Cassie Wilson and Ali Arminio
Getting in touch: VoyageLA is built on recommendations from the community; it's how we uncover hidden gems, so if you know someone who deserves recognition, please let us know here.