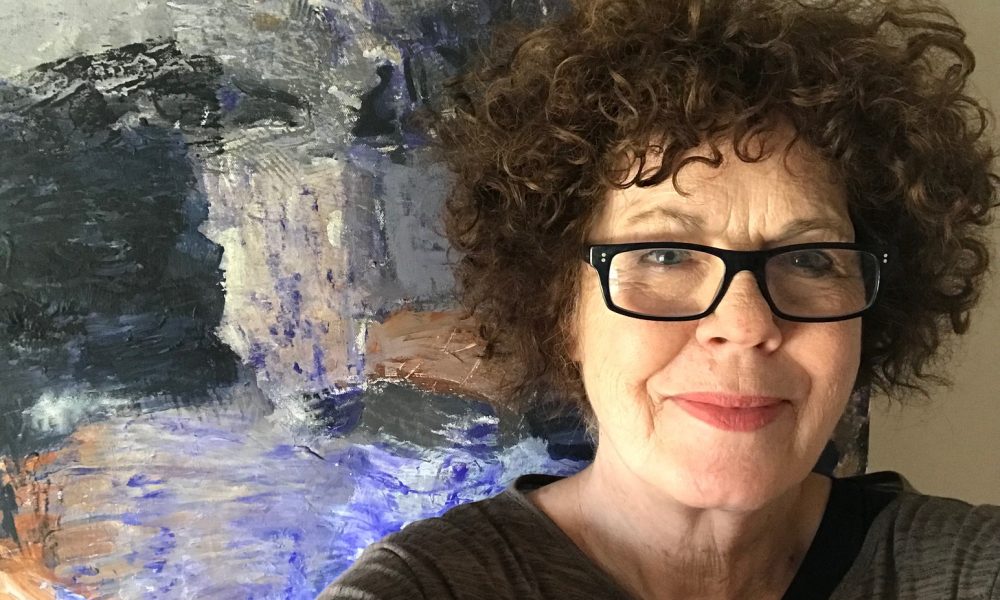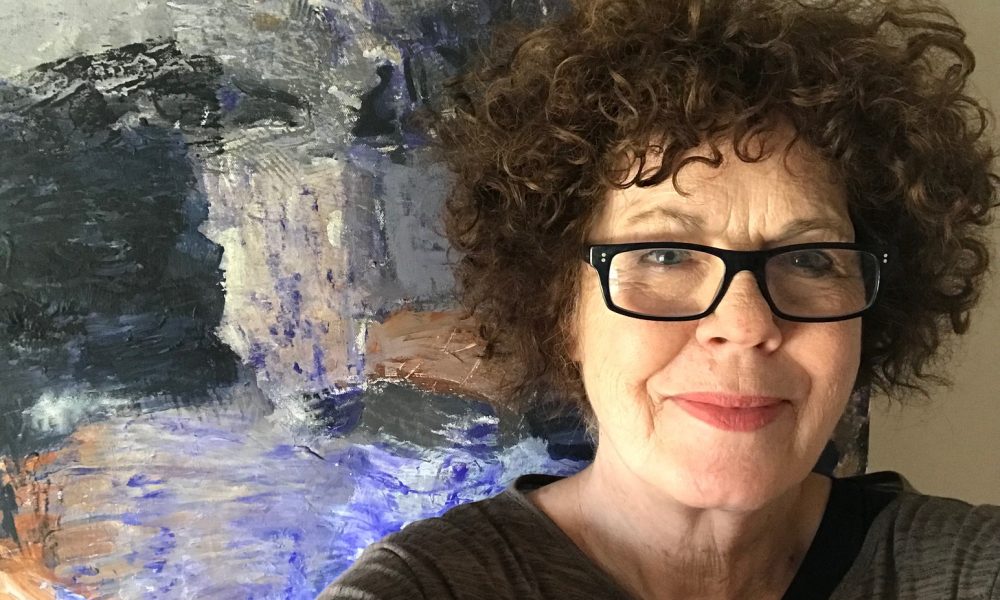 Today we'd like to introduce you to Rebecca Janes.
Rebecca, please kick things off for us by telling us about yourself and your journey so far.
Art and helping people express themselves are my two favorite things to do. As I got older, I realized that out of the gifts that we are each given, mine requires solitary time to make art, and the balance of time spent with children of all ages and adults inviting them to express and explore their lives through art making. When you come to this kind of balance in midlife there is a particular joy in coming home to oneself, I guess due to the waiting. In a recent series of mine titled JOYS IN THE NIGHT GARDEN, the titles of my paintings were combined by my cousin Jes Simmons, into this poem which expresses the feelings of mine in the process of painting this series.
JOYS IN THE NIGHT GARDEN pleasure, mystery, flowers, scents, vines, Nothings become possibilities of somethings. If you were there that night in the summer you would smell it, and know more about the fireflies and the smoke fogs, and the lights in the trees, but I was there, and I give my passion for it now in my arms, with paint knives and dripping colors that burst and fall onto canvas.
Can you give our readers some background on your art?
Currently, I am working on a series that is based on the beaches of the Gulf Coast, the West Coast, the Mojave desert, and the sandbars of the rivers I have lived on. When I recently made a book of the paintings for marketing, I began to think. What do I have to say visually about beaches that haven't been painted and better? I wrote first for myself, how I experience beaches, what I learned from placement of objects in space on the beach. I thought about how the nature of wind, water, and sun weathers the objects, bleaches them, places them in clusters, and spacing that no one could as beautifully place ever in a painting. But, in doing this, I realized that for all of us we are paying homage to something that we experience in our own ways, and comes out with our own twists of expression. This is something that I nurture in 5th graders with drawing and creative expression, and to any adult that comes to a workshop. Your expression matters, it makes the world a more full place, and so at each time I am presenting some artwork, I think, ok tell this to yourself. You have a place somewhere, in someone's view because you are part of the fuller expression experience for someone, and yourself.
So now in my garage studio across the patio with my door open to the smells of plumeria and gardenias, I paint daily from small to 4 x 5 feet paintings on panels of wood, canvas, or paper. I love seeing someone happy with one of my paintings, as it is fitting into their home, or life in some way. I think it would be fun to work with designers, decorators, and homeowners to take the art to their house or store and let them see how it fits. Recently I accidentally laid down a book of my paintings on a table near the dressing rooms, while my friend and artist Connie Rohman tried on a dress in a beautiful store. The stylist commented how much the art on the front of the book and inside as she looked at it, might fit into the overall look of their store. I looked around and realized that indeed, this beaches series was the same colors of the clothing, and had the texture and character look of their pieces. It was a joy to return, look with them at a variety of paintings that might work in the store and both complement their products but not add any busyness to the overall aesthetic. We settled on a big piece that drew your eye to the back of the store and was in all our minds just right. I thought this must be what good marketing/sales could be. Not trying to make people want something that was not right for them but something helping them find what really fits for them.
Artists rarely, if ever pursue art for the money. Nonetheless, we all have bills and responsibilities, and many aspiring artists are discouraged from pursuing art due to financial reasons. Any advice or thoughts you'd like to share with prospective artists?
I have to say, I wasted so much of my time in life second guessing the right to make art, how good I was, and whether anyone would want what I produced. Now I think that was so sad, and so it is quite my mission to join with other artists and to teach drawing so as to embolden all of us to express ourselves in whatever medium, whether for personal and family enjoyment or to share with others outside. I particularly think that it takes years often, to make the level of art quality that one aspires to, however, it is possible if you keep on making and improving your work that in fact one day, you will like it as well as other art you see, that you previously admired. Also, join a group of artists who support each other, like the group I have been a part of for several years: Nicholas Wilton who founded Art2Life. Watch some of his free daily videos online. I found a mentor there, Susan Melrath, and she helps me online evaluate what is and isn't working in my paintings. Her guidance as well as in the part that is so difficult for me thus far and that is the marketing. I went to Otis Art Institute, Pasadena City College, and other drawing and painting classes but once I had the basic skills, there was the big world of developing a successful art practice, after training.
Financially I think that whatever you can enjoy doing and or making art, is the way to go, at least what I found. I was a therapist as a career, but I used my own art gifts to help my clients express themselves. I found a niche doing that with children. There are so many niches that are pay enough to live on, and also many jobs may be desperate for, but don't know it, the skills of artists of all types. One of the school janitors at the school where I volunteer is also the mural painter at that school and a real mentor in the arts to the students. So, just stay an artist and find a place to fit in either directly or in some sense CREATIVELY, into the work environment.
I would also suggest that artists volunteer in a school, in some program, or with a teacher that wants to have some help with creative problem-solving. Drawing, which is the most available and least expensive art practice for beginners, I have learned through experience, has a real effect on students' test-taking due to their increased focus and ability to use the thinking/assessing that is necessary for drawing, and they have fun. In addition, the fifth graders I work with are about to enter what is one of the hardest times of school, and that is the jr. high or middle school. Having a way to express yourself in drawing can be a lifesaving skill. I have heard this from those who are now in middle school after having drawing and creative thinking classes I was involved in. As an artist I was concerned about my own drawing skills but once you volunteer you realize that whatever you think you don't know, you are easily ahead of beginning drawing students. Also, it is really an opportunity to give the kind of support you would always have liked to have had. Nurturing them nurtures yourself. I know that I am a better artist because I had to think in beginners mind about these practices. Touching even one life and mind of a student in a skill like art/drawing can possibly save a student who didn't fit in some way. I felt hopeless about this issue after the elementary school shootings in New Town CN. I was determined to go into schools in some way so that at least I had made an effort. One person cannot take away the whole problem, but one person can do some good and may, known or unknown, be a catalyst for the good of all of us. I had always heard this from inspiring people but never realized and was surprised that it actually feels better to be volunteering than not volunteering.
What's the best way for someone to check out your work and provide support?
One of my larger paintings 40 x 60 inches is now in JARBO in San Marino, which is the great clothing store I mentioned before. It is likely to be hanging for a while. You can also find me on my website, www.rebeccajanes.net, and on Instagram @rjwirepaint. The online sites are the best places to contact me if someone wants a painting or discuss a commission. I am currently testing the art markets to see where I will be both wanted and comfortable showing artwork. If I had my choices at this point, I would be working directly with homeowners, and designers in the Los Angeles area, with an eye to finding ways to collaborate with them regarding colors but within my styles of painting. I paint a number of paintings per year and need to be more proactive with marketing than I have been.
Contact Info:

Image Credit:
Rebecca Janes
Getting in touch: VoyageLA is built on recommendations from the community; it's how we uncover hidden gems, so if you know someone who deserves recognition please let us know here.