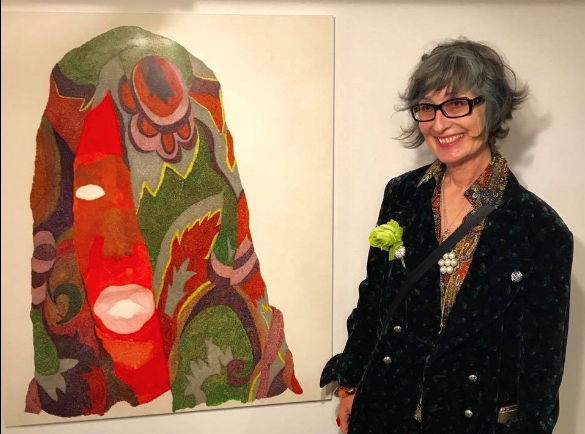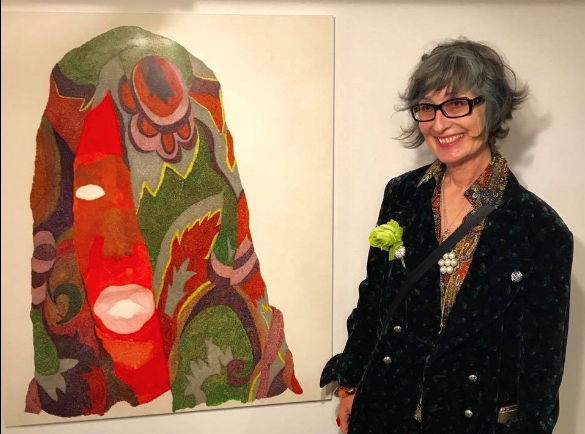 Today we'd like to introduce you to Nadege Monchera Baer.
Nadege, please kick things off for us by telling us about yourself and your journey so far.
I was born and raised in France, left home early to settle in Paris during my teens. I graduated as a painter from Ecole Nationale Supérieure des Beaux-Arts de Paris, supplementing my survival with freelance jobs in the design and fashion industries as a stylist. Working and living between Paris and Rome, I had the honor to meet and befriend director Federico Fellini and on his insistence, I took a small role as an actress in the film Casanova. I initially turned it down, insisting on wanting to concentrate on my painting, but Federico's passion and enthusiasm is just an impossible thing to deny. The impact of working alongside of Fellini gave me a first-hand chance to watch the pursuit and expansion of a world-class creative vision by someone with incalculable gusto and fantasy, who was equally kind and attentive to everyone on his team, top to bottom. It was a unique life-changing experience.
Returning to Paris, I continued painting and received the Villa Medicis prize, which included a residence in Berlin. Later, I was awarded a NY residency Art OMI, where I met my husband Rod Baer and consequently moved with him to LA. My work has been included in a number of gallery and museum exhibits in Europe and the US. I love living in Los Angeles, where I continue to meet many talented artists. I deeply enjoy the intense vitality of contemporary art, particularly here in a thriving, ever-expanding, expectation-defying local/global scene.
Can you give our readers some background on your art?
My work follows two intertwining threads one abstract and the other figurative. Each informs the other, sometimes merging, sometimes growing divergent. I work on paper and canvas, and depending on the piece, they are either paint, colored pencil or a combination. The ones that are predominantly drawing use a very intricate hatching technique compiling layers of colors over colors using very tiny strokes creating a modulating skin of color, density, and form. They are ridiculously obsessive, which gives one read of an overall composition from afar but an entirely different almost tactile-centric vision when seen up close. Subject matter ranges from portraits to landscapes containing elements of chaos, disorder, collapse or disaster.
Much like the technique of their rendering, the pictorial source is not always readily available on first view but nearly all of them begin with personal photos or news images. Not so much by conscious intention, as by reflection, I see them embody a bit of push and pull between the depiction of tragedy and loss in an industrial and post-industrial world that becomes nearly overshadowed by the lyrical quality of line and color. Maybe a promise of resurrection, less sequential than a simple shift of perspective, where something grotesque has its own strange beauty and something hurtful healed opens fresh potentials, the soil of experience newly enriched. Painting and drawing are pieces of my favorite language that is both personal, universal, enigmatic and ambiguous- all in one. Can't imagine my life without it- as an immersive discipline and a method of inquiry and perception it gives me great joy and pleasure.
What would you recommend to an artist new to the city, or to art, in terms of meeting and connecting with other artists and creatives?
This is tricky, because the truth is, it's always susceptible to change and redefinition. On a bad day when things seem insurmountable, just saving an artwork from the brink of meaninglessness and getting it back on track can be a gigantic success. Other days external measures dangle around.
The love of Art made me decide to become an artist (or maybe it's the other way around). The challenge to survive, resist obstacles and keep the same desires and enthusiasms alive undampened, to keep it all flowing – that's maybe the first and last step of success. The middle part, I don't know, you tell me.
What's the best way for someone to check out your work and provide support?
I'm regularly taking part in group exhibits around LA. This summer I'll also be included in shows in Berlin and Italy. Digitally you can see some of my work on Saatchiart.com, my website or through my Instagram account.
Contact Info:
Address: 3803 San Rafael ave, Los Angeles, CA, 90065.
Website: nadegemoncherabaer.com
Phone: 323 578 6566
Email: nadegemb@gmail.com
Instagram: _venezianaparisla_
Facebook: Nadege Monchera Baer

Image Credit:
Rod Baer, Dee Balson
Getting in touch: VoyageLA is built on recommendations from the community; it's how we uncover hidden gems, so if you know someone who deserves recognition please let us know here.