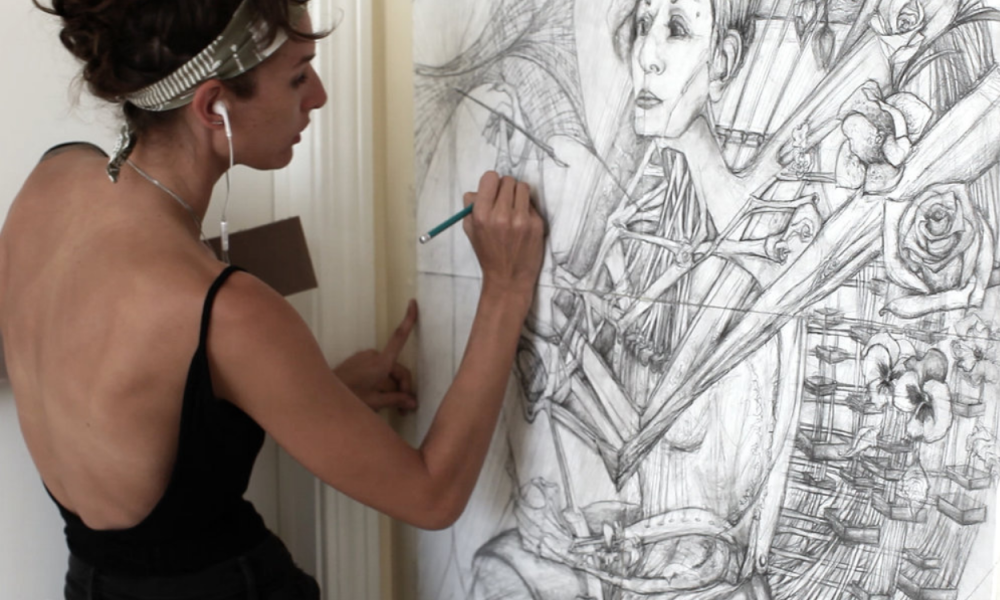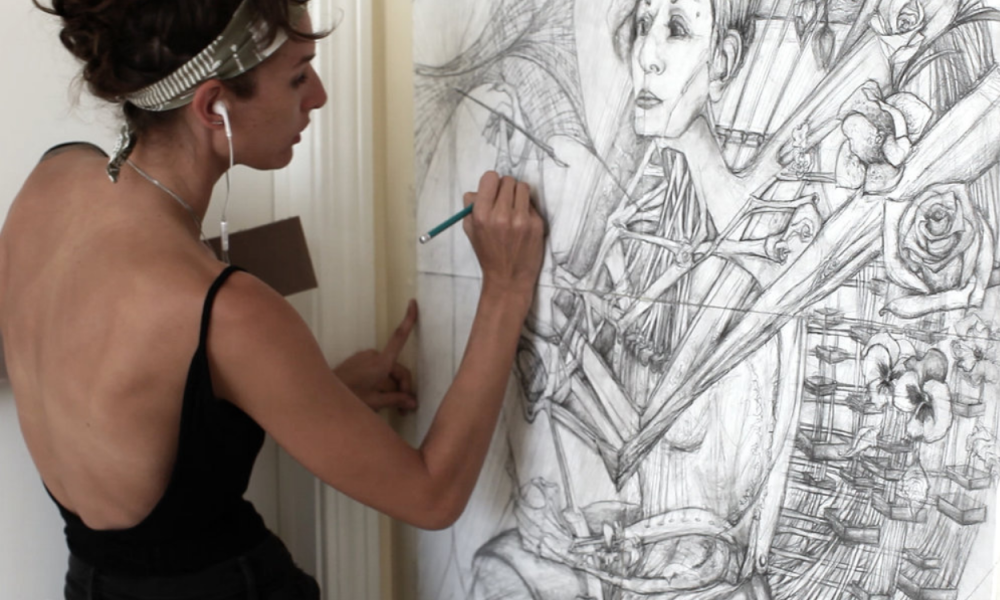 Today we'd like to introduce you to Milan DelVecchio.
Milan, please kick things off for us by telling us about yourself and your journey so far.
I was born in Carson City, Nevada to a Body-Builder-turned psychologist father, and Fine-artist-turned-elementary-school-teacher mother. Between the two of them, I grew up learning how to draw and build things out of repurposed materials, like a "city of lids" made from hundreds of empty hotel toiletry bottles, or converting a claw-footed bathtub found on the street corner into a lounge chair. My parents really nurtured resourcefulness and imagination, and I am only recently realizing the invaluable effects of that.
In second grade I decided I was going to either become a couture fashion designer or a cartoonist when I grew up. From there, I started making "avante garde" doll's clothing (modeled originally on the slender figures of kitchen utensils) or drawing quirky monsters. And here began a most unforeseen and nonlinear journey.
In my third year of undergrad as a fashion design student at the University of Cincinnati's college of DAAP, I had already been on a slew of internships, some corporate, some theatrical, some craigslist scam fiascos. Long story short, as my second-grade fantasies of becoming a famous designer, were quickly crumbling, I decided instead my "true calling" was to make my drawings move and to become an animator. I began teaching myself After Effects and Flash via online tutorials while completing the remainder of my other fashion college credits.
After graduating, I moved to New York, realized how little I knew about the real world, had the hardest time finding work, as I was signing potential employer applications with "xoxo," and decided after about a year of floundering that school was my safe bubble, and I applied for grad school.
I went to the School of Visual Arts, in the MFA Computer Art Department in 2011, and it was here that I met a wonderful crew of quirky kindred spirits. This was my happy place, and these were my happy peeps for the next five years – two of which were in school, and three of which I worked in the department post-graduation. I made many life-long friends here; this period of time and people I am so grateful for.
Alas, my restlessness ensued.
As gratifying as the results of animation are to watch, the process of simulating movement 8-10 hours a day are not super satisfying for a body that wants to be in motion. Somewhere between 2013 – 2015, while freelancing as an illustrator/ motion graphics artist/ costume designer / PA / etc., I discovered the art of textile design and thought for sure that THIS was my all-encompassing calling. The process of making a diverse collection of artwork for fabric, which by nature is constantly in flux each season, seemed like a process I could never get bored with.
I developed a collection of 100+ designs and began freelancing as a textile designer with a few companies, making small commissions when one of my designs sold.
In 2016, the struggle got too real in NYC, and I headed to Los Angeles for sunshine and something new.
Here I have resided and encountered a sunnier, yet similar type of hustle for the past three years – in a very multidisciplinary way, swirling around in many of the aforementioned directions.
Please tell us about your art. What do you do/make/create? How? Why? What's the message or inspiration? What do you hope people take away from it? What should we know about your artwork?
I am a multimedia artist. I thrive on diversity, my medium is ever-changing, with a somewhat constant thread of provocative whimsy weaving my often disparate bodies of work together.
For much of my artistic life, I have been less inclined to following foundational rules – for better or worse. I am still finding that balance between technique and experimentation, but I have always been attracted to an ill-proportioned meandering stream-of-conscious doodle on a napkin. I find that the "randomness" is actually this amazing thing called intuit, and yields the raw psyche of the individual.
Many things inspire me! But typically manifest as something that is a combination of:
1. Deeply psychological
2. Escapist or post-apocalyptic
3. Anomalies in nature
4. Meandering unpretentious cutie little doodley things.
For instance:
Last year I made a series of Sumi ink paintings on large (approx. 50"w x 70"l) cotton scrolls inspired by this Bulgarian profit named Baba Vanga, and her prediction for the year 2130 – which is that humans will have depleted all of the planet's natural resources on land, and extraterrestrial intelligence will have to reveal themselves and help us by colonizing underwater civilizations (crazy right?!) I think the paintings themselves haven't yet yielded the narrative quite so literally, still I remember really enjoying pondering dear Ms. Vanga's vision while making them.
This year, I have been working on a series of stipple drawings inspired by starling murmurations. The series began on my arm, with a sharpie, while I was talking to my mom on the phone about nothing in particular. I've continued making them mostly as a technique that is so foreign to what I'm used to doing. It's a very cathartic, meticulous process – not things I typically associate with myself.
Most recently, I'm interested in developing a meta-biographical portrait series, called Living Rooms. Each portrait explores the subjects' psyche, including themes in cognitive dissonance, dream analysis, and other topics revealing behaviors of sentient nature. The portraits serve as a celebratory artifact of the person's cerebral archives.
I'm interested in developing this series as a potentially life-long endeavor, as an Art Therapy service. My goal is to provide each subject with a visual representation of what they might look like inside the rooms in their houses – furthermore, providing some mental clarity, some kind of personal reflection and/or release.
What do you think is the biggest challenge facing artists today?
It's a loaded question with 500 shades of gray. I think a highlighted theme of many industry's challenges right now is learning to adapt to the exponential growth in technology. For creatives, social media has exposed incredible and innumerable talent worldwide. It's humbling to see so much amazing art being produced every nanosecond streaming through the feed between our fingers. At the same time, being inundated with content so often can get exhausting.
Ultimately I think it depends on what your goals are as an artist. I think an interesting challenge would be to see more artists integrating with other industries for more philanthropic pursuits. It would be really cool to somehow figure out how to band together all of the artists and come up with an entire restructuring of how to globally patronize them, similar to how both the Medici Family and FDR's New Deal agencies did it.
Besides that, perseverance is key.
How or where can people see your work? How can people support your work?
Some of my costume design and motion graphics work have been on screen at various film festivals and can be viewed online, in collaboration with boutique movement and new media design agency, Safety Third Productions, media company Standard Vision, and Maysles Cinema for their feature documentary Iris.
As for non-digital things – one particularly dear-to-my-heart project is a children's book I illustrated for my friend Aviva Cantor called "I Can Understand,"- which tells the story of a handicapped boy and his sister. Their unique sibling relationship promotes love, acceptance, and understanding (available for purchase on Amazon).
Most of my other work is a scavenger hunt sprinkled upon friends and family as drawings or custom printed clothing, murals in living rooms, bridal shower invitations, etc. When I first moved to LA, my boyfriend commissioned me to make a street mural in front of his store, Fabric Planet on Lincoln Boulevard in Venice. You'll sometimes find the two of us partaking in ephemeral art practices – i.e., draping 100-yard rolls of fabric between trees in downtown LA at 1 am, or in the middle-of-nowhere Joshua Tree, guerilla-style.
Besides all that, I do have a limited edition section of prints for sale.
Contact Info:

Page from the children's book: I Can Understand, written by Aviva Cantor

Image Credit:
Jacob Sapar
Milan DelVecchio
Still from Short film Specter of the Other, DP: Shimmy Boyle. A Safety Third Production
Photography by: Jacob Sapar, for the dance film "Vortices," a Safety Third Production
Getting in touch: VoyageLA is built on recommendations from the community; it's how we uncover hidden gems, so if you know someone who deserves recognition please let us know here.