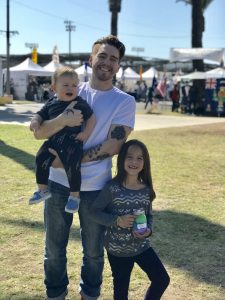 Today we'd like to introduce you to Justen Phelps.
Justen, please kick things off for us by telling us about yourself and your journey so far.
I am 27 years old, I have two kids, Bailey who is 7, and William who is turning 2 in May. I am a software engineer working for a startup in Hollywood known as Wheels. I work mostly on Web and Web Engineering. So basically everything you see on your web browser or interact with on a website, I do a version of that for Wheels. Software has always been a huge passion of mine and growing up, my father would let me watch him while he tinkered with computers and electronics.
Naturally, I grew to have an interest in computers and how they work. One of my oldest memories of me as a child was when I was about five years old, and I would take my hot wheels apart, sometimes with a hammer. I always loved figuring out how things worked, and I still have a strange obsession with those amazing cross-section books that show you the insides of cool space ships and buildings.
My career path has been a mix of sporadic, impulsive, and ambitious. I have had more jobs than most people have had in their lifetime and most of which are not related to each other in any way. My first job was working at Little Caesars, making pizza dough and folding boxes. Up until a short while ago, programming had never occurred to me as a possible option.
After working in BioPharma for almost ten years, I began to grow bored of the repetitive job tasks, and the lower than average pay. I worked myself into a fantastic position doing research in Palo Alto for a chemical company and had done so without a degree. My knack for progress and fear of passiveness had helped me grow immensely in a field I wanted nothing to do with. However, in Palo Alto, I managed to reach my limit of growth.
I was working alongside people with PHDs and Masters in fields I couldn't even comprehend. I was stuck. Being in Palo Alto, there was a lot of tech companies within arms reach. Silicon Valley was plagued with amazing tech companies, and the rent grew with them.
After about 14 months at this chemical research position, I decided to pursue something I enjoyed.
Thanks to an incredibly supportive wife, I was able to quit my job and focus completely on software. To make things even more interesting, my wife was just a few months from giving birth to our son when I quit my job. I spent almost 6 hours a day in the corner of the Santa Clara library, studying everything I could do to nudge myself in the right direction.
Fast forward a few months, and my wife, son, and I all move in with my parents while I continue to study. This was a huge sacrifice for my family, especially my wife. We had no income for six months and were living off the small amount of money we had been able to save before I quit. We ended up cashing in my 401k (penalty included) so that we can survive just a little longer. It was one of the hardest times of our lives, but we were blessed to have somewhere to stay while we waited.
Less than a year after touching my first line of code, I managed to land a job working part-time as a developer. I remember this moment vividly because this was the first time since I quit my job that this sacrifice seemed like it could actually work. I cried and jumped, and called my wife right away. It was part-time, but it was a real job as a developer and I was proud.
Today, I am working full time for a fantastic company that is growing fast, and have managed to become somewhat talented in this line of work. My wife and I are now living comfortably and I was able to purchase my first car this past November. This journey has been incredible and I feel lucky, blessed, and proud.
Can you give our readers some background on your art?
My art might not be the most obvious, and some might not consider it art at all. But to me, software and web design has been the perfect balance of art and engineering for me. It is fascinating to think of the web browser as a blank canvas and the best part about it is that every day, people interact with my art.
Behind every image, button, and animation you see is a bunch of code and scripts to handle all of it! So it's almost like the browser is my canvas, the code is my paint, and my keyboard is the brush!
It sounds a little cliche, but I really think because of all the amazing software that has come out with applications and computers, people are starting to notice it more.
In your view, what is the biggest issue artists have to deal with?
I cannot speak for all types of art, but I feel like I can have an opinion with software and programming as an art.
Since I've been in the field, I feel like software and the people building it have become more accepted and even sought after as a lucrative and valid career. I'm sure the money flowing into tech companies the past few decades has a lot to do with that.
Software as an art form is becoming completely common and websites like Dribbble and Behance are helping people access software prototypes by showing artwork in a gallery type setting.
Artists that work in software or tech companies are usually working as a User Experience or User Interface designer. More recently, these types of artists have been pressured to learn programming as well as design in order to be competitive and I feel like this pressure is causing a lot of gaps in programmer and artist skillsets.
What's the best way for someone to check out your work and provide support?
You can find me at any of the below places:
LinkedIn: https://www.linkedin.com/in/justen-phelps/
Github: https://github.com/justenbphelps
Personal Website: https://www.justenphelps.com/
Fortunately for me, my overhead is much cheaper than for your standard gallery.
Contact Info:
Image Credit:
All sites shown were worked on by me, either as the only developer or part of the team in charge of design.
Getting in touch: VoyageLA is built on recommendations from the community; it's how we uncover hidden gems, so if you know someone who deserves recognition please let us know here.