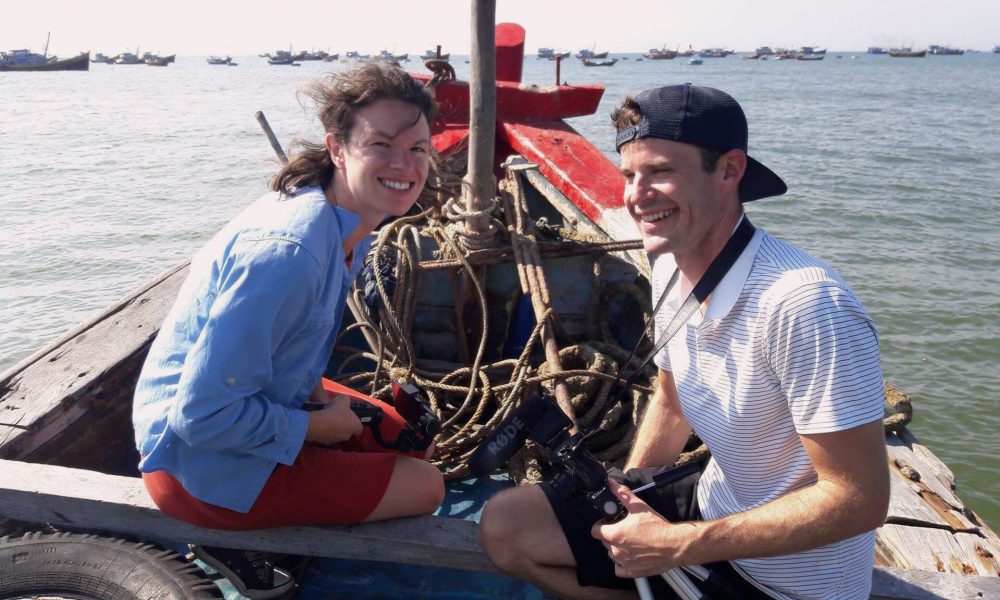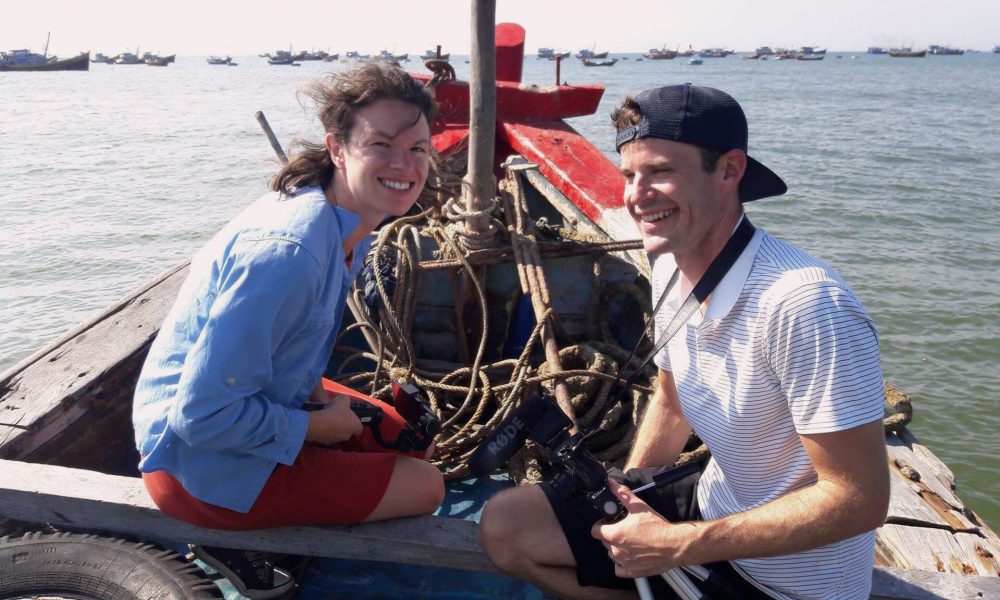 Today we'd like to introduce you to John Alexander and JC Guest.
John and JC, please kick things off for us by telling us about yourself and your journey so far.
John: I grew up in Santa Monica surrounded by the film industry despite coming from a family with little to no connection to it. I was pretty obsessed with making movies and got my hands on my parents' Hi8 camcorder as soon as they would let me. Days that would start out as taping a recital or road trip would evolve (or maybe my sister might say "derail") into me constructing and directing stories. My family might not have many authentic verité 'home movies' but I quickly indoctrinated myself in the craft of cinema, even though I was so young, I barely knew it existed. I remember having to use a step ladder to reach the record button and viewfinder atop a towering 4-foot tripod. As time went on, I gravitated toward mentorships and apprenticeships rather than school for training, by interning with filmmakers I admire such as Sam Raimi on Drag Me to Hell. I've always been pretty singularly focused though; at one point in college JC made me get a job, so I found one where I could film statistics and economics lectures for the AV department.
JC: I grew up in the very crunchy, creatively-minded community of Asheville NC, where having a "normal job" meant working as a beekeeper, craftsperson, or rafting guide. It's crazy, but I truly did not believe the city of Los Angeles existed. "Hollywood" was some kind of fiction made to pacify the masses and in the same not-to-be-trusted category as office jobs and Top 40 music. As a kid, I pretty much had no idea how films were made, but I had a sweep of interests in art, technical skills, and business that were so broad it seemed self-sabotaging. It wasn't until later that I realized that all of those things could actually work in tandem and be nicely packaged up into a role called film producer. I grew up around my parents' mom and pop industrial company, so I'm more used to a life of unpredictable work hours and business conversation around the dinner table than one where everyone leaves in the morning to go off to their separate careers.
Once we met freshman year at Harvard, we pretty much immediately started collaborating on creative projects, and by senior year we were basically doing the bare minimum to graduate because we were so focused on our own work. Being in school was at least useful for pillaging Harvard's massive library to research and write a script based on the legend of the Bloody Benders, a serial killing family in Kansas shortly after the Civil War. This project became our first feature, cult psychological thriller Bender.
After living in LA for several years to establish ourselves in the industry, we founded Crook & Nanny Productions, then took the risk of building a studio in Asheville. Most of our work is still based in LA, and we go back and forth a ton, but we find that we get our best work done living a life of balance between the surge of adrenaline that is LA and the almost hermetic creative retreat we have in North Carolina. Maybe 'balance' is a little too healthy of a descriptor, but at least we have both extremes.
Can you give our readers some background on your art?
Apparently, we make movies but we think of our creative work more like finding ways to sneak art into a commercial diet. We are interested in pushing the medium beyond just what has been 'successful' before and taking risks with the form, with the goal of contributing original voices to a canon so often run by conforming to trends of the time.
Our work is more focused on the 'how' than the 'what,' and this is the common thread across projects that might seem very disparate and unrelated. At the risk of being too unorthodox, we're trying to explore film beyond storytelling because we feel like even now, it's a young medium whose language still has room to be explored.
Right now on the film festival circuit Crook & Nanny has This Is Love, a music doc about Rudy Love, an unsung hero of soul. We're also in post-production on Open Field, a feature doc about women's tackle football following Sami Grisafe, the first girl to quarterback in a California Division I varsity game. We just finished a farcical short set in the Canary Islands called Neverlan and are due to lock edit on a short comic thriller filmed in a drive-thru car wash. We're also in pre-production for a documentary about the secret life of an American icon and are developing a feminist revenge horror feature. None of these projects truly conform to their respective genres, but each is completely committed to a style that is reflective of the subject matter.
Any advice for aspiring or new artists?
The moment immediately after your greatest success always feels like a letdown, and don't let that discourage you from continuing to work.
What's the best way for someone to check out your work and provide support?
We try to keep crooknnanny.com updated as best as possible with our latest work. Right now, it would be a huge help to follow @thisislovefilm on social media as it continues on the festival circuit and is commercially released, and we always appreciate reviews of Bender on Amazon.
Contact Info:
Image Credit:
This Is Love stills courtesy of The Love Story LLC. Bender stills courtesy of Osage Trail LLC. John on set courtesy of Jacqueline Garcia.
Suggest a story: VoyageLA is built on recommendations from the community; it's how we uncover hidden gems, so if you or someone you know deserves recognition please let us know here.