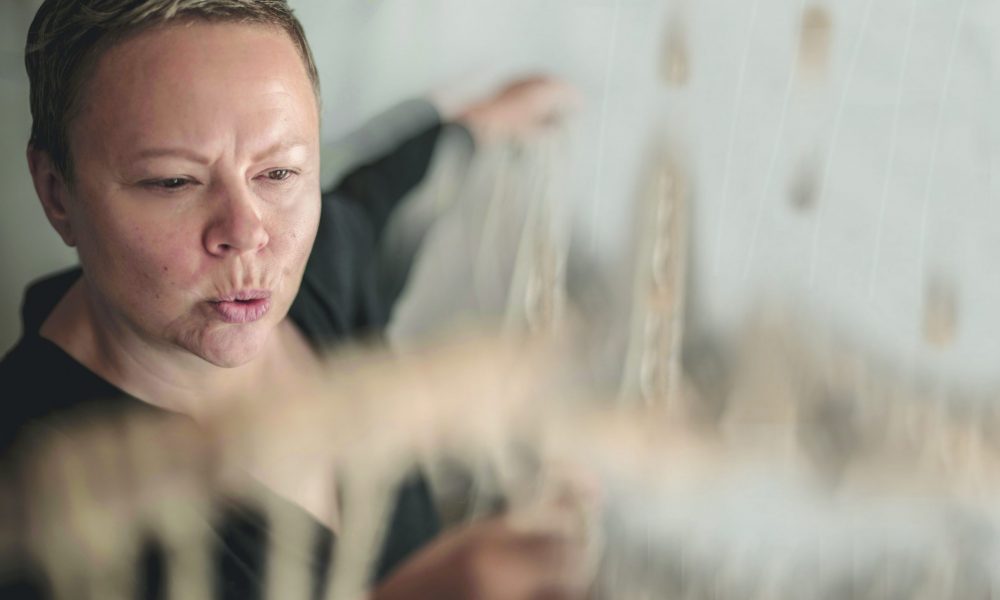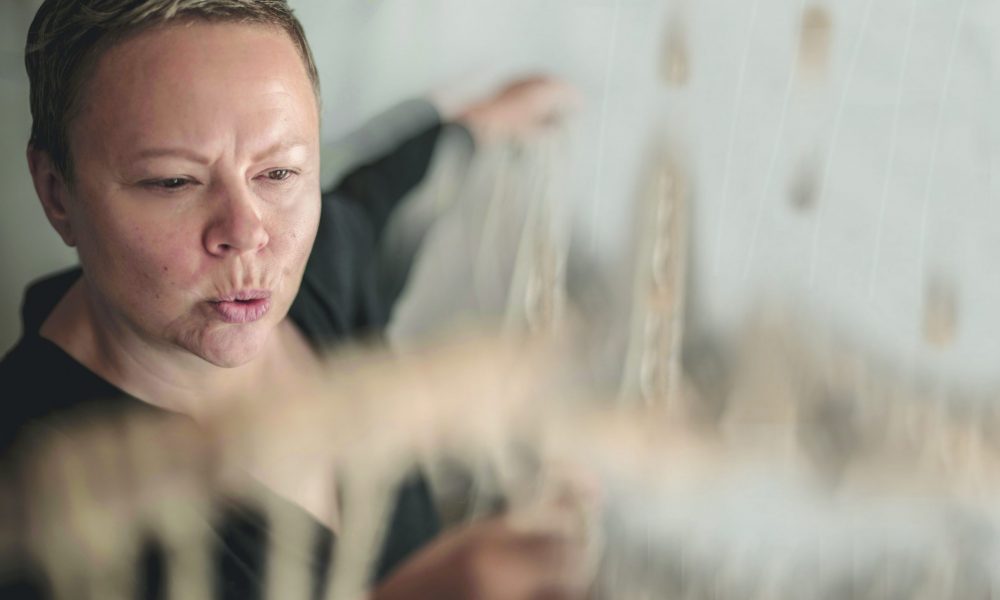 Today we'd like to introduce you to Joanna Szachowska-Tarkowska.
Joanna, please kick things off for us by telling us about yourself and your journey so far.
Many people follow only one life path, but I have travelled down many roads, transporting me to various dimensions–utilizing multiple media – I am an illustrator, painter, ceramists, fiber and mixed-media artist. For as long as I can remember, nature has been my companion and shelter; my confidant of the soul and inspiration. Living in a crowded city, I never had enough wildlife or space.
Together with my spouse Artur we have been traveling around the world to find and transit to a warm place, where the sky is blue, where there is a lot of light and there is no snow. We went to India, Greece, Phillipines, Thailand, Italy, Spain… but only here I had chills and heard this voice in my head "this is the place". Space and a lot of time for reflection is my biggest luxury. I found all these treasures in the desert. It gave me freedom and allow me to spread my creative wings.
I was born in Poland in 1970. In my youth, in order to survive, you had to have a stable job with work in hand. Therefore, when I was a teenager and dreamed of studying art, my father vehemently opposed and did everything to push art out of my mind. He wanted me to become an engineer. I often drew under the covers with a flashlight, disobeying his ban. As soon as I could, I moved out to create art in peace.
I was an introverted character, with quite a large space for my internal world. At the time (I was 16), I was drawing oneiric parables from the world of dreams and symbolic stories of a girl who silently resists violent adversaries. Only recently did I realize that all the stories that I drew with the thinnest rapitograph happened in, by chance, the desert.
I have lived off what I have created for over 23 years, always working in several fields and with several different types of media. For nine years of my life, I was a single mum. I had to work harder than others to provide for us. When I worked in the advertising agencies Ogilvy and Mother and BBDO as a copywriter, after hours I was painting large pictures with acrylic. I was fascinated by magical realism. At the time, I was very connected to my dreams. I was also writing poetry, which I published with my art in the press. I had many exhibitions and my paintings sold like hotcakes. My first exhibition sold out on the very first day! My paintings have appeared on the covers of a number of the world's best-selling books, such as "Twerp" by Mark Goldblatt, "The Piano Teacher" by Elfriede Jelinek, "No Laughing Matter" by Joseph Heller, "Drinking Coffee Elsewhere" by ZZ Packer, "When I Forgot" by Elina Hirvonen,"The Family Muscat" by Isaak Singer, "April Witch" and "The Woman I never Was" by Majgull Axelsson, "A History Of God" by Karen Armstrong, and "Rose Water and Soda Bread" by Marsha Mehran, to mention just a few examples.
Years later, I moved from large pieces to collages, illustrations and book cover design (I have over 60 published book covers in my portfolio). That was my passion and daily bread. As a person who likes to work with words, I have the ease of transforming words into a symbolic, universal image that is felt by others, as if translated into the language of human consciousness. My illustrations have been published in the Washington Post, The New York Times USA, The Patent Office UK, BC Business Magazine Canada, Style Magazine USA, American Lawyer USA, Element Magazine Canada, Pressley Jacobs Canada, the Boston Globe and a number of other magazines. My style is very recognizable. Painterly backgrounds and rich textures can be found, and not only on canvas. My collages are rich in patinated and antiqued surfaces, stitches, fabric fragments with a touch of rust, or printouts combined with items of everyday use. Their nostalgic climate and their symbolism invoke "mini worlds" full of understated symbols, reflecting universal values and creating an emotional bond between the artist and the audience.
Can you give our readers some background on your art?
My current work is like looking at nature in the desert. Not everyone will notice it nuances; a delicate line or weave of yarn. It whispers. I am attracted to the subtle, not the obvious. I prefer an understatement to a scream. I am a patient observer. I can meditate for hours watching the moving clouds and bring my mind and whole being into areas where there are no verbal thoughts, where I become one with what surrounds me.
I believe that we are all an eternally flowing source of creativity, but to tap into it we have to tune in to it. Meditation, contemplation, and practicing awareness of being here and now is part of me and has a huge impact on what I create.
Whether it is painted, woven or fired in a kiln, my art is always an expression of my authenticity; my love of the simple, imperfect things, full of life and everything associated with it. Dirt, drudgery, work, tears, and suffering all pass away. I have the impression that our modern world is brutal, full of inequality and misery caused by the separation of genuine feelings. On the other hand, the modern world is also stylized, idealized, and sugary. Social media grotesquely distorts the reality of life, promoting it as a finished, perfectly packaged product we all should fit in. It does not accept the process behind the scenes, mistakes, authenticity, transience, and the rawness of matter.
I am fascinated by mechanical writing; spontaneous, expressive gestures and making marks is my artistic toolset. For me, this is a pure record of the subconscious mind not overwhelmed by the rationality of the ego. I practice this technique by writing in charcoal or pastel on my paintings in a mirror image from right to left, with my left, non-dominant hand. This is a secret I'd like to share; it's a great lockpick for creative blockades or when we want to warm up before a bigger task. Let's reveal our sub-conscience by momentum and creative urgency.
I often feel that some unknown force inside of me uses my hands to create. I think it could be what Elizabeth Gilbert writes about in Big Magic. The Romans believed that "genius," which we call inspiration, is a kind of magical divinity that lives in the walls of the artist's studio, which invisibly assists the artist with their work and shapes the outcome. However, if the artist neglects the job, they leave the studio to assist someone else.
My paintings have many layers and textures. I often paint strong colors and forms at the beginning of the process and later cover everything with multiple layers of various shades of white. I love the process of painting and scratching, revealing what wants to be discovered. Creating textures enthuses me. Maybe it has something to do with my sensitivity. I like to touch rocks, tree bark, lichen, dry plants, animal fur, anything with texture. I feel that a project of combining weaving and painting; sewing a canvas dyed in natural elements is calling me.
Recently, I've been experimenting with painting using natural clay minerals instead of commercial paints. I like their dullness and their miraculous colors remind me of the Mojave mountains and hills, especially in autumn, when everything is faded and washed out from the flashier colors. I feel that the ocher, sepia, beige, gray and dull redness physically vibrate in me.
I am slowly but surely starting to dig deeper into the root of myself, my heart; the pure diamond of a being that I am. I seek to become one with nature, to create unity with the universe. This is probably my admiration of the soul, my admiration for what is hidden, modest, quiet, delicate, fragile, what is forgotten, diminished, sewn and patchworked with human experiences. Perhaps this is why I gravitate towards artists whose art expresses the values most important to me. I love the fiber work of Magdalena Abakanowicz, Sonia Gomez, Anette Messager, and Judith Scott, and the paintings of Hideaki Yamanobe, Lawrence Carroll and Oscar Murillo. I surrender the material with which I work to the fierce sun and wind, buried for months in the ground, dipped in clay. I have a huge predisposition to the effects of weathering; it is a recording of natural aging and decay.
Any advice for aspiring or new artists?
I think that artist path resembles drawings, where you connect dots and color numbered shapes and mandalas. At first, you have absolutely no idea what the result will be, but you flow, in a trance. I work by intuition. One day I weave, another day I play with clay. I will put aside painting only to return to the canvas or assemblage months later. I am guided by the thought, "let us live so as to delight the soul." I create what inspires me at the moment. I love learning new media and techniques. It often turns out that having new tools in hand leads to a wider arsenal and more media to express what I want to convey to the world. Being open and able to talk to someone who can understand you with compassion – would be ideal. When you really want to connect to your fellow artists, you will find the way. Become involved, join art groups, associations or guilds. Seek exhibitions, travel and keep your eyes open.
After many years of seeking, I have found my art tribe. I literally live in the middle of an art community of which I am now a part of. I take part in as many group arts shows as possible. The exposure is great and it helps me bond with my community. Every year, in October, we celebrate a special event called The Hwy 62 Open Studio Art Tours. It is a one-of-a-kind experience for art lovers and art buyers. It is a customizable self-guided tour of more than 100 open studios throughout the entire Morongo Basin. You get to meet and see artists in their unique studio spaces, discuss their work and creative endeavors as well as purchase their artwork. This year marks our third time opening the door of our studio to the public. Be sure to visit us! Our studio number is #70. Below you will find information on the Art Tours website.
What's the best way for someone to check out your work and provide support?
I am very excited about my upcoming shows this year and next in local and LA galleries. I am part of a group show being held in sp[a]ce gallery on January, 2019 and in Gallery 62 this December. I am a featured artist at HeyThere Projects in Joshua Tree where my fiber, ceramic objects, and sewn paintings will be exhibited. Come visit me this spring, 2020!
I have two shops online (see details at the end of the article), one promotes our Dust Ceramics tableware and the other promotes my art in which you can purchase small objects, wall sculptures, weavings, and textile necklaces of mine. In addition, if you are interested in learning how to make ceramics, you can find me at High Desert Airbnb Experience " Get your hands dirty with desert clay". I am going to provide many ceramic workshops at Hey There in Joshua Tree and fiber workshops in Acme 5 in Yucca Valley.
Contact Info:
Website: joannaszachowska.com
Email: joanna@dustceramics.com
Instagram: @joanna_szachowska_art @dust_ceramics
Facebook: #joanna_szachowska_art #dust_ceramics
Image Credit:
@mtlb
Suggest a story: VoyageLA is built on recommendations from the community; it's how we uncover hidden gems, so if you or someone you know deserves recognition please let us know here.