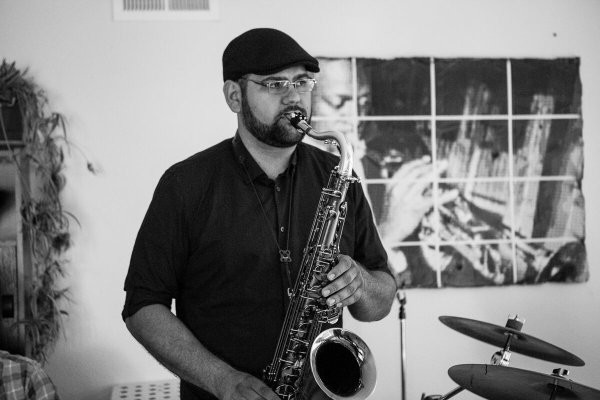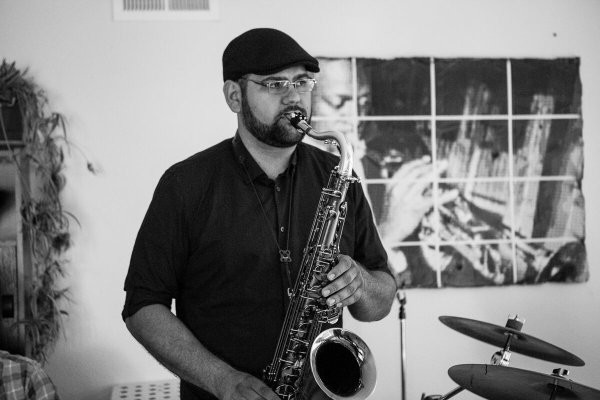 Today we'd like to introduce you to Jesse Audelo.
Jesse, please kick things off for us by telling us about yourself and your journey so far.
I am a Latino saxophonist, composer and arranger from the San Fernando Valley who came up in the San Diego music scene but has recently returned to Los Angeles. I moved to San Diego in 2005 to study music in college. During my college years, I grew to love classical music (especially wind ensemble and chamber pieces) but decided to focus my talents in the jazz idiom. I owe the bulk of my jazz education to Rick Helzer, an associate jazz professor at San Diego State University, who fueled my passion for composition and arranging. While in school, I started developing my own sound at local jam sessions which helped me become connected to the San Diego music scene. In 2015, I decided to continue my education and earn a Masters in Jazz at CalArts which helped open my mind to new genres and musical possibilities. Over the span of my career, I feel humbled to have had the opportunities to perform and collaborate with many renowned artists and organizations including multi-Platinum artist Frankie J, Grammy-winning producer Kamau Kenyatta, Tony-winners Greg Jbara and Alice Ripley and the prestigious San Diego Symphony among countless other talented artists and organizations. I've been especially grateful to be a part of bands based in Southern California. I am currently a member of the Sure Fire Soul Ensemble which has just released its 3rd full-length album "Build Bridges" via Colemine Records as well as a contributing member to variety of music groups. My career has also included working in music education. I have been an educator for about eight years, helping high school band programs in San Diego County grow as well as collegiate music departments at Palomar College and Point Loma Nazarene University. I returned to the Los Angeles area about a year ago to reconnect with LA culture and to discover more opportunities for growth as an artist. I am also looking to give back to the community through the gifts of education and music.
Can you give our readers some background on your art?
My music usually tries to convey the experience of navigating a Mexican-American identity but having grown up in the 90s listening to the music of the Black community (Motown, funk, soul, RnB) and falling in love with genres of music that aren't from Mexico. Having lived in a few different Latino communities in Southern California, I met people with similar stories to mine and felt we had a story to tell. I was drawn to the unifying element of Chicano activism and art which have since been big creative influences for me. In my music studies, I sought to learn more about the Black music I had grown up with and its relation to my culture finding roots that go back hundreds of years. Since then, I have dedicated the majority of my career to studying jazz, funk, soul and Afro-Latin styles. I enjoyed finding connections and blending cultural music that is not so dissimilar. My goal for my music is not to explicitly identify with a certain culture but to be more realistic in portraying how people's musical tastes and cultures are blended.
Concern my process, my creative process will usually begin after a spark of inspiration from another artist's track or a live show I've been to. I'll try to record ideas either on paper or through a DAW as soon as possible. I am very detailed-oriented and micro-managing with my work and find it hard to collaborate in real-time with others. The don't prefer the jam-in-a-room-until-we-make-up-some-songs type of compositional process but I do value the idea of pooling specific skill sets in creating new music. I'm not opposed to consulting with other musicians and working together that way but I need to create a framework first.
I love to perform and tell my story no matter which style of music I'm playing. I firmly believe in art as entertainment. I don't believe the two should be considered to be exclusively separate. As a result, my music is generally accessible to wide audiences. I am a firm believer in the beauty of simplicity in music but I always challenge myself to add musical "Easter eggs" that musicians would enjoy.
How do you think about success, as an artist, and what do quality do you feel is most helpful?
Success is so difficult to define but I can give a few examples of when I felt successful. I felt successful performing my original music for the first time to an audience that was smaller than the band. I felt successful after feeling defeated from playing what I thought was a subpar performance and hearing an audience member say that they are so glad they went to see music tonight. I feel successful every time I smile or laugh on-stage because of some clever musical quip or because the groove feels so good or because you got that look of "we're all in this together" from your band. Non-musicians have a hard time looking past the defeats in music and can't fathom why someone would subject themselves to this lifestyle. The truth is that the artist's definition of success is usually a coping mechanism for enduring challenges but its also the point of genuine connection to an experience that is so rare for non-artists. I think of success as being able to cherish and appreciate the experiences that are offered to you.
But more pragmatically, monetary success (making money/earning a living) in music boils down to originality, connections and toil (yes, not just hard work but toil). Originality is simply an artist's unique take on the world through their music and their brand (how you want others to perceive you). As a musician, connections are a result of relating to your fellow professionals and audiences through cultural responsiveness and bold vulnerability thus building trust and respect. The connection you build says to other musicians, you can trust in me to perform at a high level so you will want me with you at your gig. It also says to audiences, you can trust in me to provide a consistently great performance and connect emotionally with you from the stage. Don't forget that fans make you money, so treat them well. Venues see the manifestation of this connection as a bigger crowd draw which allows you to ask for more pay and leads to playing at bigger venues, etc. Toil is the incessantly constant flow of work that results in trying to create these connections and foster your originality. Once you have an understanding of how these three work and a system in place to manage the work, you will be better positioned for monetary gain. It's not really that simple but it's a head start.
For the personal growth of an artist, the essentials for success are continually doing these three things…
1. COMPOSE. Artists should always be composing whether they consider themselves composers or not. Composition in the literal sense (creating new music) is the best method of learning techniques from other artists. But also, a musician's rendering/interpretation of a piece is a form of composition. The musician composes their depiction of what a piece should sound like (adding inflection, personality, etc.) based on the study of the composer.
2. RECORD. Any new material should be recorded in some form as a reference for personal growth. Even material you think you may not use can be helpful later on. I've found personally that recording my material frees up my brain to generate more new material. I'm not wasting brainpower on remembering a composition. And concerning performances, a recording is an honest assessment of your ability at the moment. It is the fastest way to pinpoint areas for growth.
3. SHARE. The most difficult part of success is the vulnerability of sharing your expression with the world. Not everyone will like it but there is also the possibility that it will change someone else's life for the better. Music sitting in your brain or on your computer strangles an artist's growth by not allowing outside feedback.
Concerning personal qualities that most helpful, flexibility and passion have contributed the most to my career. Artists who reflect their musical passion on-stage regardless of the complexity of music are better received by audiences and generally have more success. If you aren't happy with the music you play, change the music or change your mindset to re-invigorate that passion. In other words, be flexible and learn to adapt to changing musical environments/cultures.
My ultimate message for other musicians is that music is universal and nothing in music is truly sacred so you should tell your story unapologetically and not worry about whether or not you fit into a marketable genre. When you tell your story, someone will identify with you.
My ultimate message to audiences, open your hearts and you won't be disappointed.
What's the best way for someone to check out your work and provide support?
People interested in my original compositions can find them on my website jesseaudelomusic.com and also on Soundcloud (soundcloud.com/jesse-audelo). For folks who visit the website, PDF previews of the compositions are also available.
My next self-produced release will be a single featuring my jazz chamber ensemble, Narthex. It is slated for release later this year on all streaming platforms.
Concerning other musical projects in which I'm involved, the Sure Fire Soul Ensemble has just released its 3rd album titled "Build Bridges" via Colemine Records. Orders for special-edition vinyl, cassette tapes and CD's are available on coleminerecords.com and it is also available for streaming on all music streaming platforms.
Another album recently released is "The Last Waltz" by Mrs. Henry on Blind Owl Records. I had the pleasure of arranging the horns for this epic rendition of the classic live concert by The Band. Copies are available for purchase on blindowlsd.com.
I encourage people interested in my music to follow me on Facebook and Instagram for the postings of the latest news and upcoming shows.
Contact Info:
Image Credit:
Manuel Cruces Camberos, Megan Lee Miller, Robert Sanchez
Suggest a story: VoyageLA is built on recommendations from the community; it's how we uncover hidden gems, so if you or someone you know deserves recognition please let us know here.