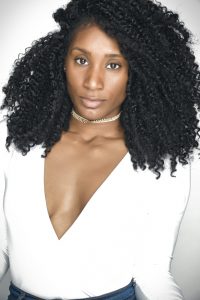 Today we'd like to introduce you to Jalysa Harris.
Jalysa, please kick things off for us by telling us about yourself and your journey so far.
My mother is literally my most favorite human, she has given me so much, & still does to this day.I was born in raised in Watts, California. It's a city where people don't know it immediately by name. You have to give landmarks and events like "You never heard of the watts riot? Or "the Watts Tower" or you have to sing the hook to "California Love" by Tupac.…..🎵 in the city of good ol watts and then people go "oooooooh".
It's known as the hood it's a train track away from Compton but despite it's reputation it was very calm. I was blessed to be in magnet schools my whole life all I cared about was learning and growing.
I read books & was teased all the way up until high school for being an "oreo" and a  "bookworm". The types of books I read mostly teen fiction like "Levin Thumps, Drama High & the music I listened too made me "weird". I wrote short stories and poems starting as young as 9 years old. I absorbed my experiences and angst lyrics and turned them into dialogue. I have written a total of six books by the age of 17.
"The Boy", "The Grass is Brown","School Schmool" "Why Black Hurts" "Little Girls Don't" & "Flood". Only two people in my life have read at least one. I was scared of being judged, I still am.
I became the middle child of two brothers and I really wanted to become a pediatrician after naming and bonding with my little brother Ronzel.  I attended King/Drew of Medicine and Science Magnet High located across the street from the "Martin Luther King Hospital".We were allowed to attend courses to expand in fields such as pediatrician, obgyn, billing & coding, teaching, etc. My ACTUAL class I got to teach a kindergarten class, watch a papsmere patient, write a report & get graded on it! It was the coolest thing I had ever done!
I graduated high school and attended La Verne University. I was too scared to go to Spelman University(which I go into!) Because it was an all girls school plus it was in a whole other state. I liked the idea of being far from my family but not airplane far. Lol, I really found my niche with writing essays there and added theatre as an elective class. What I found there was…my purpose.Theatre class I could cry, scream, I could be scared, see things that weren't there… this acting thing… (I mean I did a play in 5th grade) but now I'm playing an abused mother who has a son, it was a scary feeling that maybe I was SUPPOSED to do this.
Private school got expensive so I dropped out got a job doing lots of sales & customer service and finally as of 2017 decided to be a full-time actress & go after my dreams.
Can you give our readers some background on your art?
I have been blessed to have friends who too are working their way into this industry writing their own content. I have been lucky enough to work in, around, on within a project that inspired me inch by inch. Then one day a beautiful human name Letia Solomon (who will be a force in this industry!) recommended me to an acting class.
I walked in Choice Skinner "Breaking Through Acting Workshop" in Van Nuys shaking hands eagerly, half nervous-half hopeful. There I discovered me. I found my fears, pain & truth and saw them at face value. That class is life changing. I only recommend it to people who feel ready to get to the root core of what is stopping them from being SUCCESSFUL and what that even really means. I have seen the BEST actors churn from this class, built a community and family.
Those books I wrote to scared to share, I have been inspired to say "my voice matters," BECAUSE  OF THIS CLASS. I wrote a digital series called "7 Minutes in Heaven". I partnered up with a roomie and we hit the hard topics. PARTICULARLY sisterhood the very thing that was foreign to me, what I ran from with not attending Spelman. We wrote about family and what it feels to be a statistic, how we  look for our father in men, sibling rivalry and the general upbringing in an African American home. It all shapes us today as adults, for the first time ever we are addressing the cycle that plagues us as a black FAMILY, the nostalgia and pain…even in a comedic way.
The goal for this show was to remind everybody that black women are multi-faceted, layered with pros and cons, hypocrisy & self hate & journeys. I hope it helps people  change their course of thought and break a cycle we know all to well.
Artists rarely, if ever pursue art for the money. Nonetheless, we all have bills and responsibilities and many aspiring artists are discouraged from pursuing art due to financial reasons. Any advice or thoughts you'd like to share with prospective artists?
"DO WHAT YOU LOVE & YOU WILL NEVER WORK A DAY IN YOUR LIFE."
-anonymous
What's the best way for someone to check out your work and provide some feedback?
There are so MANY projects lined up right now, they will be revealed very soon .I will be working on my website as well so you can really see my work better. I'm on both facebook/instagram. I have a ton of videos on youtube & I'm still putting my reel together. Looking for representation currently. I'm creating my own content so keep your eyes/ears peeled.
Contact Info:
Email: jalysa05@gmail.com
Instagram: Sirrah_jay
Facebook: @PresentingJalysa
Image Credit:
Michael Hopkins, Champ Robinson, James M. Black, Choice Skinner, Brandon Moten, Elexus Hunter
Getting in touch: VoyageLA is built on recommendations from the community; it's how we uncover hidden gems, so if you know someone who deserves recognition please let us know here.