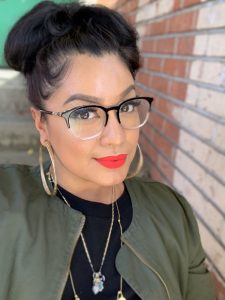 Today we'd like to introduce you to Helen Albanez.
Helen, please kick things off for us by telling us about yourself and your journey so far.
I have always had an affinity for art, more specifically drawing, I was inspired by my mother's younger sister and always felt I inherited some of my talents from her. I felt so lucky to have someone so close that wanted to share their artistic skills with me, and she always encouraged me to draw what I loved and what made me feel good. My earliest memories of drawing always involve a blue paper mate pen and either a classroom notebook or any piece of paper I could get my hands on. Drawing has always allowed me to escape into my own little world and to give life to what I envision in my mind. Once I got to high school, I took my first formal art class and was introduced to many different art mediums, and I loved every minute of it. My goal was always to attend the same fine arts program that my aunt graduated from, however, my journey and vision did not play out that way.
I always continued to draw and occasionally paint during my free time and continued to explore different avenues of creative expression. I was never truly consistent with my skills and in retrospect realized how big of a role drawing and art had always played in my life. Once I completed my undergrad I began working in elementary schools, and my affinity returned, and I enjoyed creating things that made the little ones smile. After a couple of years, I had a little one of my own and returned to graduate school, and this was a very important time in my life where I realized I had someone looking up at me and I wanted to be that person to teach her what I loved. I began drawing and painting more, I did it for fun and recently it has truly become my number one self-care tool. My art always revolves around my connection to the divine feminine and my culture and often times is my emotional and spiritual self-reflection. I have developed my style and skills and continue to grow and learn from my drawings each day. Currently, I am a middle school counselor and have decorated my office with my artwork, with the hopes that a student will become inspired to create some of their own. Even though I did not come onto the path of art via a more academically traditional route, I feel that is still part of my own calling and has made my journey more vibrant and rich. It has allowed me to connect with myself, my family, friends and even people across the globe. I feel blessed to have this gift and hope to someday inspire others to create and to allow their talent to beautify the world we live in.
Can you give our readers some background on your art?
The beauty of art is that it is always so subjective and that the beauty seen is truly always in the eye of the beholder. My art is typically made up of either drawing using pen, pencil or markers or paint. I recently began playing around with acrylics and have really enjoyed the process, but my favorite medium has been watercolor paints and the ability to bring a painting to life with a simple wash of color. Almost all of my drawings or paintings have a female representation as well as pieces of my culture or surroundings. I draw women and people that look like me, images that feel like the cultures I identify with and bits and pieces of my soul. I am a proud first generation Salvadorean, born and raised in LA and I feel that I always include something that ties this in and onto my work. Much of my work is either on canvas, watercolor paper, and mixed medium paper. I am hoping to one day make the leap of faith into oil painting, I feel that it will allow me to truly bring my visions to life with much more fluidity. I hope that when people see my art, they take away a little piece of who I am, and what I find beautiful, that they are able to walk away knowing a little bit more about me and more importantly that it brings happy and positive feelings as well as a connection to one another.
Do you think conditions are generally improving for artists? What more can cities and communities do to improve conditions for artists?
In regards to the conditions artist is working in, and with, I feel that the accessibility and the power to reach larger audiences is a great perk thanks to social media, but that also means that you open yourself up to compete on a global level. However, I do feel that the perk outweighs that challenge because it allows you to link up with people remotely and create or become part of communities that one may have missed out on otherwise. I also feel that the power of the grassroots artistic efforts, street art and art promoted via word of mouth, is still king. Living in LA my whole life I always admired how the streets and its art were always the first indicator of change in our neighborhoods. In the culture, and marked specific eras in time in real time.
I see way more murals and artwork in so many different areas in the city, especially areas that were once considered unfit to display such beauty. I think cities can definitely make a bigger push to support the artists that are making a name for themselves on a random wall in the street and provide funding and resources to help them flourish and in turn help the area flourish. The neighborhoods, Los Barrios, the blocks will always dictate where and how art flows in this city and everywhere around the world. If you grew up in these areas, you always knew that the streets were where the art was cultivated for us, where we can be embraced wholeheartedly and accepted for who and what we are and what our art is about.
What's the best way for someone to check out your work and provide support?
Last year I created an art page on Instagram and Facebook so that I can share my work with family and friends. I also participated in a couple of art exhibits and events, (Viva la Mujer, Salvies who Lunch, and From the Block to the Top Vol. III) that allowed me to open up my eyes to these great opportunities to not only showcase my work but to also connect with other likeminded and talented individuals. You can check out my work on Instagram (@arte_lah_roxy) and Facebook (Arte Lah Roxy).
People can support my work by liking, sharing and even buying it. I am a firm believer in supporting those you love and spreading the word to as many people as you can so that we can all enjoy the gifts we have been blessed with. One of my goal is to sell more work this year, and to create merchandise, I would love to see my art inside people's homes, on their clothes, and who knows maybe even on their skin as art. I hope to attain that goal soon, but know that every step and misstep happens for a reason and that it all has a purpose. I have created a home for my art in my soul so that one day they can find a home in the world.
Contact Info:
Email: artelahroxy@gmail.com
Instagram: @arte_lah_roxy
Facebook: Arte Lah Roxy
Image Credit:
Helen Albanez
Getting in touch: VoyageLA is built on recommendations from the community; it's how we uncover hidden gems, so if you know someone who deserves recognition please let us know here.