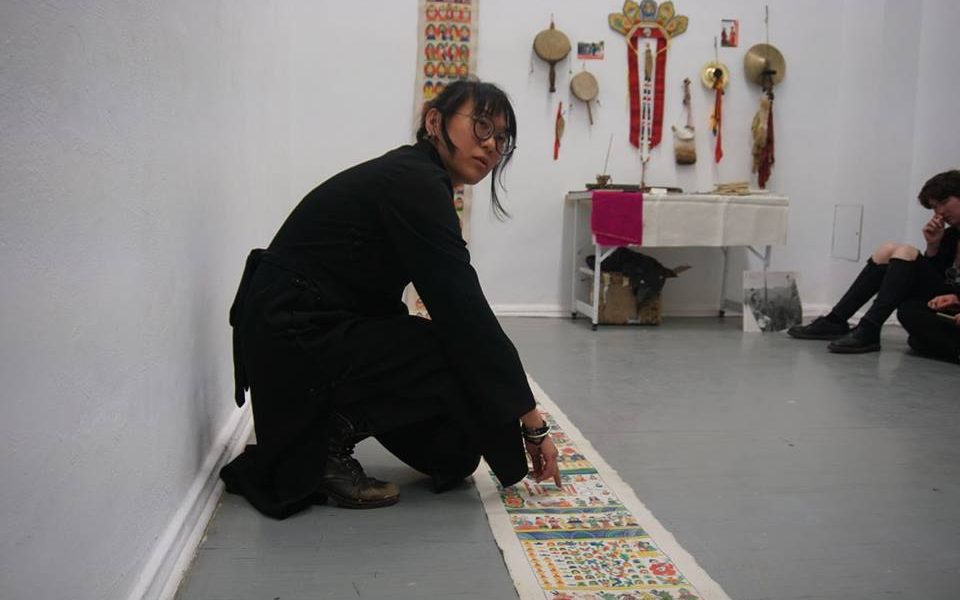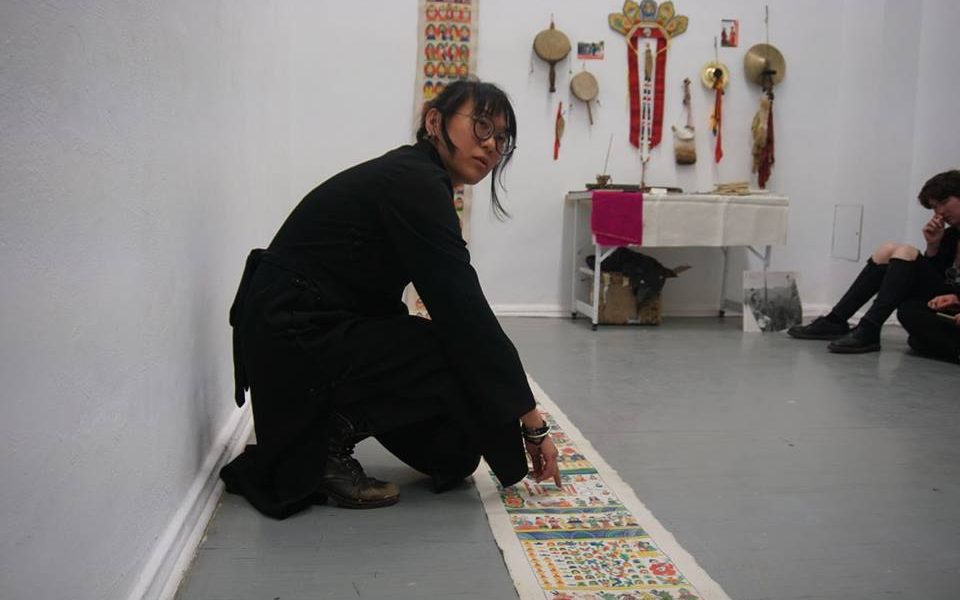 Today we'd like to introduce you to D. F. Wing.
D. F. , please kick things off for us by telling us about yourself and your journey so far.
I was born in 1987, in Monterey Park, California, and that's where I grew up. My parents were immigrants, but also professional musicians, so they supported me when I chose to pursue arts after high school. We knew very little about the art world. I would rather draw than do my homework, though, and my drawings made better impressions than my report card, so it seemed to make sense. I became the first in my family to go to college – and I went to art school. Within a few months of moving to the East Coast, I started experiencing culture shock, due to new geography/ foods, subcultures, racial/ class divides, and pressure to situate the world around a Eurocentric art history. In LA, I remember feeling assessed on the basis of my disposition and personality, whereas in New England, I thought I felt clearly, for the first time, flattened and devalued as an Asian caricature. After two years at RISD, I dropped out. This was due to various reasons- mainly family changes and financial stress, as well as being diagnosed with OCD/ ADD/ depression/ anxiety. The doctor recommended psych meds, but I remained skeptical; anyways, I couldn't afford it. I needed time to process what I was learning about the world, and I wanted to try "fixing" myself without expensive medication. I worked for three years to save money, transferred to MICA, then dropped out again.
In 2013, I started working seasonally (three months out of the year) for Lijiang Studio, based in southwest China. That's when I started studying Dongba culture (the traditional spiritual belief system of the Naxi peoples). I first visited in 2011 wanting to learn how to make paper, with the idea to add handmade paper into my custom sketchbooks. People told me, "Only the Dongba shaman-priests make paper for ritual texts." This led my curiosity towards other facets of Dongba-ism and shaman-ism. I attended Christian Church and Buddhist temple in my childhood, but the Dongba worldview seemed so different, much less dogmatic. At the first few rituals I attended, I drew and took notes; when the shaman-priests saw how fast I could draw, they started asking me to do assignments for them, as commissioned collaborative pieces.
Between 2013-2014, I gradually moved to NYC. I say "gradually" because I took the bus back-and-forth, never really "leaving" Baltimore. I started subletting a futon in a Harlem living room, and I worked as an assistant for Franco the Great. My first group show in NYC, I showed with Shaina Yang, Lady Millard, and Jasper Fields. I met Sarah Wang and Zaria Poem there too, and together with Shaina they had started City Bird Gallery in Chinatown. Later they became Disclaimer Gallery, a QTPOC collective exhibiting underrepresented artists. We did a show together at Art Basel Miami (2016), with costs crowdfunded by our supporters. By 2015, I felt increasingly awkward about studying (and performing in) Dongba, a culture in which I didn't have ancestral roots. So, I applied for a grant with Asian Cultural Council (ACC) to go to Mongolia and study shamanism, as a visual artist trying to trace ancestry. It was my first time applying for a grant and they actually accepted it, which shocked me. I went for 3 months in 2016, took a break to work at a bakery in LA for 3 months, then immediately went back to Mongolia for another 2 months in 2017. These experiences forced me to shift my identity and "perform myself" in ways I never needed to before.
I could probably do a better job at summarizing, but that's basically where I am now. I want to continue learning Mongolian language and making artwork at my own pace. I still don't rent; I sublet and couch-surf. We just finished another session at Lijiang Studio, and I'm on the way to the Philippines to work with my friend Khokhoi, another ACC grantee and nomadic artist-researcher, before heading back to the States. I finally graduated college this summer. I turn 32 in a few months. I still get imposter syndrome sometimes. It's all really weird.
Can you give our readers some background on your art?
I, myself, am not sure what it is that I do; I work impulsively and spontaneously, often changing mediums/ modes/ locations/ identities. I write my business cards by hand and switch up the information, so that people get wild cards about who I am and what I do. They're not lies- all versions of me are sincere facets of myself. I find the professional branding process to be limiting, restrictive, and stifling. Blindly following my gut feelings is an experiment to see "where" I could become. In terms of material production, I make drawings, paintings, mixed-media pieces, sculptures, performance art, books, writing, social experiments, etc. Sometimes I call myself an "interdisciplinary artist." Sometimes I'm an "artistic researcher," but sometimes I'm just a clown, too.
In terms of content, I explore matters of health, ecology, spirituality, morality, wealth distribution, political history.
My default mode is drawing in sketchbooks. I always keep a visual diary, which I've done for as long as I've been able to draw. Drawing captures reality in a way that taking photo or video data cannot. Sometimes I make drawings in settings where cameras aren't allowed- like during shamanic ceremonies, or when visiting certain temples, museums, schools, stores, hospitals. I have made drawings on moving cars/ horses, sitting out in the rain, or in complete darkness where I can't see the paper (my biggest frustration is not being able to draw underwater). My sketchbooks help me explain myself in ways that transcend verbal and cultural boundaries.
I am inspired by Universal Language, and connecting common grounds across planetary beings. The value of drawings is in the process, not the product; it's an archaic kind of magic to transmute resources, create collective hallucinations, conjure something out of nothing. When drawing works, I see it – it's like peeking into parallel dimensions of a universal consciousness. I make art to push the limits of what is materially visible and socially acceptable.
Sometimes, I get criticism that my work is not cohesive and needs a more comprehensive style. I've had viewers be skeptical that the work I've made is mine, because it reflects an amalgamation of different sources, locations, traditions. To resolve the consistency of 'self-styled' aesthetics demanded in an art market, I developed SunDogs* Studio as the name of my conceptual mobile workspace, which exists as the 1-2-foot radius around me wherever I go, at all times. It is the hub for all my identities, including my collaborative projects with other artists. It's also a printshop, publishing company, and a funding organization… I use it for my corporatizing needs. Sundogs are another name for parhelia, which are light illusions created around the sun on an icy cold day (similar to a rainbow).
How do you, personally, define success? What's your criteria, the markers you're looking out for, etc?
Success is subjective, depending on who you ask, but I think it boils down to achieving a desired outcome. In one Mongolian phrase, "success" translates to "result from the seed"; success is that which blossoms from what you plant. I plant seeds of learning and improving at whatever I am doing. I plant with a mix of patience, perseverance, and curiosity on my journey of growing as an artist.
There is a Zen proverb which sums up how I feel about success:
"Before enlightenment: chop wood, carry water.
After enlightenment: chop wood, carry water."
What's the best way for someone to check out your work and provide support?
You can see our work in person by attending events and shows. I post announcements and updates online, on our website blog and on social media (see links below). Contact me directly (theparhelia@gmail.com) for studio visits, or to be added to our mailing list.
This year I've been working with KK de la Vida (my collaborator in the performance collective, CosmiKnots) on illustrative graphics for @Dreampr00fx, an herbal arts project. At the moment, we're brainstorming how to produce work in-and-around church temples and tropical storms in the Philippines. I'm also making plans to collaborate with educator/ herbalist Zaria Poem next year, on facilitating children's herbalism workshops and a printing a small edition of follow-up zines.
To help with funding future projects and publications, you can donate to SunDogs Studio, links here: http://www.theparhelia.com/about/
Contact Info:
Website: www.theparhelia.com
Email: theparhelia@gmail.com
Instagram: @theparhelia
Facebook: @theparhelion
Other: (IG video account): @365videosproject
Image Credit:
Alfred Banze, Jay Brown, Matt Hannon, SunDogs Studio.
Getting in touch: VoyageLA is built on recommendations from the community; it's how we uncover hidden gems, so if you know someone who deserves recognition please let us know here.