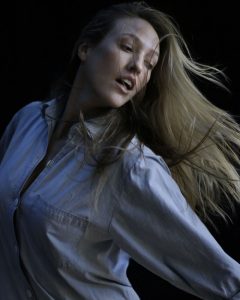 Today we'd like to introduce you to Corina Kinnear.
Corina, please kick things off for us by telling us about yourself and your journey so far.
I grew up dancing in Parker Colorado, my mother owned a dance studio and it was like a second home to me. I found that while dancing and creating, I could explore myself and the world around me in a way that captured my heart and imagination. At age 11, I fell in love with ballet: the effort, the simplicity, the detail, the physicality. There was always something to work on, and towards, always a goal to ascent. I had known I had dedicated myself to learning this technique, but at 13, this was challenged. I was told that I had severe scoliosis, a 42 degree curvature. The doctor said the only treatment possible was surgery. Otherwise, I could expect to be crippled by my early twenties.
The idea of removing dance from my life was like the idea of taking away part of my soul. It had already become a part of my identity. I couldn't and didn't want to imagine my life without it. I knew the path would be difficult, it is for everyone to be an artist, but my gut told me it was a path I needed to take. In this way, dance is and always has been the love of my life. It can be a difficult relationship. We fight sometimes and know each other too well. But I cannot imagine life without it and am so happy to have shared my life with it.
The rest of my story is more punctuated by the hard work of keeping this relationship. I moved to San Francisco at age 17 to receive my BFA in dance at Alonzo King Lines Ballet and Dominican University. Beautiful teachers and incredible classmates inspired me. Somehow three years in, I found myself falling out of love with dance. The work had contemplation of technique that had overwhelmed the freedom of spirit. I didn't want to leave the relationship, but we needed a change, and so I moved to New York.
In New York, dance treated me very differently, spoke to me more directly and I didn't overthink it or our relationship. I worked as a model to pay my bills and realized that this was a job that could continue paying my bills if I gave it my energy. To model I would have had to lose some of my muscle mass and not dance as much and as strong. I again chose dance, and that brought me back to San Francisco to finish my BFA and train to audition in Europe.
This opened one of the hardest chapters in our relationship. Auditioning. I saw dancing with a company as the ultimate way to support our relationship and I gave it my all, touring through Europe on two audition tours while being based in Montreal. Countless auditions led me to the same place, a meeting with the director of a company. "We like you, but you are taller than all our men and women." I returned from my second tour, heartbroken.
I went back to Colorado and my mom slotted me in to teach classes while in town. I didn't want to. I didn't want to encourage this relationship to be anything anyone tries for. This was the first time in my life it really sunk in; being a dancer or artist is not a career choice; it is a lifestyle choice. Did I want the lifestyle that supported my dancing as my career or did I want to dance because I loved it. This is a dichotomy that I still am challenged with. Sometimes the lifestyle of being a dancer doesn't support your personal soul connection with dance.
I met a dancer while my mom's studio was at a convention. Teddy Forance was full of energy and love of dance and invited me to come to LA to be a part of a project he was creating. I decided to go for it. I enjoyed the work and levity of him and the other dancers. It was getting harder and harder to get to Montreal without a visa, so I decided to stay in LA a bit.
For three years following, I danced a mixture of concert dance and commercial dance work. Dance in LA was light to me. I sometimes missed that in LA, it didn't call me to special dedication or intellect. But also space somehow let me explore that in myself. It is a city that doesn't direct or dictate your journey as an artist. You have to find your path, and unless it's the mainstream, you have to be dedicated to your exploration. There is too much going on for people to care about what you are doing.
After my three years of accidental stay, I decided to move to Berlin. There I continued to dance for companies and choreographers ranging from the Deutche Oper Ballet to their commercial television dance. My now husband had moved with me but missed Los Angeles, so about three years ago, we moved our base back here to the east side of LA.
I had the urge to create when I returned and created a production that premiered at the Odyssey Dance Theatre's Dance Festival and then continued with a 15 show run at a synagogue, The Pico Union Project, in downtown Los Angeles. The production was called "naked" and explored non-sexualized nakedness. Something I had experienced in Europe, but not in the states. It was an artistic success and financial failure. As art often is! It was a huge undertaking, and I am just now feeling recovered and ready to create again, two years later.
And so today I'm still in love with dance and still can't deny our soul connection. Our relationship is mature now; we have had a long journey full of elated love as well as difficult and disappointing times. I still perform with local companies and train consistently. I recently moved to the west side of Los Angeles and found going to the beach, dancing, and playing feeds the love in our relationship.
Can you give our readers some background on your art?
I like to bring attention to images and ideas that we experience but sometimes don't give attention to. I think this is what is interesting about art. It reframes perception. Working in the medium of dance, I want to watch a spirit exploring these concepts and images that make up life. The beauty and the awkward and laborious reality that we navigate reframed. I hope that seeing my work pulls people into the present moment of their consciousness and allows refection on their sensation and reactions to their world around them.
What responsibility, if any, do you think artists have to use their art to help alleviate problems faced by others? Has your art been affected by issues you've concerned about?
I think there is always a lot going on in the world, and I think that is why artists and people with the artist's spirit are and will always be important—sensitive people feeling and reflecting and creating moments of reflection for others. In my work, I try to represent truths spoken by my subconscious I feel in my current moment in time. So some of this does not change much. It is always the truth. But some of this only exists at this moment and is based on current events and issues I am feeling and are affecting my world.
What's the best way for someone to check out your work and provide support?
I will be presenting new work this year, the premier date still to be announced. For now, following me on Instagram @corinakinnear or joining my mailing list, by emailing me at corina.kinnear@gmail.com will be the easiest way to keep up with me or support my work.
Contact Info:

Image Credit:
Alessandro Clemenza
Lee Gumbs
John Lambremont
Arno
Suggest a story:VoyageLA is built on recommendations from the community; it's how we uncover hidden gems, so if you or someone you know deserves recognition please let us know here.