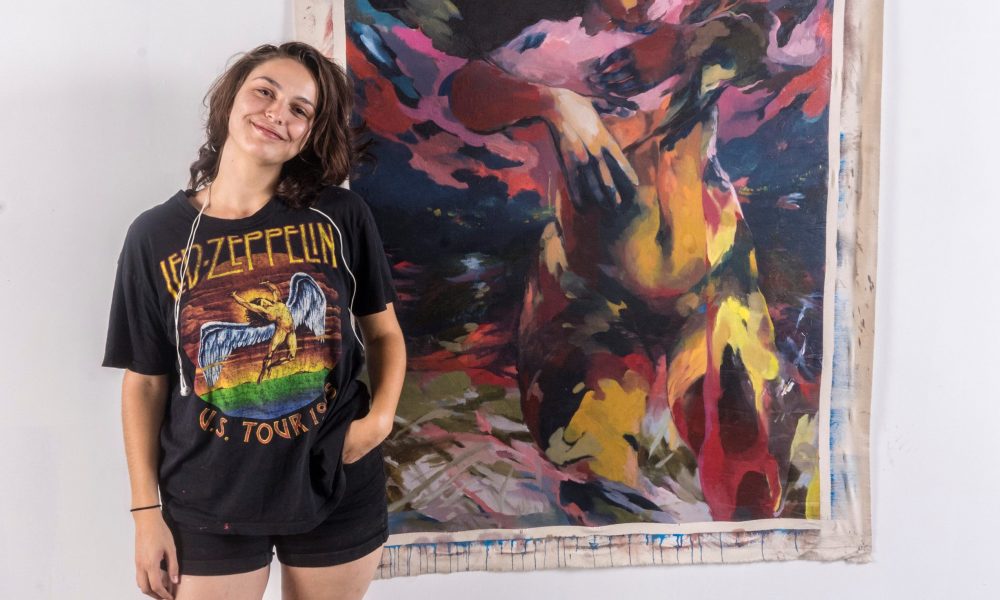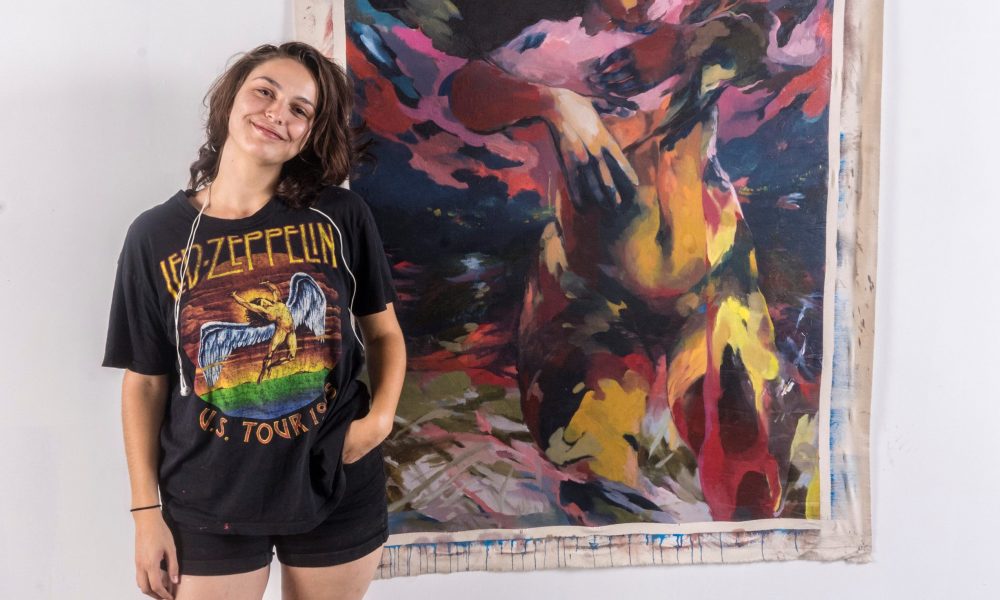 Today we'd like to introduce you to Chloe Diaz.
Chloe, please kick things off for us by telling us about yourself and your journey so far.
Art making has been a lifeline to survival for as long as I can remember. I was always the spacey kid looking out of the window, or doodling in math class, or halfway through a book I'd gotten the day before – practicing visual languages that would later become integral to who I was as a person. I grew up here in LA, either around Los Feliz or deep in the San Fernando Valley, and I got as far as I could for university: Montreal, Canada. I'd never been to Canada when I moved there for my BFA in Painting and Drawing, and I was one credit away from a minor in English Lit when I left. My college experience was reckless and incredibly formative in terms of becoming a real person in the world. I moved back home deep in an existential unknown, and my studio practice was born from this. Two Novembers ago, I got a painting studio in South Central LA that has taught me more than I ever expected.
Can you give our readers some background on your art?
I make paintings, mostly. The process leading up to a series involves a lot of reading, writing, drawing, generally letting the ideas simmer and work themselves out. Eventually, I'll come to what I want to paint. I make works in oil paint on stretched canvas, which is one of the most laborious and traditional mediums an artist could pick – this creates an inspiring and personal challenge. There is so much weight in history, in the centuries of image-making, that I have to find a way to grapple with the past and yet create a visual vocabulary that is singular to my voice and hand. It took me a long time to come to the nude feminine figure, seeing as it's the most brutalized image in Western art history. Creating a work that resonates within me is the first thing I look for, that it lingers with others beyond comprehension is the second.
My work is often born from lines of self-questioning: who am I, what do I feel, how do I feel it, what is my physical experience exactly, how does this affect my inner mechanisms, what is my relationship to others, to art, to the world… although these may seem exacting, it's a sense of joy that carries it all. To question the in-between, the inner/outer, the membrane that separates it – there could be nothing more infinite and more uncertain. The paintings on an individual level are inspired by themes of the feminine, endurance, strength, heat, tension, discomfort, and the physical body. I am also often inspired by the desert – both conceptually and literally. The desert represents a place of hardship with an unforgiving atmosphere where life has evolved to persist, within my work it provides the context for suffering. Yet it contains also beauty – Los Angeles itself is situated in a desert, and it is a home nonetheless. I'm deeply interested in things that are charged with seemingly paradoxical forces when the surface is scratched. That is what I'd like people to take away from my work – a little bit of conflict and a little bit of harmony.
Artists rarely, if ever pursue art for the money. Nonetheless, we all have bills and responsibilities and many aspiring artists are discouraged from pursuing art due to financial reasons. Any advice or thoughts you'd like to share with prospective artists?
Well, money does become a large hurdle to clear when it comes to having and maintaining a practice. The financial aspect isn't something you can simply put to the side and hope for the best since cost of living, especially in Los Angeles, can bring an artistic grind to a halt if there isn't enough foresight. However, you're going to find that time is actually the most valuable resource, and working any job solely for the wage is going to be soul-sucking at best. We're all different people, and you need to be doing something that benefits you in your practice, whether it's art-related employment or not. Sometimes it's a flexible schedule that allows you to go to the studio, sometimes it's an inspiring environment, sometimes it's the connections made with the people surrounding you. We spend the majority of our lives at work, tending to the reality of having the basics covered, that art-making can seem like a superfluous expenditure and this is a major discouragement. Yet if we can make them symbiotic, where one feeds the other, than a balance can be found within the harsh capitalistic system of living that we find ourselves in. There is a lot to be said about the adaptable nature of artists, and this stems from keeping art at the forefront of everything you do.
What's the best way for someone to check out your work and provide support?
I'm definitely willing to have studio visits if others contact me with some notice! I learn a lot from honest and direct feedback about how my work resonates with others. It also provides a non-financial form of support, indicating that there is respect for artwork at the heart of the visit.
Contact Info:
Image Credit:
Maggie Cleary, James Graham
Suggest a story: VoyageLA is built on recommendations from the community; it's how we uncover hidden gems, so if you or someone you know deserves recognition please let us know here.