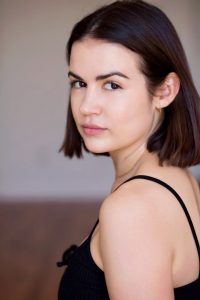 Today we'd like to introduce you to Bianca Malinowski.
Bianca, please kick things off for us by telling us about yourself and your journey so far.
Growing up in Quitman, TX (hometown of Sissy Spacek), I knew I wanted to be an actress by the time I was six. I remember seeing a regional production of "The Wizard of Oz" and saying to myself I want to do what that girl is doing (Dorothy). I was the type of child that would watch "Jurassic Park" and pretend to by a paleontologist for the next three months.
Seriously, I would request tools for my birthday so I could dig up fossils. Theater classes in my school didn't start until 7th grade, but the drama teacher taught a debate class for 6th graders and I signed up just to get in with the teacher. One of the 7th-grade fairies ended up dropping out of "A Midsummer's Night Dream" and the teacher asked me to fill in. My first role, I was thrilled! I started taking drama classes the next year and continued performing in plays all throughout high school. I loved it. I remember in class our drama teacher would have us do A LOT of improv games and I was like this is a lot of fun too.
When I graduated high school, I thought I was going to be a serious academic and enrolled at my university (St. Edwards) as a political science major. I was required to take an elective and I saw they offered a class called "Acting I". I was like why not. I went to the class and rolled on the floor for an hour and a half pretending to be a crescent moon. Afterward, I immediately rushed into my academic advisor's office and requested to be switched to a theater degree. My poor parents were freaking out. I was on a full scholarship so I was like, "you're not paying for this. I can do whatever I want". Ha. I knew I would regret it for the rest of my life if I didn't do it. That's sort of how I've felt about acting ever since.
I ended up doing a lot of great shows in college and working with a lot of great directors. I got to work with Ed Begley Jr. and I got cast as Puck in Midsummer as a sophomore, it was really cool. It felt like it was all coming full circle. That year I met with my academic advisor and I was like I want to do this for a living (acting), how can I make that happen. She gave me a book about agents and managers in Texas. I mailed my resumes to a few and the one manager in Texas, Lee Peterson called me. Lee had been out in LA in the eighties and worked with a lot of child stars, who came out of Texas. That woman was a force. She used to chain smoke cigarettes on her porch and tell me about what it was like partying with Dennis Quaid and John Voight. She taught me how to act for camera. My first audition was for the miniseries "Lonesome Dove". I got the script and it was like two hundred and thirty pages, I was like "oh shit, this is what it's like in the big leagues". It's funny how my first audition was probably the hardest one I ever had. I worked with Lee for a few years in Texas, auditioning for Robert Rodriquez, "Friday Night Lights", Richard Linklater and Terrance Malieck. After I graduated college, I booked my first role in a Lifetime movie and got to fly to New Orleans for three weeks. I had no idea who else was in the movie. I went to the table read and was like "oh shit, that's Jerry O'Connell". As we were walking out of the room, I turned to this older actress and said "nice read". My co-star Alejandro Rose Garcia (now Shakey Graves) said: "you know who that was, right?". I was like no. It was Faye Dunaway.
I remember one thing specifically about working on that movie. For the past fifteen years, all I wanted was to be an actress. Here I was on a real movie set, getting paid to act, and I didn't like how all I was needed for were my scenes. I looked over at the directors and the producers at video village (where they review the footage on these monitors) and again I thought to myself, "I want to do what they're doing". That movie moved me to Los Angeles and that's how I began my career.
Can you give our readers some background on your art?
I act. I write. I do standup, improv and sketch. I direct and produce. I basically do whatever it is a feel like when I'm wanting to be creative. A few years ago, I wanted to make a feature film and I was like "okay, how am I going to do this?" I found a friend who had a stone fruit orchard in central California and I was like "great a location!" I told my writer friend (Savanna Parra) what and who we had and she wrote a script. Then I got everyone on this farm, asked them to work for free and we made a movie. It wasn't amazing, but I was like "if I can do that, I can do a lot more". My filmmaking is definitely inspired by Fellini. I have a clear vision of what I want and I get people together and just do it. It's fun and challenging for me and I want it to be fun and challenging for everyone else. I like to use improv when I'm directing. Even my best writing isn't as brilliant as what creative minds are capable of coming up with in the moment. I like to trust and believe in other artist. I want them to trust and believe in themselves too. It's cool to see what we're all capable of with a little big of encouragement. But yes, ultimately, the story is very important to me. Without a good story, it's all pointless.
I love sitting down and writing when I have a story to tell or even if I don't know what I'm trying to say, but I have a scene or image in my head. I love the craft and idea behind filmmaking and television. I remember bingeing "Mad Men" over Christmas one year and I was like "holy shit, that shit's good!" I felt the same way when I saw "Blue is the Warmest Color" and "The Great Beauty". I like to write about stuff that's happened to me or things I find interesting. I dated a guy, he was also a writer, and I remember him reading something I'd wrote and he said: "This stuff is all too personal, nobody's going to like this". I was hurt at first, but then I realized he was jealous because he was too afraid to write like that or maybe he didn't even know how. I'm working on a series right now about my life, my family, what it's like growing up mixed and never really fitting in. It's super personal, but it's also really beautiful and relatable. I'm really excited about that.
My standup is totally about my life and how I see the world. A few years ago I went to see my friend (Chaley Rose) sing, she's a musician and an actress, and I thought to myself I need to find a way to express myself like that. I can't sing, but I was like I'll do standup. It was a way for me to be able to go up on stage and express myself whenever I wanted to. It turns out, I love doing it and people laugh, so that's nice. When people watch me or something I've written, I want them to feel more alive. I want them to feel more connected to themselves and the people around them. I want them to think about their lives, the fact they are even alive. To me being alive is a really fascinating and scary thing. It's pretty cool that there are all these people having all these different experiences. That's why I love art, it's truly an expression of what it means to be alive, to experience something. I also love to make people laugh, so there's that.
How do you think about success, as an artist, and what do quality do you feel is most helpful?
As an artist, the idea of success is sort of distracting and irrelevant. If you're an artist and you're making things, YOU HAVE SUCCEEDED!
Answer the call to create. Make things. Do things. Keep making things. Make other things! And if you're still feeling called to create, then don't stop. A lot of the time art is about getting something very very wrong and in that there's some unique quality that maybe people gravitate towards and maybe they don't, but the important thing is YOU GRAVITATED TOWARDS IT AND YOU CREATED IT! Listen to that little voice inside of you that wants to explore and don't give up on it. It needs you as much as you need them. I guess that's success in art to me, never given up on that voice.
What's the best way for someone to check out your work and provide support?
I'm always up to something. Even though I want/plan to get off social media, Instagram is probably the best way to keep up with what I'm doing and where I'll be performing. @biancamalinowski.
Contact Info:
Email: biancamalinowski@gmail.com
Instagram: @biancamalinowski
Twitter: @bmalinowski007

Image Credit:
Bianca Malinowski
Getting in touch: VoyageLA is built on recommendations from the community; it's how we uncover hidden gems, so if you know someone who deserves recognition please let us know here.