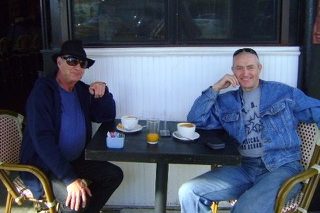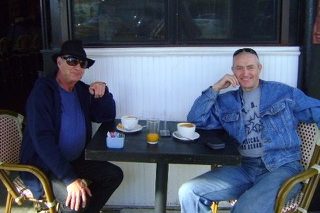 Today we'd like to introduce you to Bertil Petersson.
Bertil, please kick things off for us by telling us about yourself and your journey so far.
Born in Sweden, started making artwork in wood shop when I was 10 years old; came to NYC when I was 19 and started studying art and philosophy at The New School and Hunter College. Had my first solo show the following year. Shared aloft on 7 Varick St. with some other young artists; came out to LA to go to Otis. Did a number of shows before heading for Europe to study and work. Did shows in Paris, Amsterdam, Maastricht, worked Dutch National Radio doing electronic music; did a show that the Torped Huset (Moderna Museet) Stockholm. Back to LA where I met Larry Bell, among others, who became a mentor of sorts.
Did electronic music on KPFK Radio, was influenced by Edgar Varese, Terry Riley and Zen Buddhist flute music from Japan. Went to study en and, minimalist art in Kyoto and stayed for ten years. Did two gtours of Europe and the US, cut a CD and then moved back to the US to back to wood and stone carving in Vancouver, Canada. A visit to Larry Bell in Taos made me move back to the US and then after various shows and public works, decided to move to LA on Larry's urging. Several shows and public works later, I am presently working on a number of commissions and offers to do shows in Venice, Italy, Dijon, France, Stockholm, Sweden, Beijing. There is a lot more to the story but it would take a book to write it all down…
Can you give our readers some background on your art?
The origin of the work is Scandinavian with an influence from minimalism and Japanese Zen culture. My exploration aims at discovering how we perceive mass, balance, gravity, and change and what in fact is actually the state of the object. The Japanese aesthetics on minimalism and Zen art resonates with my background in Sweden and I think many of the Japanese artists from the 80s have contributed some of the best work in recent years.
Recently, I have been exploring angles and how they influence our emotional response to an object. Angles also are part of a physical transformation along with color. so the surface treatment of the object dramatically influences how we see the mass. This work developed to an extent, from a discussion I have had with a theoretical mathematician at Cambridge University in England. The balance of two equal masses but with different dimensions translates into a specific angle where the point of balance can be found.
If I am working on a large public work, your considerations have to include your client's wishes, what fits and is suitable for the location, colors scale, and, the consideration that the piece will be there for at least 50 years. It should add something to the environment and to people's everyday experience. This means that the constraints are many and complicated, but ultimately interesting. It's easy to make a painting in your studio that only is limited by what you want to see. It's another to do something that can stand up to public scrutiny and the test of time.
I don't really have an aim of influence of what people should get out of the work. I am more interested in how they relate to the work, whatever that might be. They often see very different things in the work, which is often the case with people I work with, including steelworkers in factories. I find it fascinating to hear what they see in the work.
Do you think conditions are generally improving for artists? What more can cities and communities do to improve conditions for artists?
Taking the last question first, I would strongly urge people to learn and develop technique and a process, or tools that you can master, to use in the development and evolution of the work. This takes time, but knowing how to apply paint to a surface or learning how to weld, use, metal fabrication machinery, etc., becomes a source of creativity and opens avenues to areas of expression you didn't know existed. This takes time and money but you will never forget it and you will develop your own unique form of expression. A good example is Larry Bell. He has invented and developed his own processes all his life and that's why u see the uniqueness of his work. There are many others that did the same, Picasso is one, Matisse, Man Ray, David Smith, Lynda Benglis with help from Jack Brogan, Brian Wills, Vincent Szarek, among others. It takes years to master the more complicated techniques but you will reap the benefits forever.
The reason you are making art should ideally be because you have a compelling need to explore and discover the unknown regardless of external factors. If not, then being an artist is not a smart choice for a profession. If you expect or are looking to make money and earn a living from the art, then you have a bigger challenge. If you can separate the two and consider the earning a living part something that you need to adjust as you go along, you will be able to deal with adversity better. I think the pressure on new artists these days is higher because many expect to be financially successful as well as creatively successful, and that's very difficult. It does not give you time to develop an independent line of thinking and a route to explore new areas of inquiry. That normally takes years, often decades, and I think you need to allow yourself ten years after leaving school to even think about having a serious show of new work. Now people expect to start doing shows while they are in school, and consequently, a vast amount of poorly developed work has hit the market.
A student today has it more difficult unless you have money. The cost of going to art school is disproportionately I'd like to say from the outset that being able to wake up every morning and go into your studio and work on something that interests you is great a privilege, and ultimately the most rewarding thing you can do. The sacrifices you have to make to do it can be very big so the question is if you are willing to make them. The likelihood of actually making a living on the artwork is small, and if you are a sculptor doing public and monumental work, it's even slimmer.
In today's world, being successful early, making money and building a brand is so important that you sacrifice your own exploration of experimentation, and thus the long-term substance of the work. This trend also does not allow you to "fail", which is one of the best ways to learn. Failure is important.
The other problem today is that it's considered cool to be an artist whereas it used to be a fringe activity by marginally crazy people, or more of an underground movement. Several of the biggest names had financial backers that financed production costs in studios where they had legions of workers actually doing the work, Jeff Koons comes to mind. The art market is bigger with more galleries and art fairs so there are more opportunities for new artists to show, but the questions whether it's of any value to the artists in the long run.
At the same time, showing doesn't necessarily mean that people will be buying the work. In today's market, art has become more of a commodity where buyers expect prices to go up to gain profit. The old European model of collecting meant that you bought what you liked and kept it. That still happens but is less common. Today's market is more driven by what the tax rules are and in some cases rules regarding financial disclosure. So there is a growing portion of buyers at the very top end of the market and then again at the bottom where pop-up galleries and other instant show schemes where the artists pay for the privilege of show is pushing artist even further into the margins.
The European system where the state offers support and the tax system provides incentives has shown to be successful, The city can offer affordable studio spaces and buildings to live and do work, perhaps, because the one thing all artists need is continuity. In today's real estate market, The artists always improve neighborhoods by moving in but never get the benefit of those improvements. I am not certain what the government can or should do, but more art education I think would be a good beginning.
What's the best way for someone to check out your work and provide support?
I have worked out in public places, among them 1180 N Beverly Dr. at Pico, another that is being designed at the moment that will go in at 1990 Westwood Blvd., two pieces are located to the east of Bergamot Sta. among other sites. There are more pieces in other locations on the East Coast, and more going into sculpture parks in France and Italy. I have an IG page #bipmix, and a website under my name where you can see the latest work.
Supporting sculpture work is a bit difficult because of the nature of the medium and often times, the cost. We all sell smaller works to help fund the projects we do so if there is any interest, contact me at my email address and find out what's available. I also do school talks and presentations but in general, just go to the shows and make people aware that public art makes a difference.
Contact Info:
Getting in touch: VoyageLA is built on recommendations from the community; it's how we uncover hidden gems, so if you know someone who deserves recognition please let us know here.