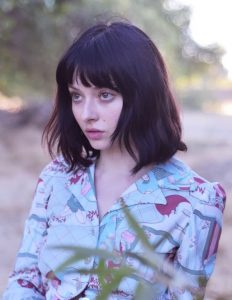 Today we'd like to introduce you to Alina Lee.
Alina, please kick things off for us by telling us about yourself and your journey so far.
I've always been drawn to expression and creativity. I recently asked my older (by about twenty years) sister what my twin brother and I were like as kids and she said that my brother was always trying to convince others to play card games with him, frequently ending up playing against himself as his rival became bored after the third of fourth round. And that I would always be putting on some sort of performance, usually lip-syncing and dance routines.
I love tangible art like drawing and writing, but I've primarily been drawn to expression through the body. I'm not entirely sure why this is, possibly because I've always been a pretty emotional person and getting that energy out in a physical way is very therapeutic. I first started modeling when I was seventeen as a hobby and that slowly evolved into my job. I've been modeling full-time for the last six years and I love it. There are times it feels stale, I think that comes with the reliance on the income, but it continues to evolve in really interesting ways that keep me feeling engaged and inspired- and it's nice to have other creative outlets to do in my spare time.
Can you give our readers some background on your art?
I'm most known for modeling. I act as well, and I would say it's my bigger passion but less evolved. I always say that modeling is like a watered down version of acting. Depending on what the job is and what the photographer wants me to portray, I can feel like many characters within the shoot. I don't know how clearly it's portrayed frame to frame but it's wonderful for me to be lost in my imagination as an unstable housewife or angsty youth for a short period of time. Acting, on the other hand, is like being able to slip into another life, maybe even another universe depending on the script. It's wonderful to be one person but it's also incredibly limiting. I think when you have an understanding of how short, fragile, and incredible life is, there's a sense of loss for all that you won't experience.
We're ultimately constrained by our belief systems, our pasts, our moral code, even our relationships with others. Acting gives you a chance at another way of being alive. I think probably all of us are aware, consciously or not, of the preciousness of life and we want to express that to each other in one way or another. When I come across some sort of art, whether it's a scene in a movie or a line in a book, that inspires me it takes me by surprise in the most wonderful way and it reminds me of that preciousness, either because it reminds me of myself or it gives me a glimpse into someone else's experience. I hope for any art I create to do that too.
What would you recommend to an artist new to the city, or to art, in terms of meeting and connecting with other artists and creatives?
I love and hate Instagram. I think that it's largely used in a way that makes people feel inferior and lonely, but that's a huge reflection on our society and where it's at; I think it's ultimately our responsibility to use it as a positive tool. I've actually met some of my closest friends off of Instagram and have connected with so many interesting and kind people on it.
It's so easy to be afraid of rejection but I think that it's important to remember that what other people think of us, whether they love or hate us, it really has nothing to do with us. It's brave to reach out to another human being, and anyone who you'll want to build a genuine connection with will recognize that and meet you with the same openness.
What's the best way for someone to check out your work and provide support?
You can see my work on my Instagram, @ohthumbelina and my Patreon, https://www.patreon.com/thumbelina.
I'm actually shooting a film in June that I'm very, very excited about. It's a witchcraft film set in 1971. My boyfriend (played by Eugene Simon from Game of Thrones) is killed in Vietnam, and as the suspense builds we find out he might not be as dead as we thought… If you'd like to support me and learn more about the film, please sign up for the newsletter at http://pandaemonia.com/.
Contact Info:
Image Credit:
Andy Reaser, Rick Craft, Logan Rice, Delaney Tiechler
Getting in touch: VoyageLA is built on recommendations from the community; it's how we uncover hidden gems, so if you know someone who deserves recognition please let us know here.