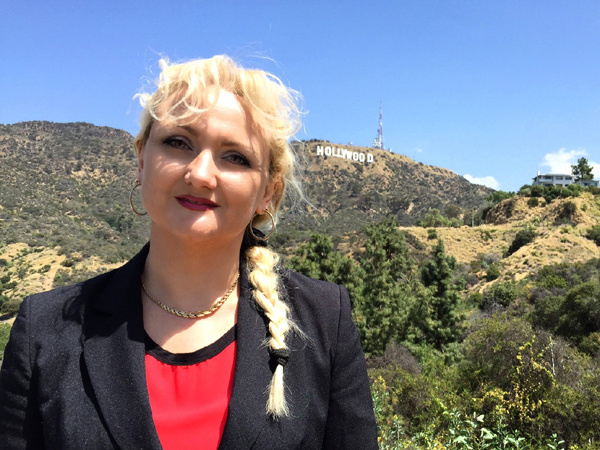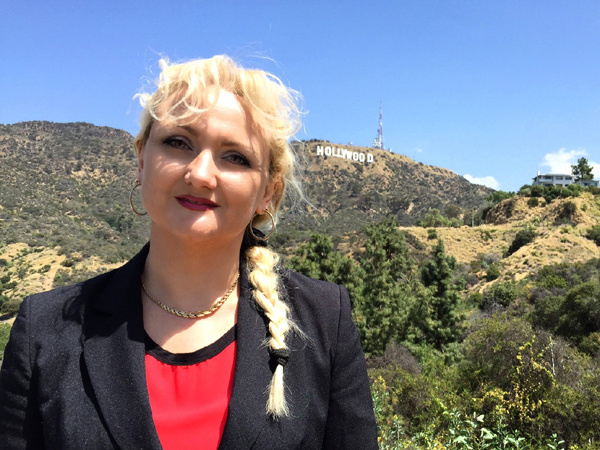 Today we'd like to introduce you to Joelle Duvernois.
She hails from the South of France and has been an artist since his teen years, if not earlier.  From creating Avant Garde designs at 13 to modeling when she was a little older, Joelle's life has been all about fashion, makeup and art.  We're incredibly inspired by her story and excited to share edited excerpts of our interview below.
Joelle, please share your story with us.  How did you get to where you are today?
Growing up in the South of France, art was my life. I always loved experimenting with textures and colors. I began creating characters and "avant garde" makeups on myself ever since I was 13! Young, I was a model. I admit I was very intrigued by what was happening "behind the scenes". As an "artist", I was attracted by the makeup artists' ability, their techniques. It resonated with me. So it was natural for me to study fine arts. As I grew older, my parents didn't want me to be an artist as they were picturing me starving and penniless. I deviated from my desired path. I obtained, with honors, a bachelor degree in business and marketing and settled into an office job. In the meantime art continued calling to me, so I did some personal art exhibits and had some makeup jobs on the side. I began doing beauty makeup for photo, performers and fashion. Sometime later, I met the man who would become my husband. We got married and Los Angeles became my home. I discovered that it was OK to be an artist here! There are artists, performers, actors everywhere in L.A! I understood it was a chance to express my creativity and use my art and makeup experience. If someone had told me 10 years ago that I would be living in Los Angeles and doing makeup for movies, I would not have believed it! Well here I am!
Has it been a smooth road?
When I realized that I could become an artist full time, I decided to improve my knowledge and learn more. So I attended makeup, SFX, stage makeup classes and I met the person who would become my mentor and good friend: Christine Stahl-Steinkamp. Then I worked for private clients, performers, theater, and opera. Always improving my craft, learning and experimenting new products, techniques. -My BIG break came very unexpectedly. One morning I had created a SFX makeup on my husband. A movie director saw him bruised and believed he was really hurt. After that he asked me if I would join his crew and help the official makeup artist for his Indie film. I admit I was surprised because I thought working on movie was reserved to a mysterious and special caste of makeup artists! So I did it and I immediately LOVED working on set! I worked very, very hard and since then I never stop working on motion pictures. From that job, I secured another makeup artist position in another film, then another one and it just went from there. When you work hard and people like what you do, opportunities present themselves. You have to be ready! -Later on, a director: Charles Campbell, asked me to be the department head makeup on his short zombie film. It was my first job as department head makeup! It was a HUGE amount of work for a short film! I worked with him on the zombie concept, the different designs, created the budget and supervised 12 Make-Up Artists from a L.A makeup school. I also did the major SFX. Believe me it was intense! I was very grateful that the director trusted me with this challenge!
This led the same director to ask me to be his department head makeup on his feature film "All or Nothing". This film is about the Underground Railroad. It was shot along the route the escaping slaves took to get to Canada. We were about 60 people traveling during 2 weeks through Michigan, Ohio, Kentucky and Indiana. As the actors and crew stood on the very escape route, it become very emotional for all of us. -Working as Key Makeup Artist on a short film with one of my favorite story: "Coming to Terms", written and directed by David Bertran (http://www.davidbertran.com/). Beautiful story, great actors, great picture! And I admit, I cried at the premiere!! This film got many selections and won many awards (Best trailer at Garden State Film Festival, Best Picture, Best ensemble cast, Best cinematography & Best drama at Los Angeles Independent Film Festival, and many more…) -Working as Department Head Makeup on my first Horror Feature Film on Halloween: "Reel Nightmare", written & directed by Armand Petri.
First it was very cool to work on a Horror film on Halloween! But also it was very interesting to create some special makeups for some special characters. I can't say more, you have to watch the film! I had also a great collaborator who help me with our actors. It was a lot of work but was very exciting! -Working unexpectedly on an Indie Feature Film with some TV names Actors/Actresses: "DriverX", a story about a middle age man who became a driver for a company similar at Uber. It was directed by Henry Barrial, (who earned a Sundance nomination for a previous movie) & produced by Mark Stolaroff, (http://www.markstolaroff.com/), both award winning filmmakers. Great people, great memories. Once again, I was very grateful for the trust the director and the producer gave me. Every project is a milestone. I learn so much each time! I am very grateful for all the opportunities. I am hoping to have another big milestone soon! 
Has it been a smooth road?
When I moved to L.A, the only person I knew was my husband. I had no friends and no connections, no network. The life I built was 3,000 miles away and I was starting completely over. I felt very alone during this time. -Because there are many talented makeup artists here, it's very difficult for someone who is new and foreigner to find work. When I began here I knew nobody and nobody knew me. I didn't know how to introduce myself and get contacts. So I worked VERY hard and I am still working very hard. -I am a contractor, means that I don't work every day from 9am to 5pm. I am dependent on contracts. -The non-union indie projects often have VERY low budgets. It's a lot of pressure. This means that despite the decades of experience, the quality of your work and your amount of work, it can be very difficult to get a decent pay and/or have a decent budget to create what is needed. Often I have to come up with some ideas to avoid using expensive products and techniques because there is no budget. In France we have an expression: "If you don't have money, you have ideas." That can be an exciting challenge but that can be also very frustrating. It's a fascinating job and despite what a lot of people think, it's A LOT OF WORK! You really have to LOVE your craft and be dedicated!
What are your plans for the future?
My plan for the future is to really make a good living doing what I love! I want to continue my Makeup Artist career. Of course, I plan to continuing to learn, improving my craft and improving myself. I really would like to work on long interesting projects, in L.A but also in other states and also overseas. Working and collaborate with talented artists, filmmakers, visionaries.
Let's dig a little deeper into your story.  What was the hardest time you've had?
Like many people, I've had so many hard times in life.  Let me share with you the ordeal of immigrating to California. I didn't move here because of a job. I moved to be with my husband. I left my family, friends, a good job, my car, my little habits, in one word: everything.
I had no friends and no connections. I didn't have a green card or a work permit right away so I couldn't do anything. I had no car, no money.
I was very isolated.  People always say "Oh, I could live in Paris." or "I could live in Italy." etc. Yeah right.  Moving to another country, another culture is hard.  Even if you speak the language, it's hard. When I came here, my English wasn't so good. When you are on the phone and your interlocutor asks to speak to an American person because they don't understand your accent, it's not fun.
It is a feeling of isolation and helplessness. And the ordeal with immigration? Despite the fact that we followed all the procedures to the letter, my application lapsed.  Every day I expected to receive a letter stating that I had to return to France. It was so stressful.  At one point we had to get a Congressman's help just to move my application forward.
Fortunately I found wonderful people, French, American, from other countries too. They helped me to feel accepted. I even have a French-American Mom here: Mimi Dorman and even 2 French Expat sisters: Veronique Gautier and Emmanuelle Stone, (Owners of La Petite Baguette – French bistro in Huntington Beach).
I was able to open more myself to others thanks to another form of Art I already practiced in France: Belly dancing. I made friends and found great support with Tonya Chianis, (Founder of the Belly dancer of the Universe Competition – International event hosted each year in Long Beach.)
Then, step by step, being surrounded by so many artist, I realized that I could be myself here and express my creativity and use my art and makeup experience.
Contact Info:
Check out her work below: