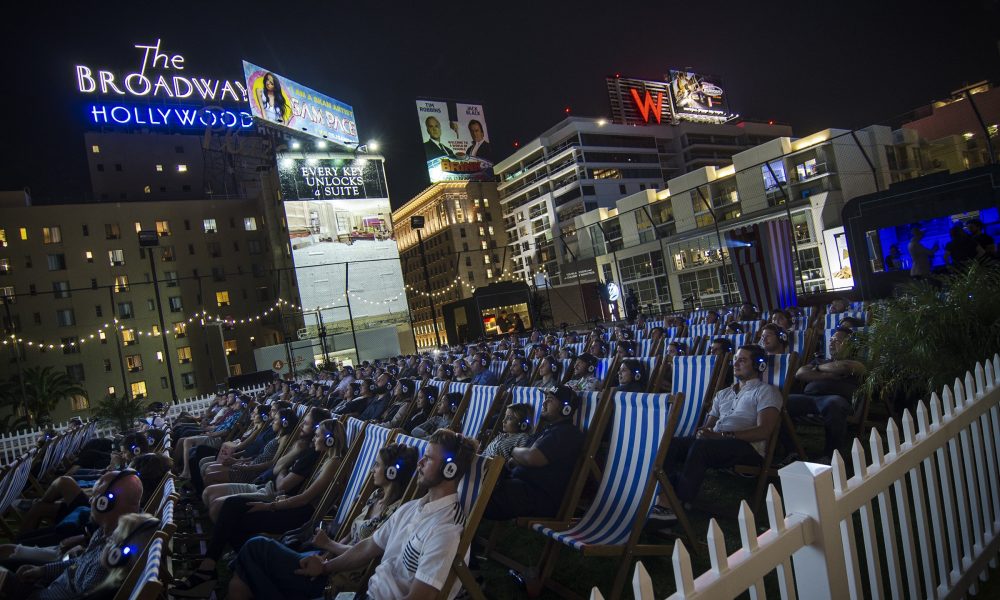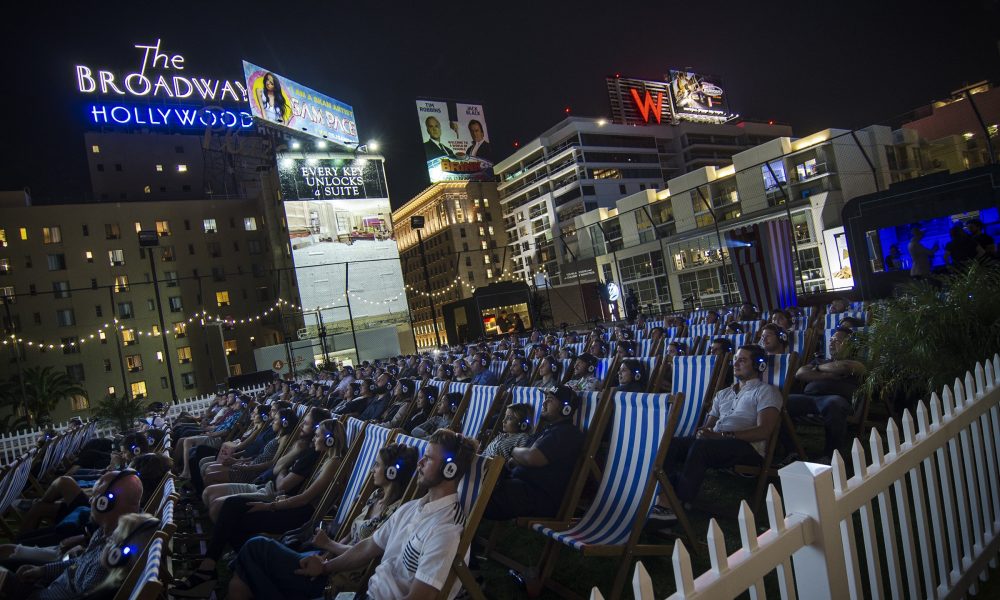 The masters of outdoor screenings have returned to LA for a third season to nearly sold out screenings in April and May.  Rooftop Cinema Club, known for crowd-pleasing film choices, curated cocktails and gourmet street food from Heritage LA, announced today its June screening schedule to the delight of fans and Angelenos.
"We're thrilled to be back here in the home of film – next to; and under the stars, on the rooftop of The Montalban Theater. We've had an amazing start to the season with April and May tickets selling at record speed. Movie fans are going to love what we've got lined up for June – another jam-packed feast of film favorites from cult classics to Oscar winning new releases." said Gerry Cottle Jnr, Rooftop Cinema Club's creator.
New to the Rooftop this month are new releases Logan, Arrival, and the Academy Award nominated La La Land.
Film buffs will be thrilled to take in the pop culture favorites Who Framed Roger Rabbit, The Princess Bride, The Lost Boys, and Raising Arizona.
Rooftop Cinema Club will also partner with L.A. OLA to showcase the most outstanding and innovative independent contemporary films from Spain straight from the rooftop on select dates in May.
Rooftop Cinema Club, unlike any other film screening series, takes place on the stunning rooftop of the historic Montalbán Theater in the heart of Hollywood up to 4-5 times a week, where cinema-goers can soak in beautiful city views. Film lovers will enjoy sunset film screenings under the stars with state of the art equipment, high quality wireless headphones, comfy lounge chairs, food from Heritage LA, and more in an al fresco experience that is quintessential Los Angeles.
Tickets are on sale now on http://rooftopcinemaclub.com/la/ – don't miss out, seating is limited and screenings are likely to sell out fast.
Screenings are for adults only/18+ and ticket prices are $17 + booking fee for general seating or $25.50 each + booking fee, grab yourself a friend or a loved one and enjoy the brand new Rooftop Love Seats with shared double deckchair, pillow, bottomless popcorn and a glass of Prosecco for the ultimate open-air VIP experience.
— JUNE SCHEDULE —
June 1

– A troubled child summons the courage to help a friendly alien escape Earth and return to his home-world in E.T: Extra Terrestrial (1982).

June 2

– In the near future, a weary Logan cares for an ailing Professor X somewhere on the Mexican border. However, Logan's attempts to hide from the world and his legacy are upended when a young mutant arrives, pursued by dark forces in Logan. (2017)

June 3

– When twelve mysterious spacecraft appear around the world, linguistics professor Louise Banks is tasked with interpreting the language of the apparent alien visitors in Arrival. (2016)

June 6

– Two imprisoned men bond over a number of years, finding solace and eventual redemption through acts of common decency in The Shawshank Redemption. (1994)

June 7

— Academy Award winner for Best Picture, Moonlight is a timeless story of human self-discovery and connection and chronicles the life of a young black man from childhood to adulthood as he struggles to find his place in the world while growing up in a rough neighborhood of Miami. (2016)

June 8

– A jazz pianist falls for an aspiring actress in Los Angeles in La La Land. (2016)

June 9

– In Ancient Polynesia, when a terrible curse incurred by the Demigod Maui reaches an impetuous Chieftain's daughter's island, she answers the Ocean's call to seek out the Demigod to set things right in Moana. (2016)

June 10

– A toon-hating detective is a cartoon rabbit's only hope to prove his innocence when he is accused of murder in Who Framed Roger Rabbit. (1988)

June 13

– After moving to a new town, two brothers discover that the area is a haven for vampires in The Lost Boys. (1987)

June 14

– While home sick in bed, a young boy's grandfather reads him a story called The Princess Bride. (1987)

June 15

— When a childless couple of an ex-con and an ex-cop decide to help themselves to one of another family's quintuplets, their lives become more complicated than they anticipated in Raising Arizona. (1987)

June 16

— Spending the summer at a Catskills resort with her family, Frances "Baby" Houseman falls in love with the camp's dance instructor, Johnny Castle in Dirty Dancing. (1987)

June 17

– A jazz pianist falls for an aspiring actress in Los Angeles in La La Land.

June 21

– Hidden Figures is the story of a team of African-American women mathematicians who served a vital role in NASA during the early years of the US space program. (2016)

June 22

— The classic and much-loved romantic melodrama Casablanca (1942), always found on top-ten lists of films, is a masterful tale of two men vying for the same woman's love in a love triangle.

June 23

— A group of professional bank robbers start to feel the heat from police when they unknowingly leave a clue at their latest heist in Heat. (1995)

June 24

— Academy Award winner for Best Picture, Moonlight is a timeless story of human self-discovery and connection and chronicles the life of a young black man from childhood to adulthood as he struggles to find his place in the world while growing up in a rough neighborhood of Miami. (2016)

June 27

— As students at the United States Navy's elite fighter weapons school compete to be best in the class, one daring young pilot (Tom Cruise) learns a few things from a civilian instructor that are not taught in the classroom in Top Gun. (1986)

June 28

– Relive and experience the worldwide cultural phenomenon and the highest-grossing film of 1985, Back to the Future.

June 29

– Jake Gyllenhaal stars as a troubled teenager plagued by visions of a large bunny rabbit that manipulates him to commit a series of crimes, after narrowly escaping a bizarre accident in Donnie Darko. (2001)

June 30

— The Rebel Alliance makes a risky move to steal the plans for the Death Star, setting up the epic saga to follow in Rogue One. (2016)